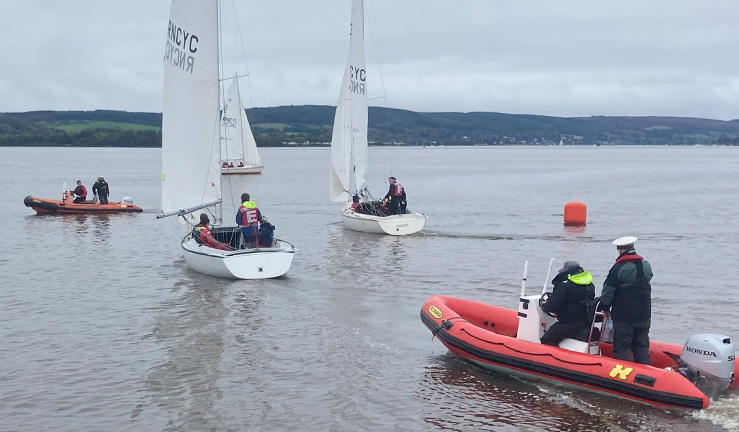 Extreme rainfall created challenging conditions for competitors at the 2023 Ceilidh Cup / Scottish Student Sailing (SSS) Match Racing Championship.
Rain didn't stop play - but it nearly did! Heavy rain across the west coast of Scotland put a dampener on conditions. Nevertheless a great deal of racing was still able to take place (7-8 October) on the East Patch, off Helensburgh, hosted by the Royal Northern & Clyde YC.
Organisers and competitors were faced by flooded roads in Helensburgh on Saturday morning, making car travel difficult. Unfortunately, Dundee University's entry were a casualty of the weather and didn't make it in time for the start.
Fortunately, with weigh-in and briefing completed, the remaining six teams were able to head out to get racing underway.
The incessant rain and blustery conditions kept racing and race management tricky, but 13 races were completed by late afternoon, after which competitors adjourned to the RNCYC bar for beer, pizza, rugby and a rules debrief by Chief Umpire Stephen Proctor.
Sunday then dawned slightly brighter but with wind conditions becoming increasingly light, the pressure was on to complete the full race schedule.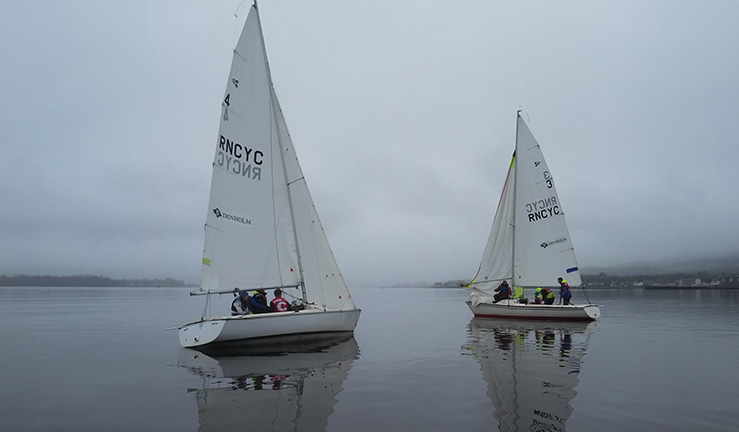 In the last race of the round-robin, after a busy pre-start, the joint leaders faced off: Craig Macdonald (RNCYC) opted to let Calum Bell (Strathclyde University) lead into the start line, a mistake that would cost him dearly, as he was unable to get back on top during the racing.
The round robin complete, the four bottom-placed competitors faced off in a repechage.
Fergus Wilson (Dundee University), recovering from his lack of races in the round robin, was able to hold off competition from Tristan Tucker (University of Glasgow) - despite Tristan mistakenly thinking he was over the line at the start - and placed a respectable 5th overall. However, Fergus was defeated by James Gifford (Strathclyde University), who was then able to gain a place in the semi-finals.
With the wind barely at 4 knots, principal race officer David Denholm kept racing under way and in one semi-final, a Strathclyde-vs-Strathclyde battle was taking place.
In the first race James Gifford led into the start line but mistimed his approach, leading to an OCS penalty. In the second race, close tacking upwind meant Calum Bell needed a lee bow to establish a lead to the windward mark; in the final downwind run James caught up in new breeze but didn't keep clear in the ensuing luffing incident, leading to a 2-0 win for Calum.
In the other semi final, Craig Macdonald also beat Jamie MacMillan (St Andrews University) 2-0 in a patchy breeze.
The dying breeze finally gave out before the Finals could be held and so the round robin placings were used to decide Calum Bell and his Strathclyde University team as the overall winner of the Ceilidh Cup and SSS Match Racing Championship.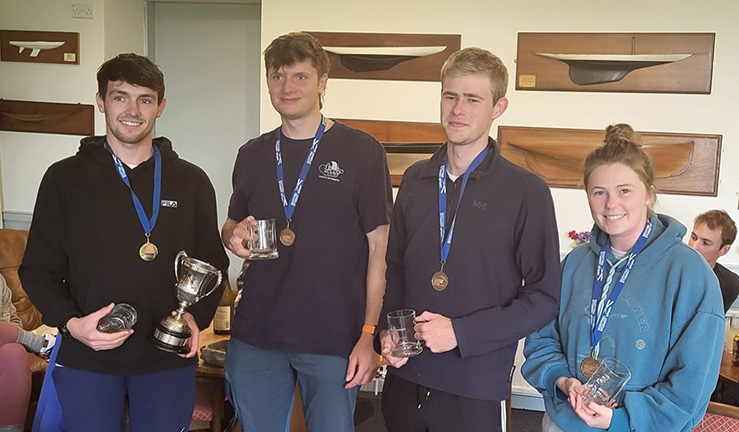 Winning skipper Calum said: "Our team is thrilled to come away with a win at RNCYC's Ceilidh Cup and Scottish Student Match Racing Championships. Despite the extremely wet weather, our spirits were high and we found the weekend very enjoyable with a near-optimum number of races sailed in the light and shifty conditions. We'd like to thank all the volunteers and race officials for facilitating Scotland's only match racing event - we really appreciate it."
SSS Yachting Rep Nathan Dickson added: "Great to get our season underway with such a solid turnout from SSS teams despite such a busy university schedule. I'd like to thank all the volunteers that made the Ceilidh Cup such a great event again this year, especially Craig Macdonald and the RNCYC team, and hope to be back again with SSS in the summer for some team racing!"
Final Ranking:
Calum Bell / Strathclyde University
Craig Macdonald / RNCYC
Jamie MacMillan / St. Andrews University
James Gifford / Strathclyde University
Fergus WILSON / Dundee University
Tristan Tucker / University of Glasgow
Jill Reid / Aberdeen University
For the full breakdown visit Match Racing Results or find out more at RYA Match Racing.