Portsmouth is the home of high-stakes racing and Olympic ambition this September as the world's best kite foil racers will be battling it out at the Formula Kite European Championships (19-24 September).
And with the countdown clock today hitting 50 days to go to the start of competition, the city's premium retail destination Gunwharf Quays has been unveiled as official event partner to the regatta, which is set to welcome 150 athletes from 35 nations on the waters off Eastney Beach.
Kite foiling is the newest addition to the Olympic sailing roster, and will make its Games debut at Paris 2024 in just under a year's time. Riders 'fly' above the water on hydrofoils attached to boards, powered by huge kites which can propel them to incredible speeds of up to 45 knots (51mph).
Not only will European Championship glory be at stake in Portsmouth, but the event also provides one of few opportunities for riders to qualify for quota places for their nations to compete at next year's Games.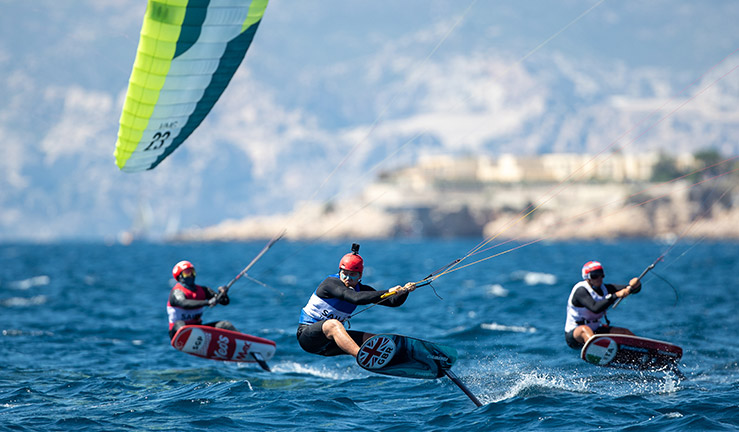 Community Engagement
A key goal for the event is also to inspire a greater connection between Portsmouth's youth communities and their marine environment, both from a sustainability point of view and in showcasing the power of water-based opportunities towards health and wellbeing and as a step towards potential career opportunities in the marine industry.
Sessions for over 400 local schoolchildren and youth groups will be delivered at a bespoke Beach Club during the Championships, where youngsters will experience the joys of watersports, learn some of the science behind them and also how to care for their vital marine environment.
Gunwharf Quays, located on Portsmouth's historic waterfront, is the UK's only waterfront outlet shopping destination and is a proud supporter of city and community projects. The centre's backing of the Formula Kite Europeans will help bring to life the event's community engagement ambitions, in addition to providing practical support through the provision of coach and support boat berthing.

"As a flagship local business of national and international renown, we're delighted to welcome Gunwharf Quays on board as official event partner for the Formula Kite Europeans," said RYA Event Director Niall McLeod.
"Aside from being a well-known and loved destination across and beyond Portsmouth, they are committed supporters of community projects and in improving opportunities for young people in the city, which is an ambition we are equally passionate about through the hosting of this event."
"We're excited to be partnering with this world class event in our city and can't wait to experience the thrills and spills of Formula Kite racing at Eastney this September," commented Yvonne Clay, Centre Director at Gunwharf Quays.
"Gunwharf Quays is proud supporter of community projects across Portsmouth, and in particular those that aim to build skills and opportunities for young people. The Formula Kite Europeans shares these values as it seeks to connect the city's young people with our wonderful waterfront and showcase opportunities to connect with the marine environment, watersports participation and with potential water-based careers."
Free to watch
The RYA has teamed up with Portsmouth City Council to host the Championships on behalf of the International Kiteboarding Association, made possible with support from UK Sport and National Lottery funding for the regatta.
Racing at the Formula Kite Europeans will start on Tuesday 19 September and run through to a thrilling knock-out finale on Sunday 24 September. A free-of-charge Fan Zone with activities for all the family will be in place for spectators on Eastney Beach for the final weekend of 23-24 September.
The final two days of racing will also be streamed live for those wanting to follow remotely.
Find out more about Formula Kite European Championships.