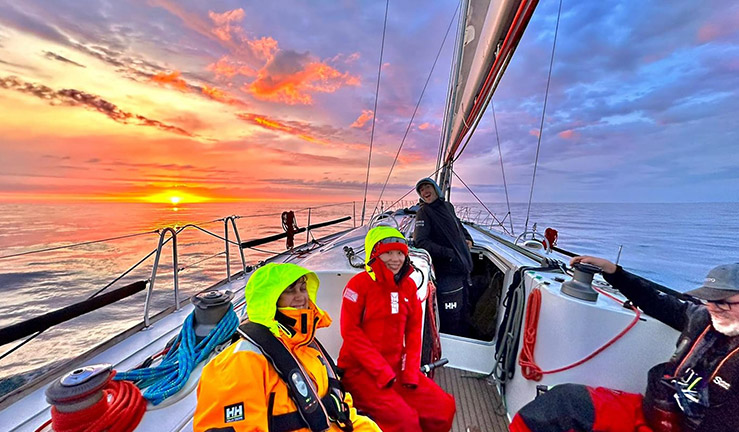 It's been fantastic to see the variety of entries coming in for our RYA Midlands Photo Competition, along with the lovely stories which have come in alongside - including a team captain from Midland SC checking progress in a sunrise-to-sunset race, Water Search and Rescue teddies in the tunnels of our inland waterways and a Union Jack painted Solo at Syston.
The standard as usual has been very high making it difficult for our judges, who have really enjoyed seeing all your entries, so for the August round it was pleasing to announce two winners!
Well done to Paul Russell of the Heart of England Offshore Cruising Association (HOEOCA) - whose calm before the storm image from this year's Fastnet Race summed up so much of what we're all about in boating – being on the water with friends from your club, working as a team, sharing experiences and making memories, whether in the Midlands or further afield.
Congratulations also to Yi Zhang of Burton SC for the well-timed shot of his son Han trying to land a new wingfoiling stunt. This is one of our young windsurfers who developed his skills with our RYA Regional Training Groups and is now taking that learning to try something new, so it was great to see this captured on camera.
Both will be receiving a Helly Hansen 12L lightweight dry bag in the post. Our competition now continues through September and October, so if your club or centre is located or based in the RYA Midlands region and you'd like to take part, share your pictures with us and you could win a prize!
Changing seasons
I've enjoyed the fact that the pictures you've been sending in have told a bit of a tale about the variety of ways people of all ages have had fun on the water over summer.
Now the season is changing and autumn is pretty much upon us, it's probably a welcome breather for those in a commercial space or who deliver courses and training at clubs.
Although we're still in the thick of the main season, we're heading quite quickly into what's next as the nights draw in and evening sessions come to a close. Now is the time to make the most of the good sailing conditions and the water still being warm, whilst ensuring there is lots on for your customers and members to take them with you through Autumn and beyond.
It's worth remembering that not everyone will want to sail as often, if at all, through the colder months, so it's good to think about how to keep everyone engaged into next year and membership renewals, including with a good social programme – it's been great to see a number of clubs booking in our Regional Rules Advisor Steve Watson, for example, for a talk.
Ask yourself, what have you got going on and do you have a plan? Our big event for autumn is coming up soon and will have lots of ideas to help you.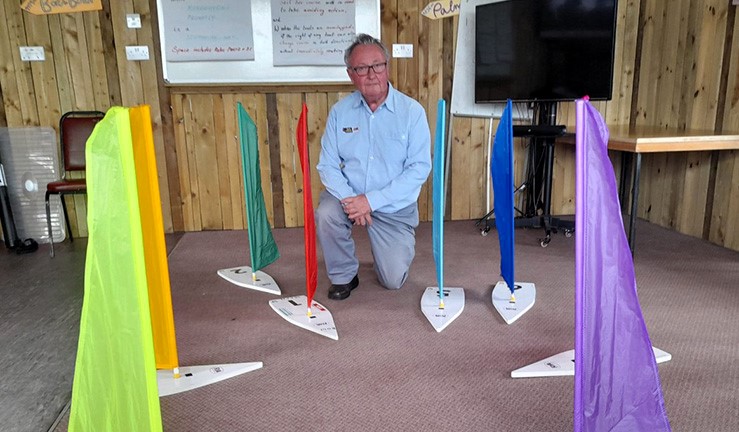 RYA Connected
The annual regional knowledge sharing and networking event is now called RYA Connected and will be bigger and better than ever. Designed to appeal to a wider audience, it will be for anyone involved with running activities at their club, whether that's committee members, instructors, volunteers, race management or Sailability.
There will be lots of workshops and topics to choose from according to your interests and it will be a busy day with a full-on schedule! Come along and see, hear and talk to like-minded people, meet the regional team, network with other clubs and tap into RYA expertise.
This will take place on Sunday 19 November 2023 at Brockington College, Leicestershire and bookings are now open – it would be great to see as many people there as possible representing and supporting their clubs.
Membership Census
The context for our regional RYA priorities each year is informed by the annual Club Membership Census so a big thank you to everyone who completed this.
It will take a while to now unpick the data and do all the number crunching but the regional headlines will be highlighted at our RYA Connected event..
At a glance, it appears that membership numbers overall in the region are broadly similar to last year but within that there is quite a broad spectrum, with growth and drop-off varying from club to club.
Whatever your own experience has been with membership, RYA Connected will provide the tools for you to discover opportunities for your club.
And finally…
I've just enjoyed visiting an open day Telford SC who invited me along as part of my Ben in a Boat initiative. It was great to see lots of people (nearly 90!) trying new and different things, and talk to committee members about what the RYA has going on in the region and how they can benefit.
I'm also looking forward to going back to my roots as an Instructor Trainer with a rescheduled visit to Chelmarsh SC, also in Shropshire, where I'll be spending time with their training team on skills development to support activities at the club.
If your venue would like a visit from Ben in Boat, find out more and get in touch!
Until next time,
Ben.