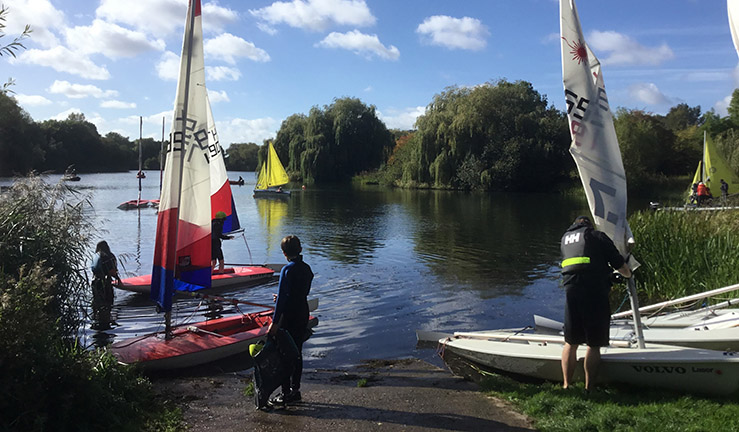 A bursary scheme is being launched by the RYA Midlands team to support development and participation at clubs and training centres in the region.
In line with the RYA's Together on Water strategy, the aim is to provide grants for training or projects to individuals, groups and clubs who are keen to grow capacity and engagement.
The initiative by the RYA Midlands Regional Volunteer Team will award bursaries designed to cover 60% of costs, making grants of up to £250 for an individual or £1,000 for a club or group.
Scheme administrator Andrew Yates, RYA Midlands Regional Team, said: "We are looking forward to welcoming applications which support the wide range of activities provided by our network of clubs and centres that otherwise might be difficult for individuals or organisations to fund.
"For example, it might be an individual who would like to complete an RYA instructor course so they can support participation at their club, or it could be a group of volunteers wanting to do some training. We're open to ideas for getting more people on the water, more often.
"The scheme will begin in 2024 but we are keen to raise awareness about it now so that people have a chance to plan ahead and think about how and why they might apply."
The RYA Midlands Learning & Development Bursaries will support all aspects of boating in the RYA Midlands region - including racing, cruising, women's groups, Sailability, OnBoard, windsurfing and other board sports - and will encompass:
Learning: activities which benefit the individual or a group of individuals such as skills or knowledge training
Development: projects and activities that build capacity to enable more people to enjoy being on the water
Additionally, priority will be given to activities which address under-representation of disadvantaged groups; promote equality, diversity and inclusion; and/or contribute to environmental objectives.
Online applications will be invited between January and March 2024 and will be considered by a panel appointed by the RYA Midlands Regional Volunteer Team. Successful applicants will be announced at the end of April 2024.
A total of £15,000 is available following the sale of an RYA Midlands-owned fleet of dinghies previously used to support training and club development. The aim is to reinvest the proceeds by allocating £5,000 a year over three years for the new bursary scheme.
Grants will not be made for infrastructure, capital projects or statutory training, and interested parties must be RYA members or belong to an RYA Affiliated club or training centre.
Applications must be supported by a Commodore or Principal, demonstrate cost-effectiveness and show a willingness to make a personal or club contribution.
The RYA Midlands Learning & Development Bursaries will be officially launched at region's annual gathering for clubs and their staff, volunteers and instructors - RYA Connected - on Sunday 19 November 2023 at Brockington College, Leicestershire. Find out more and book your free place!