Our new programme of monthly forums for clubs, training centres and OnBoard teams started at the end of January and we had a small group of participants for each session, really useful conversations and some great feedback.
It was just a nice and easy open platform for clubs and centres to talk about what is important to them and for everyone to share ideas and insights.
The aim is to provide a regular point of contact with myself and the Regional Team. Each forum provides three 30-minute time slots and an opportunity for you to catch up with relevant topics, ask questions, hear guest speakers and chat to other attendees.
Some participants attended one slot, others stayed for all three, and the format enables you to tap into whatever you feel is most relevant for you each month.
The next forum is scheduled for the evening of Thursday 23 February 2023. Find out more and sign up via our booking form.
Regional Training Day
Bookings will be opening very soon for our RYA North East Regional Training Day at Catterick Racecourse on Saturday 1 April 2023.
I'm really looking forward to this event, which will provide all the latest headlines and fresh ideas to help you create a great participation experience for all ages across the various training schemes at your club or centre.
And remember that this year, the day is for anyone involved in delivering on-water activities including instructors, race coaches and Sailability/disabled sailing volunteers. We'll have bespoke sessions for sail, power and boardsports and it should be a really good day.
Keep up to date with all the latest news in our RYA NE Instructors & Coaches group on Facebook, or by following @RYANorthEast on Facebook and/or Twitter.
Instructors get-together
We're also planning an RYA North East Pre-Season Bash for instructors! The plan is to have an informal and fun day on the water as a warm-up for the new season with a chance to try different boats, meet up and have some lunch.
Save the date to join us at North Yorkshire Water Park on Saturday 22 April and please do share it with your instructor teams. If you're an RYA Recognised Training Centre, look out for an email from us with a booking link.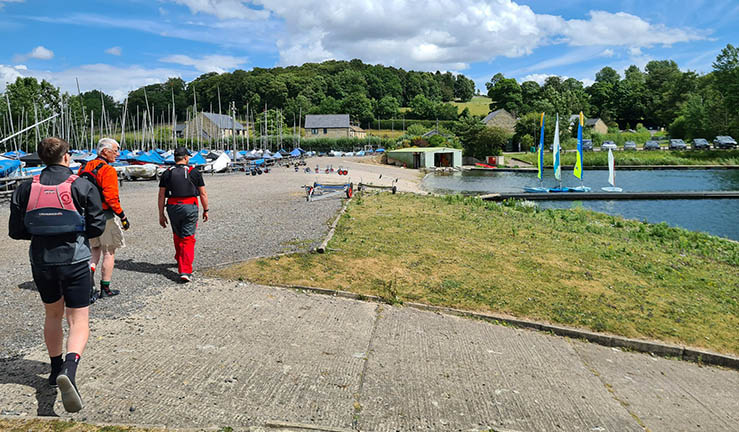 RYA Dinghy Instructor Course
Do you know any would-be RYA Dinghy Instructors? Let them know there is a course at North Yorkshire Water Park, 4-5 and 11-12-13 March 2023, plus at the same venue a Dinghy Instructor Pre-Entry Assessment Day on 25 February. For all upcoming courses keep an eye on our RYA North East Instructor & CPD hub.
Sport England funding
Congratulations to Coquet Shorebase and Teesdale SWC who have both been awarded grants from Sport England's Together Fund, which will enable them to work with local community groups on projects to get more children on the water this summer.
If you haven't already done so I would recommend reading this story here as it includes some great insights if your club or centre would likewise like to apply for funding. The deadline for the next round of applications to this pot of money is 07 March 2023 and all the details are included in the story about Coquet Shorebase and Teesdale SWC, so please do take a look.
An added bonus for those who able to secure grants is the opportunity to generate publicity for your club or centre. Teesdale SWC was invited to chat about its activities and the award from Sport England on BBC Radio Teesdale – listen in from 2:10:45 – and has also made a great contact at the radio station which now has the club's Discover Sailing day on its radar too!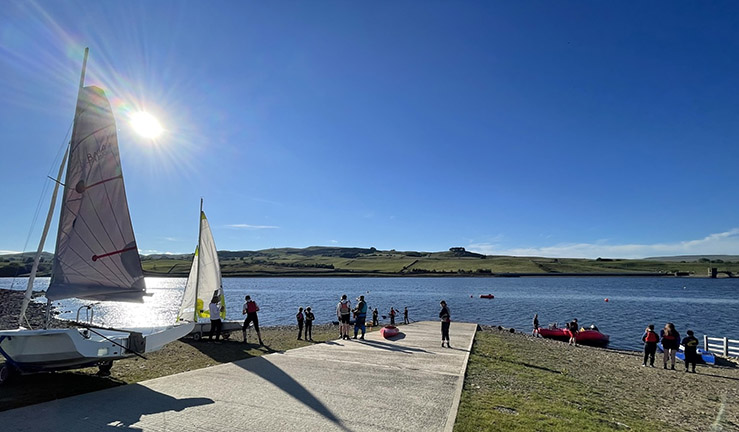 Get set!
With the occasional day starting to feel like Spring is on its way, we've put together a few top tips to help you welcome back and inspire your members.
Among the ideas featured is one from Otley SC in West Yorkshire, where the new season will again be launched with a Buoyancy Day, which combines practical 'boat checks' for members with the club's annual prizegiving and first race of the season.
What does your club do to celebrate its return to activities after winter, reinvigorate your volunteers or encourage renewals for another year? We're always on the lookout for stories to share so let us know!
And finally…
Good luck to our Club of the Year finalist Otley SC, we are keeping our fingers crossed for when the overall winner is announced at the RYA Dinghy & Watersports Show over the weekend of 25-26 February - if you would like to visit the show, book in advance and RYA members and children aged 15 and under go free!
Until next time,
Sam.