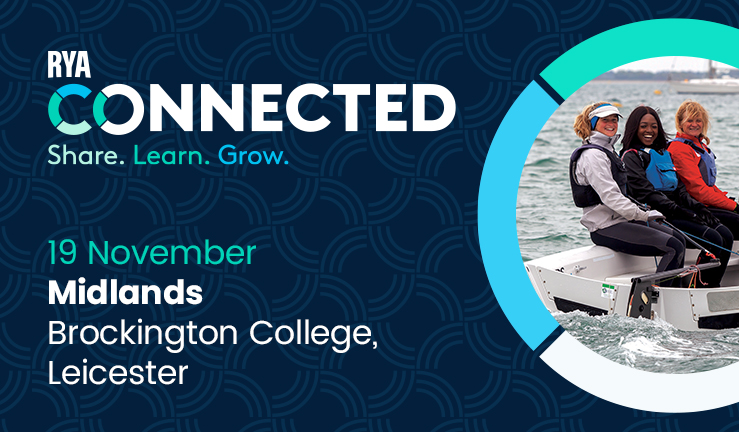 Clubs across the Midlands are getting set for their biggest event of the year, RYA Connected.
Representatives from all aspects of club life in the Midlands are invited to join the regional team at Brockington College, Enderby, near Leicester, on Sunday 19 November.
Tickets are FREE and the event is open to all RYA affiliated organisations including clubs, Sailability groups, class associations and race officials, as well as training centres based within clubs.
A packed schedule will include a range of forums, workshops and presentations from which delegates are invited to build their own bespoke programme on the theme Share, Learn, Grow.
Be inspired
RYA Midlands Regional Development Officer Ben Hodgson said: "This event is an evolution of previous ones like the RYA Affiliated Clubs Conference and the Sailability Conferences to bring everyone together for a stronger voice and a better-connected community.
"If you're involved with club management or training, racing, Sailability or a class association, this event is definitely for you! We can all learn from each other and genuinely this is the most important get together we will have in the region this year for people involved in club life.
"Come along to ask questions of us and each other and find out what's going on beyond your own club and boat park. You'll be able to hear from other clubs and groups about their challenges and successes, tap into RYA expertise, network and pick up new ideas to inspire you.
"We've got a broad range of topics reflecting the fact we're bringing together a wider audience but with three key areas of focus – to share, to learn and to grow, whether that's boosting membership and volunteering or developing your activities for the future. It's a free event, lunch is included, what's not to like? I hope to see you there!"
Find the agenda and book your FREE place at our RYA Connected booking hub.
Create your timetable
Doors at the Midlands event open at 9:15am for registration and networking, with a welcome session-for-all to officially start the day at 10am. Delegates may then choose a forum/workshop or two presentations for the morning, likewise for the afternoon.
Forums and workshops will include exploring challenges and opportunities in 2024; creating a volunteer strategy; developing an offer beyond racing; diversifying activities; building a thriving racing scene; growing your team of volunteers, instructors and coaches; planning club development; creating a warm and welcoming environment; and what a non-competitive offer might look like.
Presentations meanwhile will look at the impact of changing legislation; running successful and safe events; how to become an RYA Training Centre and the benefits; getting the best from your PY racing; collaborative working between clubs to generate funding and activity; handling disputes and complaints; safety management systems, support and resources; and making reasonable adjustments - regulations and what it means for your organisation.
Bring your team
With so much to choose from you may want to bring along a number of your team to benefit from all of the topics which you feel are of particular interest for your club or organisation.
There will also be a choice of technical pop-up sessions during the day to help you explore: how Sailability can help you provide a great environment for all; reducing your environmental impact and operating costs; how your RYA Midlands team can support you; recruiting and training a welfare officer; and RYA resources to find grants and support club development.
For all the details and booking, including the agenda detailing all of the workshops, forums and presentations, visit RYA Connected.