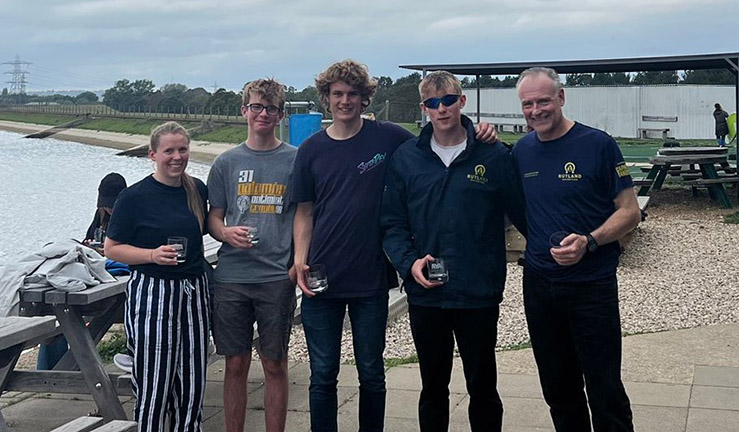 Skipper Ben Tylecote and his team from Rutland have won the latest qualifier in the RYA Match Racing series at London's Queen Mary Sailing Club.
Qualifier 2 of the RYA Summer Match Racing Series took place over the weekend (30 September-1 October 2023) with 10 teams duelling for supremacy.
A glassy calm met teams on the Saturday morning but following a short postponement a decent breeze filled in for a busy day with up to 8-10 knots and sunny spells.
Event Director Eilidh Millar said: "We had lighter winds for the first few races but then it was pretty consistent so we got most of the way through the round robin on the Saturday, and with a lot of close racing the top teams weren't getting it all their own way.
"On the Sunday it was less sunny but with slightly more breeze up to around 8-12 knots, so could get started straight away for flight 13, and at the end of the round robin the results included a two-way tie break and a three-way tie break. It shows just how competitive it was for most of the teams and PRO Charlie Stowe, Chief Umpire Craig Evans and all of the volunteers did a brilliant job of making it all run smoothly. It was a really good weekend."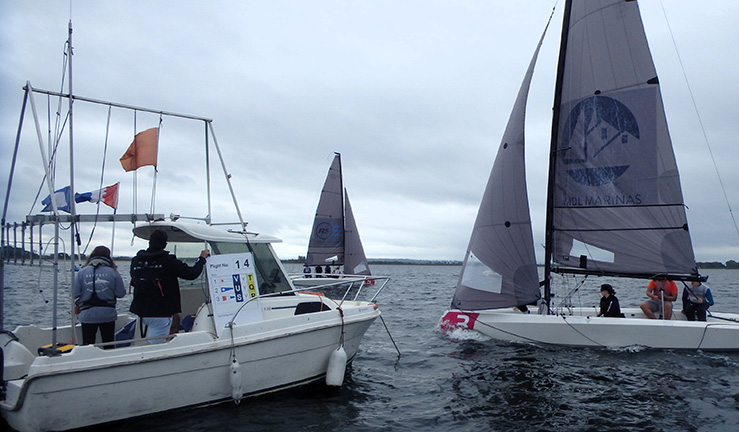 Round robin
Topping the leaderboard after the round robin with a 100% win rate was Ted Blowers of Royal London YC and his team of Robby Boyd, Hattie Watkins and Patrick Bray.
In second was Tylecote with Terry Hacker, Finian Morris, Steve Tylecote and Ella Ashworth, counting seven wins. Hot on their heels in third with six race wins was another young team, Heather Quinn and co - Ellie Thomas, Ben Paling and George Sellwood.
Fourth was Matt Taylor separated on tie break from Patrick Croghan in fifth, both counting five wins, with the three-way tie break below them seeing Jenny Cropley, Rhys Lewis and Chrisopher Eames in 6th, 7th and 8th each with four wins.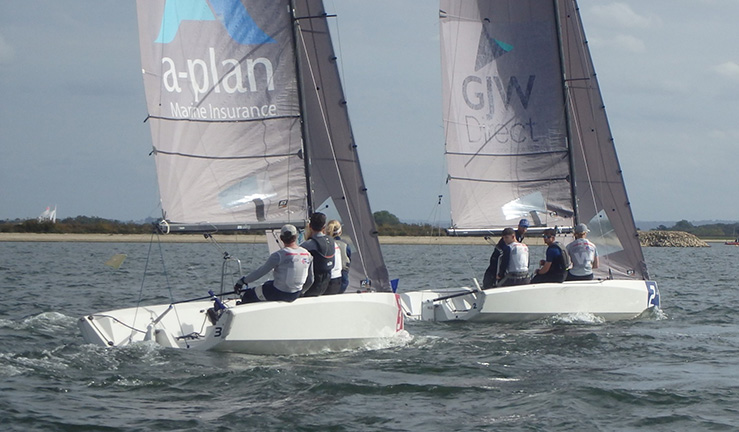 Tight racing
With close competition throughout the fleet the final placings were still all to play for.
Both semi finals were won 2-0 with Blowers winning from Quinn, and Tylecote from Matt Taylor and his Solent University team of Tiarnan Brown, Ellie Rush, Leo Wilkinson and Rufus Rytövaara. Taylor went on to win the Petit Final 2-0 from Quinn to claim third overall.
A King of the Hill for the remaining teams included a notable performance from Rhys Lewis who won three races to move up the final placings on the leaderboard from 7th to 5th.
The umpires then had their work cut out in the final as Blowers and Tylecote battled it out for the overall win, with Blowers breaking cover to the right of the first beat to take race one.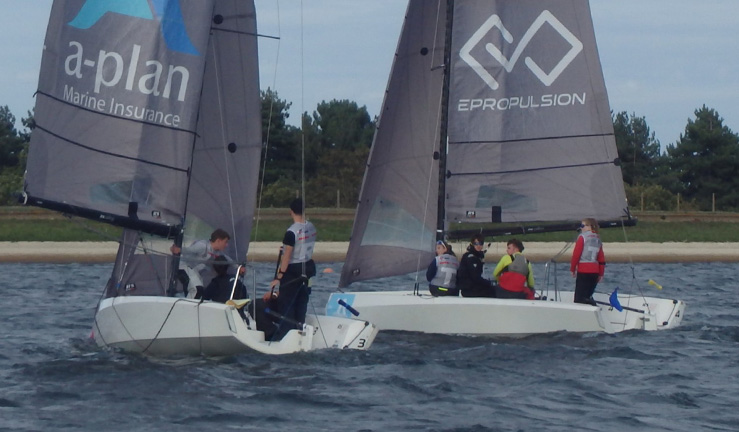 Making a splash
Tylecote then won the next three races in the first-to-three final with a combination of pre-start penalties against Blowers and some slick downwind work by the team.
The action included an epic prestart dial-up that ended up with Blowers on port being penalised whilst Tylecote on was starboard but climbing back in through the RS21 open transom having been a bit ambitious when hiking out to aid the bear away.
Winning skipper Ben said: "Thanks to my team for not leaving me behind when I fell out the boat in the finals! On top of this highlight, which the other teams particularly enjoyed, was a lot of close races which made this another great event building up to the RYA National Match Racing Finals."
Tylecote's team also hope to compete at the 2023 World Sailing Youth Match Racing World Championship in Sydney this December with a GoFundMe drive to support their campaign.
The RYA Match Racing Grand Finals will see teams returning to Queen Mary SC, 27-29 October 2023. Check out the full results from RYA Summer Match Racing Q2 at Queen Mary SC or find out more about how to take part at RYA Match Racing.