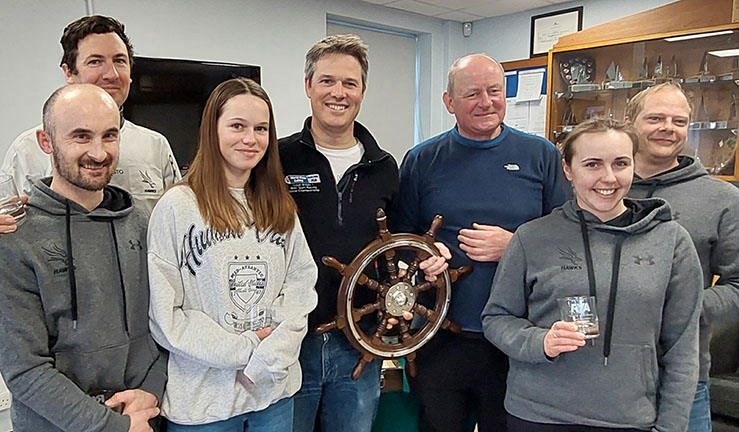 West Kirby Hawks retained their RYA / UKTRA National Team Racing Championship title to claim the Prince Philip Trophy for the seventh time.
Bough Beech Sailing Club in Kent hosted the event over the weekend of 25-26 March 2023 and for the first time in many years there were two days of good racing.
Saturday was pretty windy and there were pauses to allow some of the stronger gusts to blow through but despite this over 90 races were sailed under the HLS system, with all 23 teams getting eight races.
Sunday then dawned wet and with a much lighter wind but a further 77 races in gold silver and bronze leagues were sailed before the knock out stages.
These began with the winners of the silver league, Rutland Raiders, knocking out the fourth-placed gold league team, RTYC White, with a 1,2,5.
This sent Rutland Raiders into the semi-finals against West Kirby Hawks, while the other semi-final was Elmside Neighbours against Oxford and Cambridge Sailing Society. Both semis went 2:0 to West Kirby Hawks and Elmside Neighbours.
Full results can be seen on KSail.
The petit final saw Oxford and Cambridge Sailing Society taking third place overall, having a 1,2,3 in the first race and a 1,4,5 in the second to give them a 2:0 win over the Rutland Raiders.
The final also went 2:0 but in the first race practically everyone finished at the same time. Once the figures were in, it was a win for the Hawks with 2,3,5 which might have demoralised the Elmside Neighbours, who had been leading at mark 4, because the second race went 1,2,3 giving a second win and overall victory to the Hawks team of Dom Johnson, Izzy Johnson, Andy Cornah, Fiona Harrington, Ben Field and Tom Foster.
Once ashore the prizes were presented by event director Tom Clay.
For victors West Kirby Hawks, the win was four-in-a-row and seven in total, having previously claimed the title in 2009, 2010, 2011, 2018, 2021 and 2022. The event was not sailed in 2019 due to too much wind or 2020 as a result of the pandemic.
Dom Johnson, Team Captain of the West Kirby Hawks, said: "It's great to win another RYA/UKTRA championship. We had a really hard fight with the Elmside Neighbours, I think in the first race we all crossed the line at the same time! We are now looking forward to taking the fight to the Americans at the Wilson Trophy in May."
Find out more about team racing at RYA Team Racing or at UKTRA.