Welcome OnBoard!
A warm welcome to our most recent OnBoard venues:
Sea Cadets Crosby Boat Station, North West

Donaghadee Sailing Club, County Down, Northern Ireland
It's great to have you join us!
OnBoard action at the BYS Regional Junior Championships
This annual celebration of all that's great about junior sailing aims to be fun and inclusive for under-16s of all abilities. Once again, the OnBoard Fleet will feature for those relatively new to the sport, whilst the Regatta fleets are for rookie racers and the Championship fleets for experienced sailors.
The OnBoard fleet will be hosted by qualified RYA coaches with lots of 'Games with Aims' rather than racing. Its aim is to give the youngest or most inexperienced OnBoard sailors their first taste of travelling to an event, sailing at a different location, and having fun whilst making new friends and learning new skills. Participants can bring their own boat or use a boat provided by the host venue, making it easy to take part.
The Championship will be held over the weekend of 18th and 19th September 2021 for the windsurfers and the 25th & 26th September 2021 for dinghies at various venues around the UK. More information here.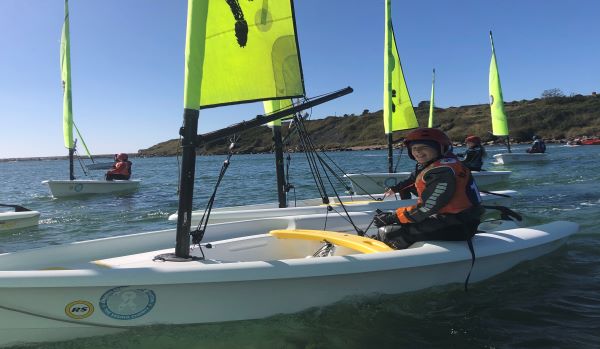 Barton Marine become official OnBoard supplier
We are delighted to welcome Barton Marine as Official Supplier to RYA OnBoard.
Barton Marine is a leading manufacturer of lightweight yacht fittings, suppling deck gear and accessories for sailing yachts and motor craft around the world.
Barton Marine will supply the RYA with eight 'mega SUP's' for use at OnBoard events, festivals and the 2022 BYS Regional Junior Championships. The stand-up paddleboards will allow children to have fun out on the water in a new and exciting way. Children taking part in the OnBoard Fleet at this year's BYS Championship events will also be offered a branded cap.
Hannah Cockle, OnBoard Operation Officer comments: "It's so exciting to have Barton Marine OnBoard. Since we first spoke, they have been so keen to support getting children out on the water and the SUP's are a perfect way to do this. There really is no experience needed to use a SUP so they are perfect for everyone, and of course great fun! I'm really looking forward to our partnership with Barton Marine."
Club of the Year Awards now open
Applications are now open for the RYA and Yachts & Yachting Club of the Year Awards, supported by Gallagher, which celebrate the outstanding achievement and promote the hard work of sailing clubs.
There will be a finalist for each of the 10 RYA Regions as well as two 'wild card' entries. Five clubs will also gain recognition for achievements in five areas: Heart of the community; Modern, innovative, and forward thinking; Sustainability; Inclusive and open to all and boosting membership.
Applications close on 20th September. More information here.