The 2021 John Merricks Sailing Trust (JMST) and RYA OnBoard Scheme is now open to deserving young sailors from lower socio-economic groups (LSEGs).
At least 10 boats and boards will be gifted to promising youngsters who display enthusiasm and commitment to our sport and who don't own their own boat or have the financial backing to do so.
We are encouraging clubs and centres to submit nominations on behalf of deserving young people. Individuals, including parents and carers, may still nominate but we are urging clubs to apply.
Here is a helpful guide to the application process:
Please read the Notice of Selection which can be found

here

.

Next, to submit a nomination, clubs or centres need to complete and submit the online

JMST Declaration of Eligibility Application Form

before the closing date on Monday 27th

September 2021.

Nominees need to attend their relevant

BYS

Regional Junior

Championships

(the

"Indicator Event"). However, if a child can't attend, as they don't have a boat and there isn't a boat available, they can still apply.

At least three sailors will be shortlisted

from each

Indicator Event

.

Each shortlisted candidate

will be contacted to return any additional requested information.

The Selection Committee

will then select at least one young sailor from each of the 7 RYA Regions and 3 Home Countries.

Applicants will be notified via email as soon as possible after the completion of the process.

The sailor will receive exclusive use the boat/board for two years, after which custody reverts to the club/centre which they represented in the Indicator Event.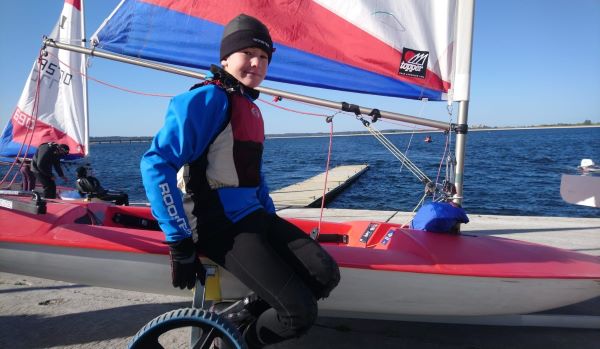 Benefits to clubs and centres
After the young sailor has enjoyed two years of exclusive use, the boat or board is donated to the sailors' club or centre for other youngsters to use and enjoy.
In 2016, two young cadets from Newhaven and Seaford Sailing Club each received a new Topper which was subsequently absorbed by the club fleet and are now part of the club's Topper race fleet.
"Without a doubt receiving the new JMST boats certainly made a difference," says Simon Suter, Newhaven and Seaford SC Principle and Training Director. "These boats are now used by those youngsters who are competent and signed up to do the racing training. They really are a big part of the raining scene at the club."
Eligibility
The Scheme is open to youngsters who may not ordinarily have the opportunity or financial backing to achieve their sailing goals.
The Notice of Selection includes the full eligibility criteria and reiterates that nominees must not already own their own equipment, nor have the use of family-owned equipment.
The young sailor and their family should have a genuine financial need to apply, for example they could not reasonably support the purchase or long-term rental of their own equipment.
Clubs and centres need to submit nominations, rather than individuals including parents and carers.
Children can take part in any fleet at the Indicator Event. These are: OnBoard (boat should be supplied), Regatta or Championship.
The Selection Committee consists of: Regional Performance Manager, Regional Developmental Officer, OnBoard Development Officer, plus either a Regional/Home Country Committee or a RYA Youth Steering Group representative.
The boats/boards to be funded are restricted to the RYA singlehanded Junior Recognised classes which are: RS Tera, Optimist, Topper, Laser 4.7/Ilca 4 and BIC Techno 293OD.
Nominees need to be aged under 14 on the 31st of December 2021.
For any further information email onboard@rya.org.uk or call 02380 604195.