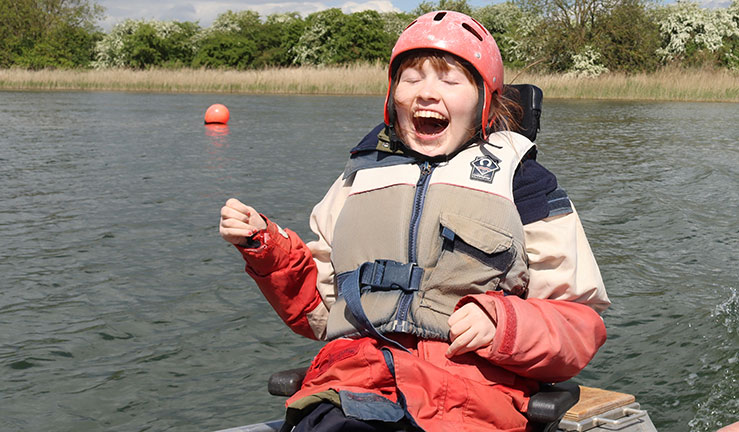 We caught up with Grace and fellow students at Welton Waters Adventure Centre
Grace has non-verbal cerebral palsy and epilepsy, a condition that can make it challenging to communicate but there is no doubt that Grace loves sailing!
Welton Waters Adventure Centre opened in May 2021 as a #Sailability centre. Since its inception, not only has the fleet of 6 grown considerably but so have the facilities; the centre also now boasts a full range of water sports and an accessible outdoor area for camping and bushcraft.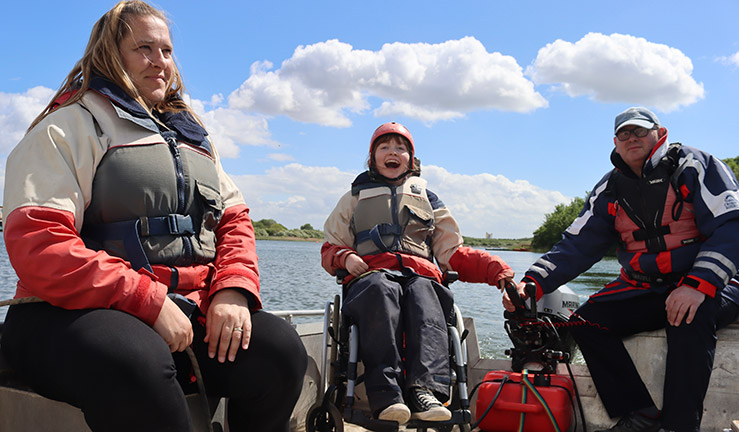 The group lead, Charlotte shared with us the school's experience of sailing with Welton Waters
"When we come to Welton Waters' the students can be pretty apprehensive, they've never been anywhere like this before, and it can be quite scary; the open water, the noises, the powerboats can be very loud, and if you are not used to it, it can be daunting."
Charlotte explained to help students relax, they would start with an equipment check before donning the wet suits or dry suits to walk the students into the lake to learn that the buoyancy aid can hold their weight and keep them safe.
"When Grace first came, she was a bit wary of all the loud noises and all the different things going on, but as soon as she was out on the water in the boat, she absolutely loved it, and she's never looked back."
"Now, when we bring her before we even get off the school site, and she's getting on the bus, she's laughing and giggling, she's in her element, and it's beautiful to see how much she gets from it."
"As soon as Grace sees me in the morning, I get a big grin and a giggle as she knows where we are going, and when we start going down the bumpy lane, she's giggling all the way."
Charlotte has been working for St Ann's, an inclusive school, catering for a wide variety of individual needs for 12 years, and they have been enjoying Welton Waters all year round for eight years.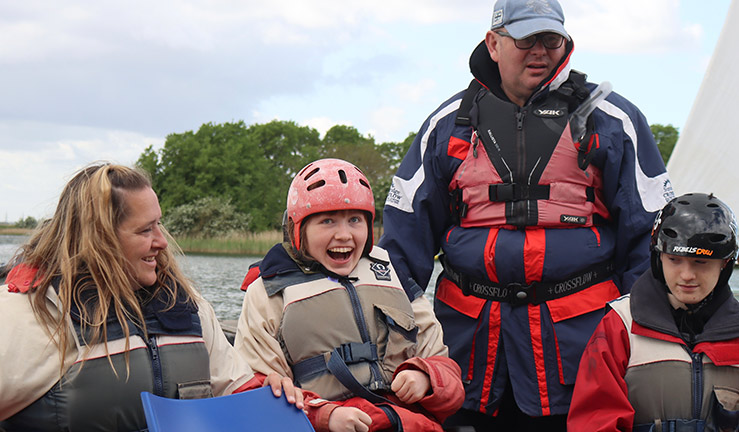 Charlotte was high in praise for the team at Welton Waters, who have gone above and beyond to facilitate the students' needs.
"When we first started coming, there was no downstairs classroom, which for wheelchair users was a real issue. As soon as Pete realised this, a temporary downstairs building was erected. The centre then self-funded the conversion of part of the boat stores into a modern downstairs classroom."
"Currently, they are building disabled changing facilities, new toilets, new push-button showers, all built and redecorated by volunteers."
"They have done everything they can to help us. We are lucky to have a beautiful facility like Welton Waters on our doorstep. I would tell anyone to come and experience it, it's beautiful, and the kids get a lot out of it."