Let's support each other, turn to each other for advice, and to connect
Tinu's story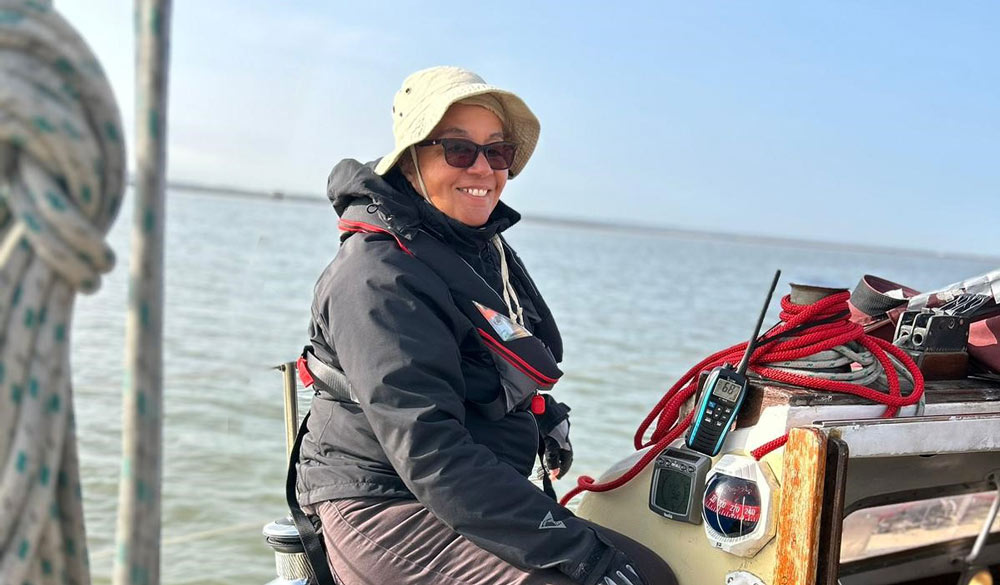 Sailing is an activity where you are surrounded by nature, using both your body and your mind. You never stop learning with sailing. And as it's a low-impact sport, it's open to everyone. It's a combination of many aspects that make sailing so enjoyable for me.
I grew up in Norfolk, so my first experience of getting afloat was dinghy sailing on the Norfolk Broads with my sixth form. I then had a 30-year gap. I was fast approaching the big 5-0, and returning to sailing was high on my wish list. I remembered how much I enjoyed being on the water as a child; also, on my mother's side, there is a history of seafarers, boatbuilders and herring fisherman - I think I have the salty gene! As soon as I was back on the water, I absolutely loved it.
A common misconception is that you must own a boat to sail
When I first started sailing yachts, I was advised that if I really wanted to learn to sail well, I should learn to sail dinghies. So, I joined the Welsh Harp Sailing Club near Wembley Stadium and learnt to sail in the club's dinghies. Things change very quickly in a dinghy, and it's a fantastic opportunity to repeatedly practice your skills.
A common misconception is that you must own a boat to sail. However, most clubs have their own boats, which you can use. I have now become the co-owner of a boat with two other people, but I know plenty of sailors who have never owned a boat.
The first time I visited my current club, Greenwich Yacht club, it was to join a club evening, with about forty other people. Refreshingly, no-one noticed me as I arrived in the room. When I had visited other sailing-related events, heads would swivel, and rooms would go silent because they noticed someone different had arrived. However, my club were used to seeing women sailing, including women of colour and older women. It was such a regular scene that I did not stand out.
Although not all my experiences have been so positive. A few years ago, I signed up to crew on a boat during Cowes Week. I'd specifically chosen a boat with a lady skipper because I thought it would be a more inclusive experience. However, this was pre-brexit, and there was a real feeling of division around at the time. A Polish lady and a young man with red hair were among the crew, and we were completely ostracised. The skipper didn't do anything about it, and we felt so excluded.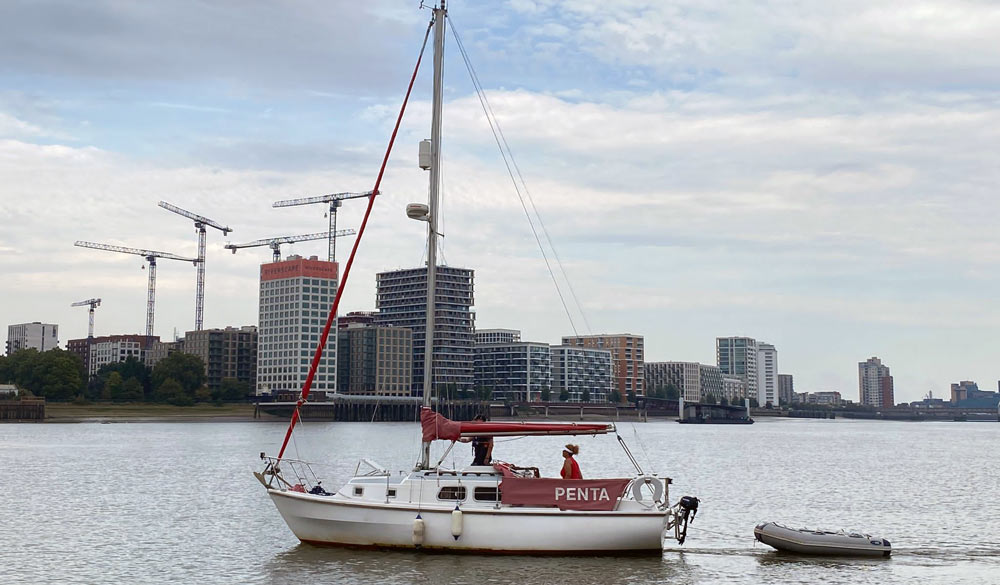 Everyone can play a role as an active bystander
It's the unthinking comments that I think can be very hurtful. I have often been asked, 'Where are you from?' when I respond, 'Norfolk or London,' people continue to question me. Everyone can play a role as an active bystander. For me, being an ally or an active bystander equates to modern-day manners. This means helping to put other people at ease and making them feel comfortable in an unfamiliar environment. When afloat, I think the skipper can play a significant role in setting the tone of a crew.
Part of being an inclusive club is ensuring that when a new person visits, they're made to feel welcome. If you are part of a club and know someone new is arriving, meet them individually. Connect that person with someone interested in similar sailing or boating. A positive introduction is a great start.
Don't beat yourself up if you make a mistake
As a woman in sailing, I have learnt that you must be determined to do everything for yourself. One tip is to let the skipper know that you want to try your hand at everything. Don't beat yourself up if you make a mistake, men tend to just chalk mistakes up to having a bad day. At times, I have felt that people are muttering under their breath about my mistakes, but sailing is also great for building mental resilience.
Although many women may not have as much innate strength as men, women always figure out other ways to accomplish tasks. I had the pleasure once of meeting Jean Socrates, who completed her third solo circumnavigation at 70 years old. At 5"3, Jean is quite petite, I asked her how she achieved the more physical on-board tasks, and she said that she worked around it and would even use her feet to turn the winch handle, if needed.
My proudest sailing achievement so far is completing the fastnet race, twice. It's the sailing equivalent of the London Marathon. After Covid, I wanted to escape on shore worries and take on a new challenge. One of the things still on my bucket list is to go sailing and diving in the British Virgin Islands. I'm currently feeling a strong attraction to adventure sailing, so crossing the Atlantic is also on my list.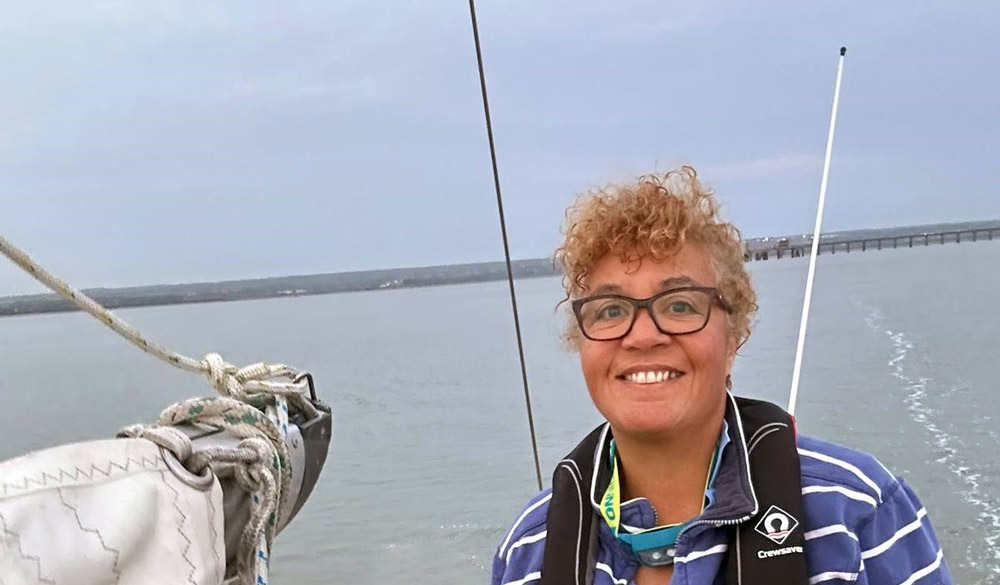 Even in inner city environments, there are clubs and centres to get afloat with
I wish everyone was more aware of the sailing opportunities on their doorstep. Even in inner city environments, there are clubs and centres to get afloat with. I would also like to see every child given the opportunity to engage with water sports and to try sailing. More open discussions about inclusion and support as part of crew management would also be fantastic.
For any black women thinking of trying sailing, my advice is you might be the odd one out, but if more black women get involved, you will not be. You can go sailing at the weekend or after work in the evening. You don't need to be gone for long periods, which makes it such a great sport if you have caring responsibilities.
If you are interested in joining a club, I recommend visiting more than one; don't settle for the first club you visit. Clubs come in all different shapes and sizes - see two or three in your area.
Let's support each other, turn to each other for advice, and connect. I think it'll help more people to start and stay in the sport.
Start your journey
Find out more about getting started in sailing, boating or watersports or find a club or centre near you.