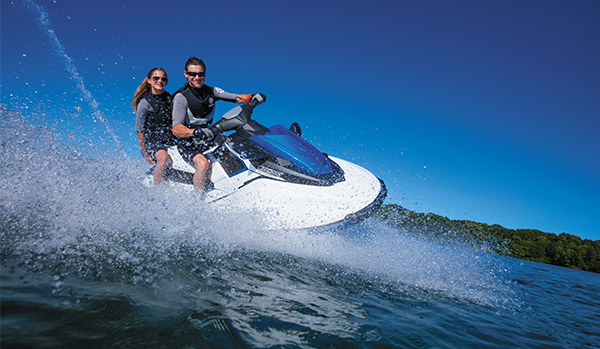 For many, personal watercraft (PWs) are something we'd associate with holidays overseas. But if you're looking for new outdoor activity to try a little closer to home, they're perfect for exploring our home shores too.
Here, RYA Personal Watercraft Instructor and Ambassador for the Personal Watercraft Partnership (PWP), Scott Beelend explains what's to love about PWs and shares his top tips for getting started safely and riding responsibly…
Why choose a PW?
A personal watercraft, commonly referred to as a 'Jetski', can be a fantastic and fun craft on which to go exploring. They are small, lightweight and easily manoeuvrable, meaning you can access many areas that bigger craft cannot. Their small size also lends itself to storing in your garage at home, as well as easy towing, launching and recovering.
Finding the right kit
A brand new PW can be bought for around £6,000 on a trailer. Of course, you can spend significantly more if you want a high-performance model with all the bells and whistles. But on the other hand, there are plenty of older, used PWs available for a few thousand pounds, so there really is a PW for everyone.
There's a huge choice of ride wear and equipment on the market, but what do you really need? The UK has a temperate climate and coastal conditions can be prone to frequent changes, so you need to ensure you are both warm and protected - all the gear is a great idea:
Buoyancy aid or impact jacket– this is an absolute must! If you fall off your PW, you need to be able to float. Never ride without wearing one.
Wetsuit– there are different styles and thicknesses available, from lightweight short summer suits, to full length thicker winter suits.
Footwear – anything from a pair of trainers, to purpose designed riding shoes or boots, can make for better grip on your PW and more comfort on that lunchtime walk to the chip shop.
Gloves– a pair of gloves will keep your hands warm and give a better grip on your handlebars for better control of your PW.
Hat - a neoprene hat will stop you loosing heat through your head and will protect you from the sun.
Eyewear- salt spray and wind can make it difficult to maintain a clear lookout while riding. A pair of glasses or goggles will make a big difference, just make sure they float!
Safety kit– at a basic level you should always carry a tow rope, an anchor, a whistle, some distress flares and a knife to cut you free of any debris.
Communications– at the very least, make sure you have a mobile phone. A VHF handheld radio is better, but you'll need an operator's license to use it legally. If your VHF isn't DSC capable, you can carry a PLB (Personal Locator Beacon) so that your location can be pinpointed in an emergency.
Sustenance– it's always a good idea to carry snacks and drinks to stay hydrated.
Spares – a spare set of spark plugs and a tool to change them could get you out of needing a long tow back to shore.
Get trained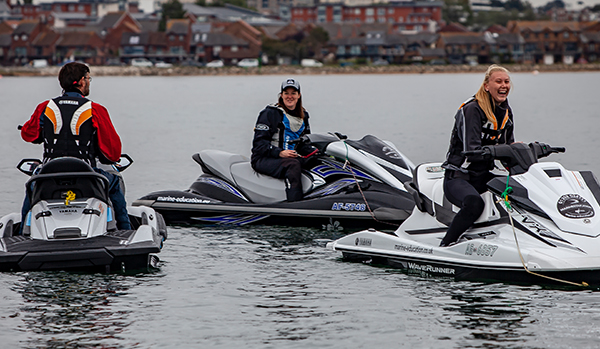 The more powerful, modern PWs are capable of speeds in excess of 60mph and can reach that speed in the blink of an eye. With great fun comes the need for great responsibility.
The RYA Personal Watercraft Proficiency course is an affordable, one-day training course, which teaches you how to ride a PW safely and responsibly. You'll also cover the basic skills of navigation and 'rules of the road', which include knowing what buoyage signifies and how to avoid collisions on the water.
Anyone that takes the course will also be provided with a copy of the RYA Personal Watercraft Handbook (G35). Packed with information and advice on everything from pre-launch checks and passage planning, to offshore cruising and legal requirements – its essential reading for PW riders old and new.
As you progress in your PW adventures, there are other RYA courses available that can further increase your skill set, such as the RYA Marine Radio Short Range Certificate (SRC) course, or one of the navigation courses.
Location, location, location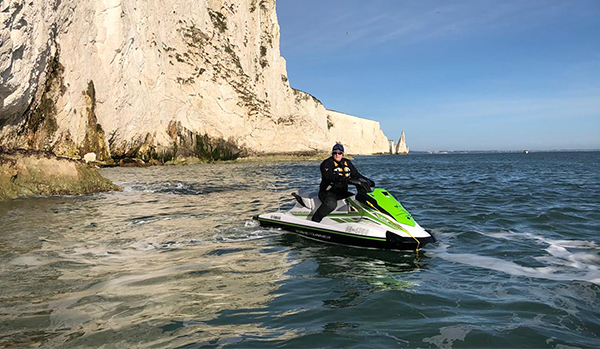 Many areas of the UK have local registration systems for PWs which, at a fairly reasonable cost, you'll need to sign up to in order to be allowed to launch and ride in your chosen location.
Unfortunately, there isn't a national scheme in operation, so you may need to pay for additional registrations if you want to launch in a variety of areas.
Many local councils also set minimum rider ages and require RYA qualifications in order to get afloat.
Insure you're covered
Depending on the age and model you select, a PW can cost up to £18,000 to buy new. You wouldn't drive a car without being insured, so you really shouldn't be doing it on your PW either. Many harbour authorities and local councils require that you have insurance.
As well as protecting against theft, you'll also be covered should you damage your craft. Many policies also offer public liability insurance, should you be unfortunate enough to need it.
Safety in numbers
Not only is riding alongside like-minded friends much more fun, it's also the safe way to do it.
Riding with a group means you have help and support should you break down at sea or fall off your craft and find you can't get back on.
There are a number of fantastic PW clubs and groups around the country that are easy to join. As well as the obvious benefit of finding riding buddies, you will also be shown around the area by experienced, responsible riders and have access to information and advice about areas to avoid, local regulations and must-see spots.
Always ride responsibly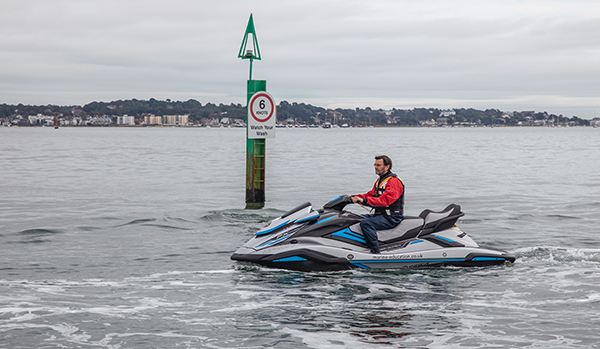 PW riders are not always seen in the best light and an irresponsible minority can be the subject of bad press. Riding with an established, responsible club or group can help ensure you don't fuel any negative comments.
If you do end up going it alone without the support of a club, there are a few key things to remember:
Do your research regarding local regulations and licensing requirements
Check the forecast and tides
Have a passage plan
Carry the correct gear and a means to call for help
Stick to any speed limits and stay out of any exclusion zones
Respect others, both on and off the water
Respect the Marine Code that protects marine life
Never ride solo, always take a buddy
Always let a friend or family member know where you're going and when you're back on shore. Consider using the free RYA SafeTrx app to help with this.
Find out more
The RYA and Personal Watercraft Partnership have great resources available online to get you up and running, and to help you find a local club or group.
The RNLI also have some helpful information and advice regarding safety at sea and safe PW use.
Riding a PW is a great way of getting out on the water. Doing it safely and responsibly makes it much more fun for everyone afloat.
For more information about RYA training courses and to find a centre near you, visit www.rya.org.uk/go/pwc.