Continuous Professional Development over the Winter months!
You may remember in last month's Clubroom that we asked you to consider some Winter activity, and this is just a gentle nudge to remind you to come forward with any Continuous Professional Development needs at your club.

There will some great Club Development Sessions coming up in the next few weeks, specifically designed to support the running of your club – Sessions on both Safeguarding Children and Adults and the opportunity to catch on some sessions you might have missed - specifically a look at how crowdfunding could help your club build new facilities. Further information and details can be found here:

https://www.rya.org.uk/gbni/rya-cymru-wales/welsh-club-and-centre-support/club-development-forums-workshops

This is new area of the website work keeping an eye on as new sessions get uploaded here quite regularly.
Instructor Courses
Teaching people to sail has long been an activity clubs do to gain new members, so if your club is looking to find out what courses are on in Wales this winter, we have a new area of the website where details of the latest courses running can be found.
https://www.rya.org.uk/gbni/rya-cymru-wales/workforce/instructor-courses-in-wales

If your club is interested in running an instructor course, please get in touch to discuss further.
There's also a very useful subsidy available to volunteers:
https://www.rya.org.uk/gbni/rya-cymru-wales/workforce/volunteer-course-subsidies
Looking to expand your skills?
If you are already qualified some of our CPD sessions could just what you are looking for? We have another new area to the website
https://www.rya.org.uk/gbni/rya-cymru-wales/workforce/instructor-and-coach-cpd
This is where we will be uploading details of the sessions we run over this winter period- Watch this Space!
Affiliated Clubs Conference (ACC) - Welsh booking now open!
Following the success of the RYA's first ever virtual Affiliated Clubs Conference in 2020, this year's offering will be an online National event with the Welsh Conference also going online with a series of online sessions starting the week commencing the 22nd of November. We hope this makes it easier for as many people as possible to attend. More information can be found here:

https://www.rya.org.uk/events/affiliated-club-conferences
Affiliated Clubs Conference VIDEOS!
We're asking as many clubs as possible to contribute to the ACC, and we'd love to get loads of videos from Wales, and some in Welsh if at all possible, please??
We're looking for club members to record short video clips, around 30 seconds to a minute, explaining the following:
What key ingredient is vital to your club having a successful future?
What one thing would you like to see introduced at your club to ensure a successful future?
"For a successful future at our club I'd like to see…."
If you could email your videos via WeTransfer (or similar), to wyn@aqua-marketing.co.uk

Thank you!
British Youth Sailing Welsh Regional Championships 2021
The British Youth Sailing Welsh Regional Championships were held at Plas Heli, Pwllheli over the weekend of the 25th and 25th September.

It was a fantastic weekend of racing with some very competitive sailing and lots of fun on the OnBoard Regatta Fleet!

The full results can be found here: https://www.rya.org.uk/gbni/rya-cymru-wales/racing/racing-events/british-youth-sailing-welsh-regional-championships-2021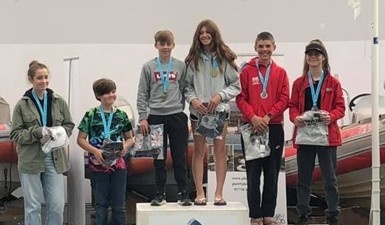 Personal Watercraft Consultation
The Department for Transport (DfT) has launched a public consultation on the use and classification of recreational and personal watercraft (PWC). The Government has said that the consultation's purpose is to 'modernise laws and clamp down on dangerous driving of jet skis to protect the public and coastal areas.'

The consultation, 'Strengthening enforcement of the dangerous use of recreational and personal watercraft' opened on 06 September and will close at 11:45pm on 01 November 2021.
You can share your views by following this link: https://www.rya.org.uk/news/future-of-pwc-rya-prepare-response-to-consultation-and-reminds-members-to-have-their-say
Portsmouth Yardstick Documentation - it's that time of year!
Its' time to submit your club returns- they are vital to ensure we can have as fair handicap racing in clubs as possible. Further details can be on the https://pyonline.org.uk/

For those of you wondering what the Portsmouth Yard scheme is? It worth checking out https://www.rya.org.uk/racing/technical/handicap-systems/portsmouth-yardstick
The RYA has recently published the revised Portsmouth Yardstick Documentation. These documents have been designed for both sailors and clubs to gain a better understanding of how the scheme should be best used and getting the fairest results when allocating Portsmouth Numbers.
That's it from us this month – see you in November!


The RYA Cymru Wales Development Team.