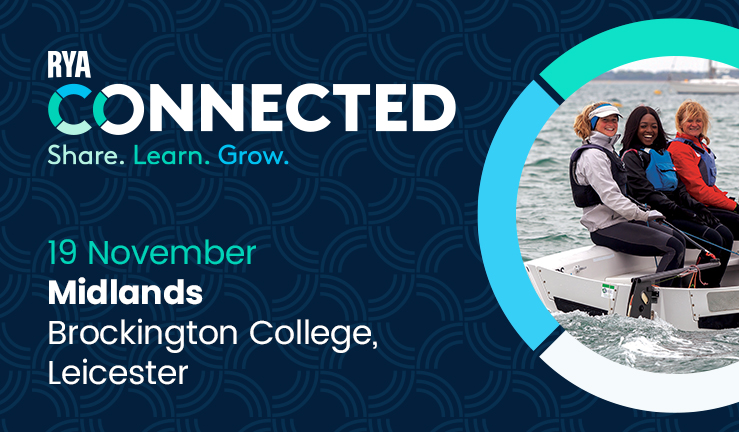 As we move towards the end of the year and look ahead to the next, I wanted to let you know there is a new events hub on the RYA website, making it much easier to plan your calendar.
The RYA Events Hub has options via a menu on the left hand side to filter your search by region or Home Country, so you can find all the dates for the Midlands, with additional options for:
Audience: Clubs, Competitors, Instructors/Coaches, Race Officials, RYA Members, Training Centres, Volunteers, Youth & Junior
Event type: Competitions, Conferences, Online, Shows, Training and Development
Month: for example November 2023.
It enables you to find what you're looking for all in one place and it is well worth exploring the RYA Events Hub so you're aware of how it works and what's currently available.
RYA Connected
Next up in the Midlands is our flagship event of the year for clubs, RYA Connected.
This event is for anyone involved in club life – whether on a committee or supporting training, Sailability or racing – and it's been great to see so many of you booking to join us for the day at Brockington College, Leicester, on Sunday 19 November.
I know a few of you are keen but haven't yet got around to signing up! If you would like to come along, register for your FREE ticket asap as bookings close at midnight this Sunday 12 November.
It's a new venue and a new type of event which is open to more groups than ever before. The feedback from the regional RYA Connected events so far, such as in the South West, has been overwhelmingly positive, so don't miss out on our turn in the Midlands!
You'll be able to find out how RYA Affiliation is changing and explore a multitude of workshops covering everything from boosting your membership, training and volunteering through to handling disputes and legal issues, reducing your carbon footprint and costs, running big events and finding grants... whatever you want to know, we've got it covered!
There are still spaces left on all of the sessions and you can create your own bespoke timetable to suit your interests and the needs of your club or group – read our Midlands RYA Connected Preview to find out more or secure your place at the RYA Connected booking hub.
Youth activities forum
Quite a few clubs and centres now may be winding back their youth and junior activities for the year, or have already finished for the season, so this is a good time reflect the positives of 2023 and share ideas to help us all make the most of next year.
If you are involved in running Y&J activities, we have an online forum for you on Wednesday 29 November at 7.45pm, hosted by myself and Sailing Development Officer Tom Davenport.
We'll be looking at the wealth of OnBoard resources available and how these can be plugged into your activities if you are not already using these, and sharing training opportunities for you and your team. Read more about OnBoard training in the Midlands in Tom's blog and register for our RYA Midlands Youth and OnBoard Forum.

OnBoard development days
Did you know we have free OnBoard Development Days available for clubs and centres in the region? Get in touch if this is of interest and we can arrange for one of our OnBoard tutors to visit your venue to work with your team.
It's a great opportunity to upskill for delivering windsurfing and sailing sessions for young people, while learning more about the OnBoard resources we have available, not only for students but also to support your instructors and volunteers.
Even if you've had one of these before, it is well worth doing again to catch up with the latest ideas for inspiring Y&J activities at your club or centre! Find out more at our online RYA Midlands Youth and OnBoard Forum or contact me direct to book your free OnBoard Development Day.
Ben in a Boat
I'm looking forward to visiting Chelmarsh SC in Shropshire this Saturday (11 November) as part of my Ben in a Boat initiative. There is an open day so it will be nice to see this in action and I'll also be spending time with the club's training team on the water to support instructor and safety boat skills.
I'm still keen to welcome invitations and interest from clubs and centres who'd like a visit from Ben in a Boat for their team on a topic of their choice. Find out more about my previous Ben in a Boat visits to clubs and contact me to request a visit so we can get something in the diary for you.
And finally…
Our photo competition has concluded after three months and I'm pleased to announce that the winner of the October round is Joanne Hill of Swarkestone Sailing Club, whose picture of a boat decked out in fairy lights for a junior club night sail caught our eye.
We really liked the story behind it: celebrating the end of the children's season with the biggest amount of fun and an evening that they will remember all through the winter, so they will be looking forward to getting back on the water next season!
The prize of a Helly Hansen 12L lightweight dry bag is in the post and our panel of judges from the RYA Midlands Regional Volunteer Team now has the difficult but enjoyable task of reviewing all of the entries from August, September and October.
We'll be announcing the overall winner from all of the photos submitted at our RYA Connected event – in the meantime a massive thank you to everyone who took part to help put their venue and the many ways we all enjoy getting afloat in the spotlight!
Looking forward to seeing you all soon,
Ben.