A vibrant training programme at Yorkshire Dales Sailing Club has seen sessions running at capacity in 2022 and boosted membership.
End-of-season number crunching has revealed that its instructors ran 1,078 sessions in total across 117 courses, reaching 190 adult participants and 113 under-16s.
The members-run club relies on volunteers to deliver its activities. The training programme, however, uses a hybrid approach, whereby volunteer instructors run 'club sessions' but also have an opportunity to be paid to deliver RYA courses.
Training principal Erica Caswell explains: "All of the club beginner and improver sessions are run by volunteers but we pay them when running 2-day RYA courses. We wouldn't be able to run as many courses if it was all done completely voluntarily.
"All of the instructors are still club members and we pretty much only give paid work to those who volunteer for the club sessions, which rewards those who contribute, and we are fortunate to have a large team of dedicated instructors and coaches so we are self-sufficient."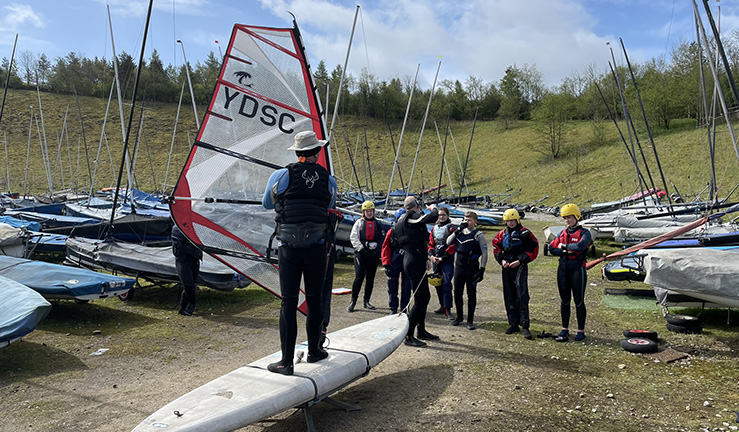 Developing instructors
Club sessions delivered by volunteers include Discover Sailing tasters for both adults and children, Youth Stages for junior sailors, plus adult and youth dinghy and windsurfing 'improver sessions', race development training and safetyboat refresher training.
RYA courses delivered by paid instructors include the RYA Youth Stages Holiday Courses, Start Windsurfing, RYA Level 1 & 2, RYA Powerboat Level 2 and Safetyboat courses.
The club has approximately 20 instructors, including around 15 dinghy and half a dozen windsurf instructors. Erica, who is an RYA trainer, along with the club's powerboat instructors, support the continuous development of the team.
Erica runs a couple of RYA Dinghy Instructor courses a year, each usually with one or two club members encouraged to enrol, including youth sailors, who help informally and are then invited to think about becoming Assistant or Dinghy Instructors.
"It's important to keep picking up new people and we've established a team of some really reliable people, who are key players," says Erica.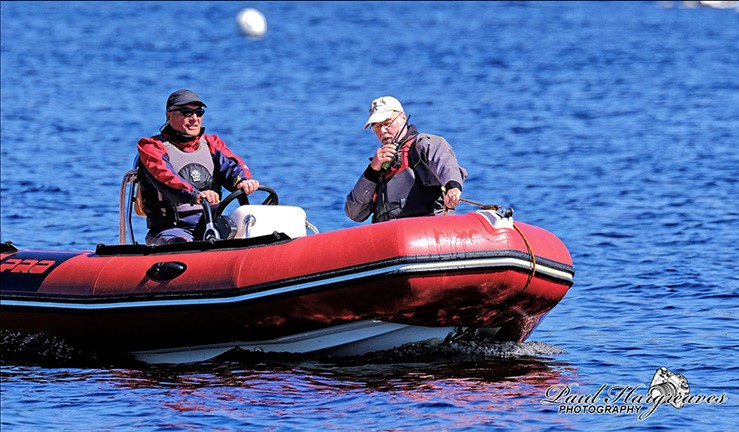 Success factors
Splitting the workload between volunteer and paid instructor-led sessions and courses has enabled the club to maximise its training activities. Success factors have included:
Valuing volunteers: instructors who volunteer their time to support club sessions have an opportunity to be paid instructors for RYA courses.
Saying thank you: the club ensures volunteers feel appreciated, whether via paid instructing opportunities, recognition on social media, involving them in planning, nominations for awards or a free bacon butty on a Discover Sailing day.
Block bookings: Replacing ad hoc bookings for individual slots with block bookings paid in advance for some activities has enabled easier planning with more consistency for instructors and participants: for example, four Saturdays at a time for children's sessions, during which time they may achieve a Stage 1 or 2 certificate.
Communications: Ensuring the club website is up to date and that enquiries, emails and bookings are handled efficiently, including for regular 2-hour £10 Discover Sailing sessions.
Providing a pathway: from beginner RYA courses to club 'improver sessions' to embed incoming sailors and windsurfers into the club community.
Developing instructors: the club spots potential instructors and encourages them to take an RYA instructor course so they can join the team.
The challenges for the club are that although the courses are run by paid instructors, there are still many hours of volunteer work required for club sessions and behind the scenes to cover all the associated administrative and planning tasks.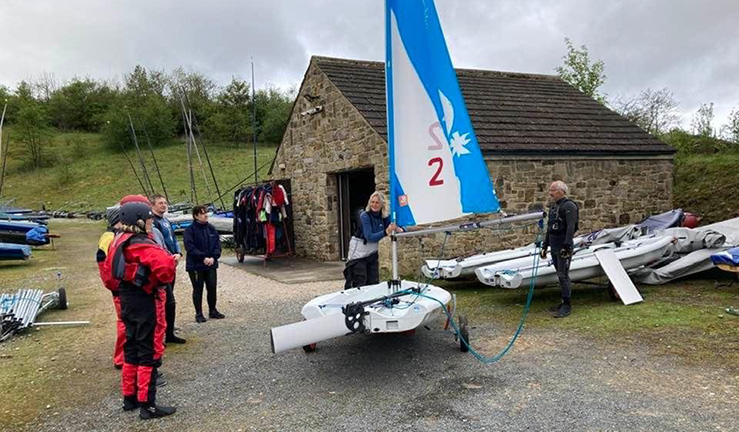 Membership benefits
Erica says: "It is mainly successful because we just have an extremely dedicated team but there are pressures. We've gradually put more courses on but it gets to a point where we can't do any more than we're doing unless we perhaps do what other clubs have done and have a paid development officer. That we're doing it all voluntarily and in-house is pretty amazing really and 75 to 80 per cent of our membership comes through training."
Children's courses in particular are popular and then parents find themselves tempted to get on the water as well, which entices families to join as members. Statistics reflect the journey of learners getting hooked, with the club running 56 sessions of a Level 1 adult dinghy course and then 50 sessions of the Level 2 course, highlighting the low drop out rate.
Erica adds: "We then have the improvers training for them which means people can carry on with some support, so when they come up and they're not quite confident or sure how to rig the boat they get help and further coaching. The aim is to get them to get to a point where they are competent, independent sailors who can make safe decisions, launching and looking after themselves on the water, and that works well to move them onto higher level courses or racing."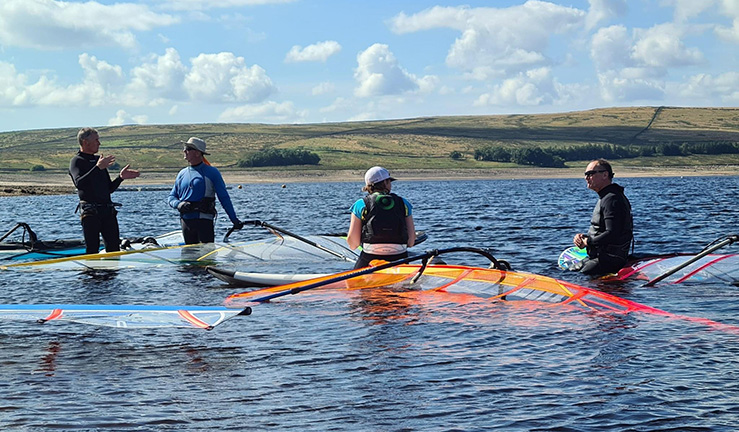 Income stream
Courses are priced to cover the costs of paying instructors and fuel, making them affordable and accessible - for example £129 for a 2-day course plus £40 for a 3-month membership - and have also generated an additional income stream for the club. This has been reinvested into training and enabled the purchase of new boats, sails and wetsuits.
The club is now looking at its online booking and payment systems to make efficiencies and reduce the number of volunteer hours needed to run the training programme.
It is only just over a decade since Yorkshire Dales SC opened its new clubhouse and RYA courses at that time were provided in partnership with Bewerley Park Centre for Outdoor Education. The club gained RYA Recognised Training Centre status in its own right in 2019.
"Since then it's just taken off in terms of developing what's going on," says Erica. "2020 wasn't a full year due to the Covid pandemic, and we only started doing it ourselves in 2019, so we've grown massively - 303 people coming through our training courses in 2022 is a great achievement really and a lot of those are new to the club."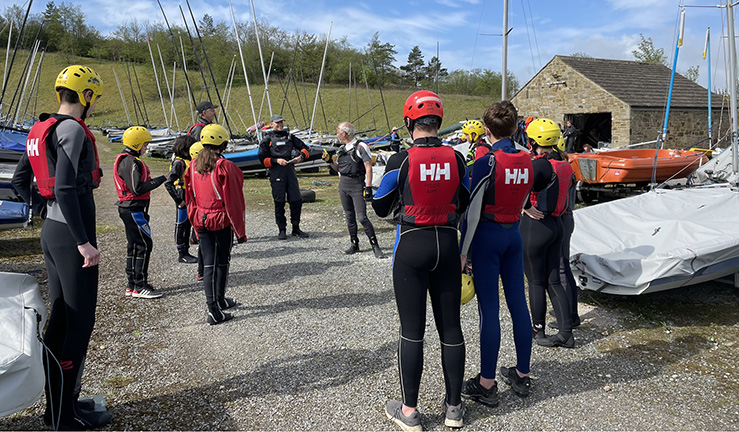 Further information
Club management: online software packages can make it easier to manage tasks including volunteer duties, race results and membership payments. Find out more with the RYA's Club Management Tools Comparison Table.
Club development: For support with any aspect of RYA training or developing your club's activities, RYA Regional Development Officers have a wealth of knowledge and are available to help. Contact RYA North East RDO Sam Usher or find your regional contact here.
Club Zone: This online resource centre for RYA Affiliated Clubs covers a range of topics including Volunteers & Staff and Club Development - visit Club Zone.