Interactive eBooks
We have enhanced our eBooks (where possible) by including animations, videos and interactive tools to help illustrate key points and bring the content to life. These eBooks are a fantastic and engaging resource, supporting our world-famous training courses.
You can read RYA eBooks in the way that works best for you. The choice is yours:
Find out more by reading our RYA eBooks: How to Guide.
Accessible eBooks
We're committed to producing eBooks that everyone can enjoy, including those with a range of hearing and sight abilities.
We're in the process of converting all RYA eBooks to Apple Books and Google Play Books. These platforms allow us to produce eBooks that conform to accessibility standard WCAG 2.0 AA.
If you require an accessible RYA eBook, we recommend purchasing an Apple Book. You can find out more about Apple's accessibility features.
If you can't find a particular book, contact publications@rya.org.uk.
Enhanced Content
In our eBooks, you'll see some exceptional interactive content. Here are some examples:
RYA VHF Handbook (E-G31 and A-G31)
We've created animated examples of the voice procedures in our RYA VHF Handbook (E-G31) eBook, and we've also released an audiobook (A-G31) version.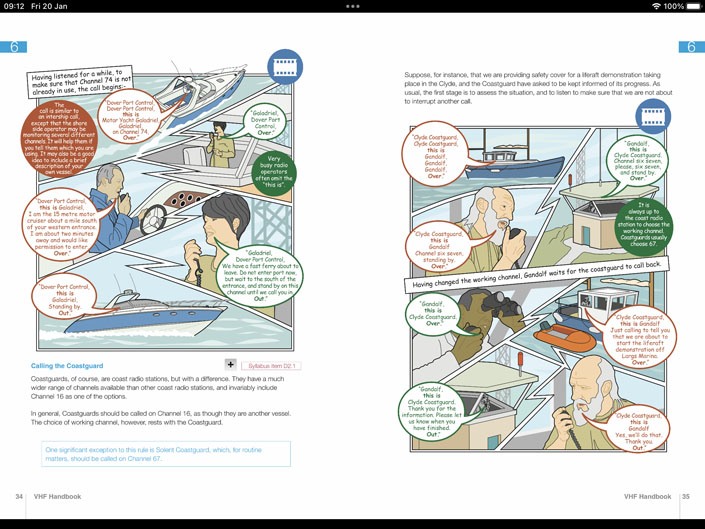 Navigation
We've developed special tools for shorebased navigation students. They give you a chance to try using tidal curves and the Computation of Rates in the Northern and Southern Hemisphere versions of the RYA Training Almanacs (E-TAN and E-TAS).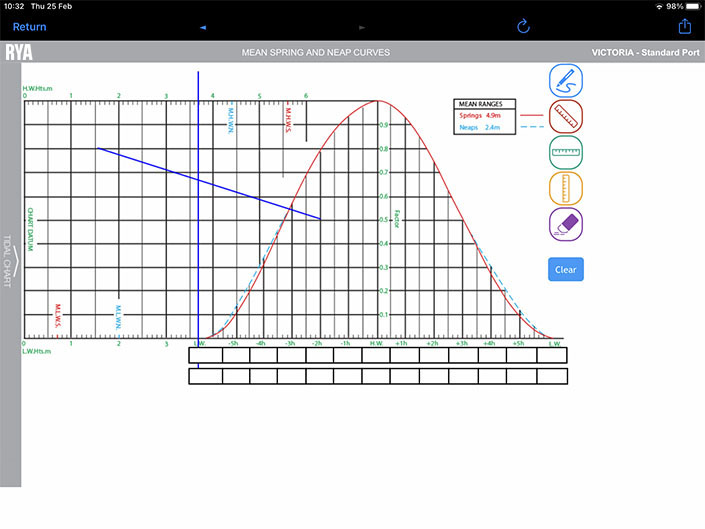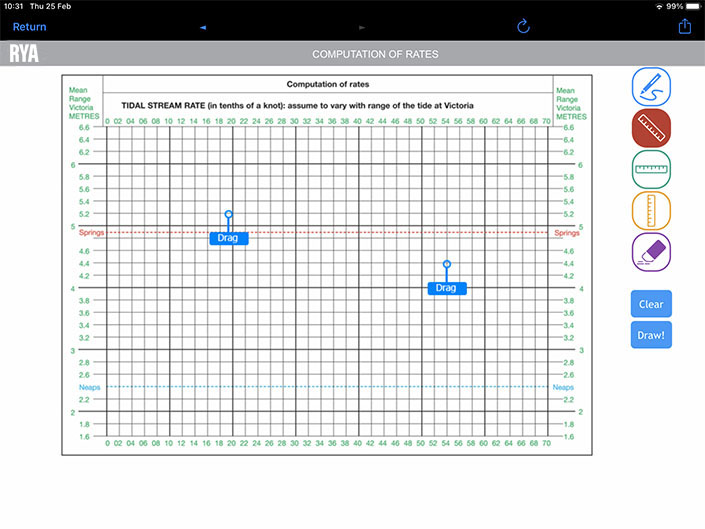 RYA Case Book 2021-2024
We've created our own rules engine, which links the racing rules to RYA and World Sailing cases and Q&As. You can download this eBook for free using the RYA Books app or the World Sailing app.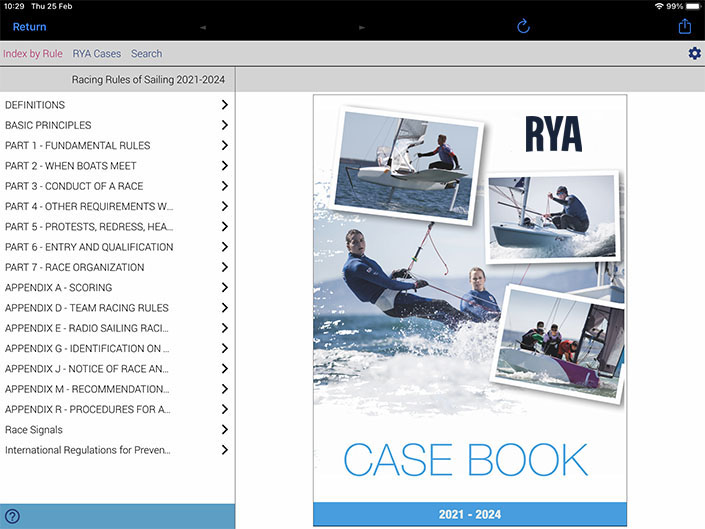 Yachtmaster Quizzes (E-G79)
The highly interactive Yachtmaster Quizzes (E-G79) contains 40 quizzes with 10 questions each to help you develop and test your Yachtmaster knowledge.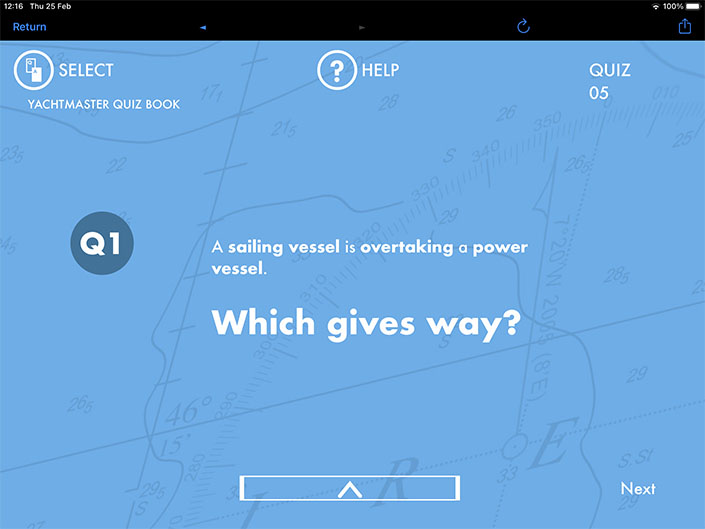 International Regulations for Preventing Collisions at Sea (E-G2)
We've added an exciting interactive 360° tool to the International Regulations for Preventing Collisions at Sea (E-G2) eBook to allow readers to gain a more realistic view of how vessels will actually present in a wide variety of contexts, both by day and by night. There are 30 different 360° galleries comprising more than 12,000 additional images.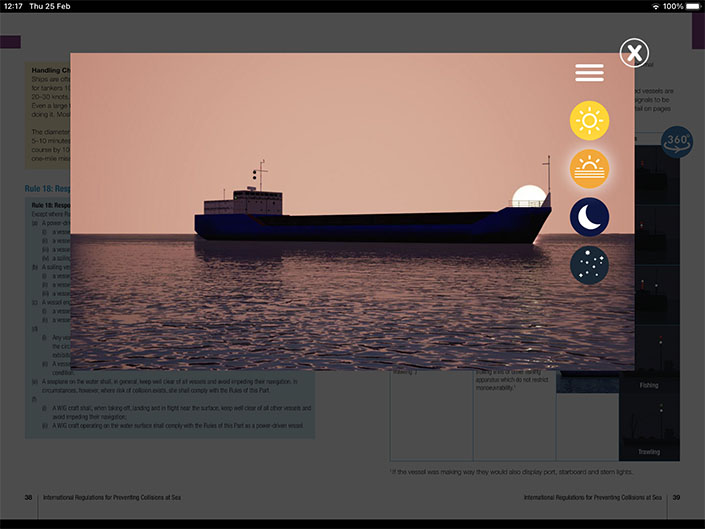 Tools
Our interactive content can be used on and off the water, by students and instructors alike. There are a whole host of useful tools (which we're constantly evolving) that will help you manage your content, such as:
Multitasking and Slide Over (iOS only)
Bookmarking
Sharing
Notes and annotations
Inter-edition page history and linking
Search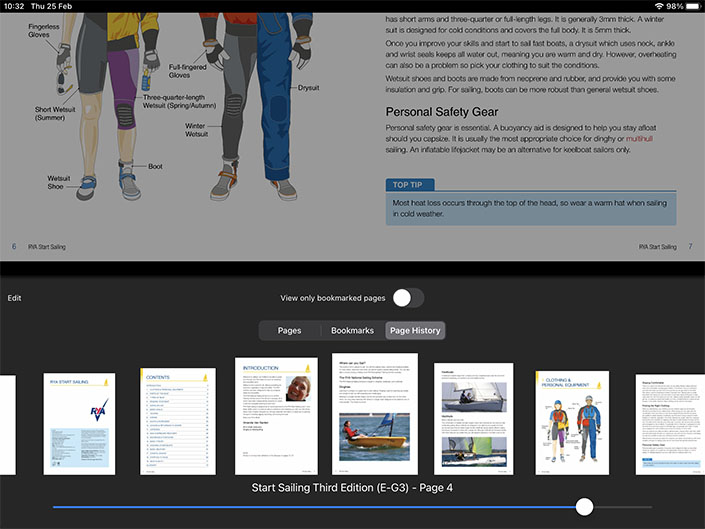 Viewing, Printing and Exporting
In order to take full advantage of interactivity and functionality, RYA eBooks are designed to be read solely within the RYA Books app, through Apple Books, Google Play Books, or Online Access. There is no provision to print or export to other applications, but you can share individual pages.
Contact Us
Please email ebooks@rya.org.uk with any questions, comments or feedback.