29-year-old Brianne Wright started sailing in her teens and quickly realised she wanted to lead a life on the ocean.
She started volunteering as an Assistant Instructor at a local RYA recognised training centre and charity providing children and adults from underprivileged backgrounds, or with learning difficulties, the opportunity to enjoy watersports.
"The Principal of the centre saw potential in my teaching and practical abilities and pushed me to assist with the running of their courses for sailing, kayaking, windsurfing and even raft building," she explains.
"I met some truly wonderful people and developed a love for sailing, without which, I do not know where I would be today."
Instead of returning to school after her AS levels, Brianne decided to pursue a career on the water and achieved a Distinction in Outdoor Adventure and Watersports.
"My Distinction and extracurricular activities, including sailing, provided me with enough UCAS points to apply for university and by this point I had come to realise that sailing may infact be more than a hobby – it could be a career too!"
Brianne went on to study Navigation and Maritime Science at Plymouth University, achieving a BSc and Officer of the Watch licence and has been working as an Officer of yachts ever since.
In 2020, she applied for a training grant through the Trinity House RYA Yachtmaster® Scholarship with a goal of redirecting her maritime career away from motor yachts and back to where her real interests lie – sailing.
Since being awarded the grant Brianne has completed the RYA Coastal Skipper course and is working towards an RYA Yachtmaster Offshore Sail Certificate of Competence.
She says that the qualifications and experience she has have gained through the scholarship have enabled her to start working as a Mate on a 35m staysail schooner.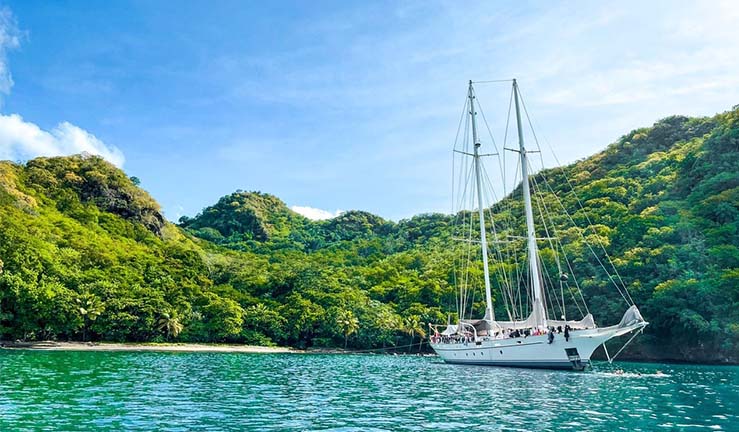 "Sailing is what I love and it's what influenced me to follow this career path in the first place," she explains. "I'm now working on a sail training vessel where I teach both seamanship and navigation skills to students who live aboard for three months at a time.
"So far, we have already completed two Atlantic crossings and explored much of the Mediterranean and Caribbean!
"I know the qualifications the grant has helped me to gain have, and will, continue to directly help my career by giving me the practical skills I need to work in the sailing industry.
"The RYA and Trinity House offer so much more than just a grant. They are actively interested and invested in the development and paths of all the grant recipients and have been more than happy to provide career advice and put you in touch with people who might be able to help you."
About the scholarship
Applications for the Trinity House RYA Yachtmaster Scholarship are accepted on a rolling basis, with interviews being held every six months.
Find out more about the scholarship, eligibility and selection criteria or apply now.