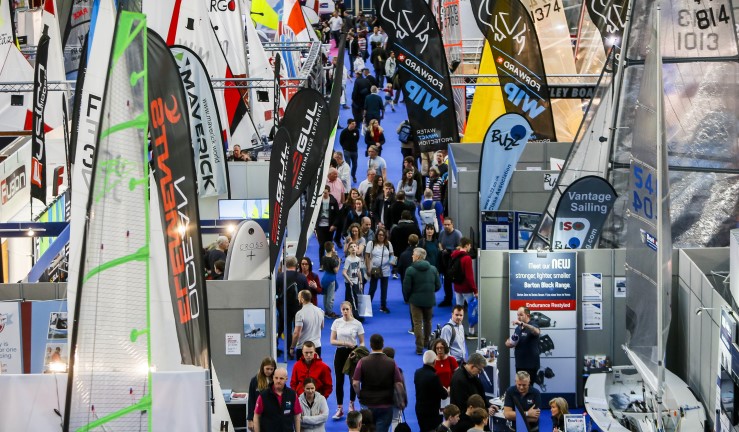 RYA Dinghy & Watersports Show: 26 & 27 February
Clubs and centres can take advantage of group tickets for a special discount price when booking six tickets or more for the RYA Dinghy & Watersports Show at Farnborough International.
Alongside the much-loved dinghy sailing features, the show has been expanded this year to also showcase windsurfing, paddleboarding, wingsurfing and foiling. It is your chance to: meet the RYA team and tap into our expertise; pick up tops tips from world-class speakers, coaches, sailing superstars and medallists; be inspired for 2022 with more than 100 exhibitors and some of the biggest names in marine retail. Get your tickets!
RYA and Yachts & Yachting Club of the Year 2022
Watch LIVE as we announce this years winner of Club of the Year. We will be broadcasting direct from the show so if you are unable to attend the show tune in at 4pm online.
RYA Instructor Online Sessions: February & March
Instructors are invited to get set for the new season with our series of short, free online Instructor Training CPD Sessions which are taking place throughout February and March on Wednesdays at 7pm. Each session is recorded so if you are unable to attend, you will be able to catch up afterwards:
16 February - How can the OnBoard programme and resources support instructors to deliver sessions for young people
23 February - How to prepare for a Senior Instructor course and what to expect.
2 March - How people learn, the predict - test - sense learning model
9 March - How to embed sustainability messages within your courses
16 March - How can you look after your own mental health and supporting others
23 March - How to feel confident delivering sessions for students with a disability, different genders, or people from ethnically diverse communities
29 March - RYA Training Scheme updates for dinghy, windsurf, powerboat, personal watercraft and inland waterways.
Please share the details with your instructors who are invited to find out more and book here.
Welfare Officers 'Meet the Team': March
RYA Safeguarding are hosting 'Meet the Team' online sessions for club Welfare Officers in March to answer any queries and provide an update on plans for 2022.
There will be a session for each RYA Region in England and questions to the team can be asked in advanced via email at: safeguarding@rya.org.uk.
The initiative follows the success of last year's 'Meet the Team' sessions between Welfare Officers in the home countries and the RYA Safeguarding team and the dates will be as follows:
7 March - South
11 March - South West
15 March – North West
18 March - Midlands
21 March - North East
23 March - East
29 March - London & South East
You can book your place here - remember to select your correct region – and if your club does not have a Welfare Officer, please email safeguarding@rya.org.uk for an info pack.
Discover & ReDiscover Sailing 2022: Print run 7 March
Did you know that offering bookable sessions, rather than 'all-comers' open days, results in higher conversion rates into training courses or club memberships? To support clubs, the RYA is again running its Discover & ReDiscover Sailing campaigns in 2022.
As well as £80 of free resources available to order, take a look at our Discover Sailing hub in Club Zone for top tips, how-to guides and editable resources. For ordering branded and bespoke materials like flags and banners, the closing date for the next print run is 7 March.
Corporation Tax webinar with Richard Baldwin: 9 March
Club treasurers and committee members are urged to sign up for our Corporation Tax webinar, Wednesday 9 March at 7.30pm, which will be led by tax consultant Richard Baldwin, MBE; FCA; CTA.
This online session is an update of last year's 'Introduction to Corporation Tax' webinar and will provide essential knowledge for clubs to keep up to date with the latest tax information.
To register your attendance at this free webinar, please click here.
Steering the Course: 20-29 May
Sailing clubs are once again invited to celebrate women in in boating as part of World Sailing's international Steering the Course campaign. Returning for 2022, the campaign aims to highlight women and their roles in the sport, promote opportunities and encourage participation.
Initiatives in 2021 included sharing stories on social media, taster sessions, women helm prizes and supporting females to become instructors or race coaches. Or you may simply want to start a conversation with your female members about what is needed to enable them to get out on the water more often. Find out more and sign up here.