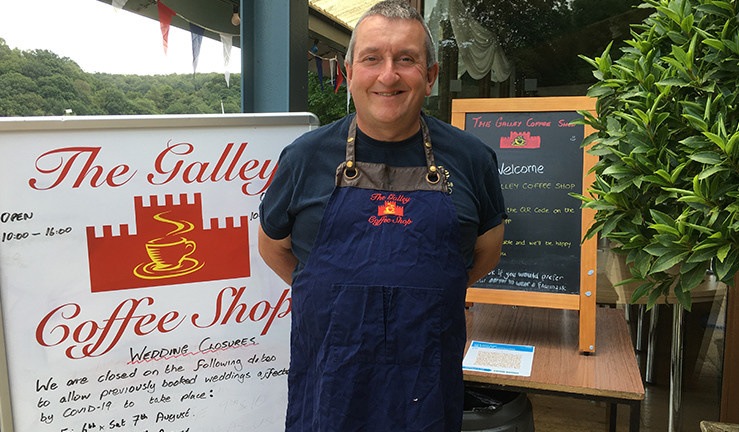 Finding ways to diversify income streams can have wide ranging benefits for members, as one club in the Midlands has demonstrated after launching a café which is open to the public.
Rudyard Lake Sailing Club is running a three-year pilot project which has seen the opening of The Galley Coffee Shop – and membership numbers more than doubling.
Offering barista coffee, speciality teas and cakes by the lake, the café is proving successful both as a business and as a boost for the club at its rural location near Leek in Staffordshire.
The club had been looking at ways to both diversify and tackle issues around volunteering, including difficult-to-fill galley duties, so in 2021 when the club's then Commodore, Ian Lee, expressed an interest in running a commercial café from the clubhouse, it presented an opportunity to modernise.
Long-standing committee member Mark Jacot, the club's former Commodore and Rear Commodore, had already been working on club development plans and became the project lead, leading a team that managed the contract and communications between The Galley Coffee Shop, club members and Rudyard Lake SC's landlord, the Canal and River Trust.
Ian was awarded a license nine months ago to run the Galley Coffee Shop on a profit share basis with the club, the aim being to minimise the risk and maximise the chances of success, to enable the new enterprise to be mutually beneficial for both parties.
For Rudyard Lake SC the benefits have so far included:
Fewer volunteer duties for members

An additional income stream for the club

A growing membership through raising the club's profile

A club house which is open six days a week

A galley team incentivised to resolve various long term issues
Nevertheless, some members did have reservations about opening up the clubhouse to non-members, and a key consideration has been to ensure the interests of members are protected.
Mark said: "Inevitably there will always be some people who are nervous about change. One important point which we perhaps did not consider and address sufficiently at the start was that if you choose to go down this route, it does change the atmosphere from it being a private members' club to becoming a venue open to the public.
"The counterbalance is that the café contributes to club funds and the clubhouse is now warm and open six days of the week, which makes it more accessible and welcoming for members. It also means there are staff on site to sort out any niggling problems during the week. Membership has doubled because people call at the café and enquire about sailing and paddleboarding. We also know that members who would previously meet up at coffee shops elsewhere in the week, now come to the club instead because they can.
"There was a lot to sort out with the Canal and River Trust, setting up contracts and ensuring that the needs of members were taken into account but overall so far it's been a success. That said, The Galley Coffee Shop was set up by the then Commodore Ian Lee, who is now Rear Commodore, whose interests are aligned with the club. Working with an outside commercial organisation may raise different questions which need to be considered."
Business model
The Galley Coffee Shop is open daily except Mondays from 10am to 3pm and makes the clubhouse a vibrant place for members and visitors alike.
There are reserved areas for Rudyard Lake SC members in both the clubhouse and car park, and members also get a 10% discount in The Galley Coffee Shop.
Alongside running the café, Ian makes the most of any opportunities which arise from customers asking about activities such as sailing and paddleboarding – and has trained his staff to also be able to answer questions about courses and membership.
Members now use the clubhouse more often such as a new model boating group which meets in the week. The clubhouse also hosts about 10 weddings a year and with Ian now on site to manage activities, is available for group hire.
Ian said: "We've generated more income for the club from catering since we started last April than in any of the previous three years before Covid, so it's a good business and it's good for the club as well. We have also in the last nine months seen membership grow from 215 to 450 and a big part of that is because I'm here every day and able to sell the sailing club.
"The first year is always difficult against established businesses but it's going very well and we're confident that this year will be even more successful. The business model is sound and our members are quite enthusiastic about it.
"When I was Commodore I was concerned that the club wasn't used apart from at weekends and one evening a week in summer. The rest of the time the clubhouse – an asset worth hundreds of thousands of pounds – felt like what it was, an empty building. A lot of members have said it feels used now, whereas before it felt empty and cold: The Galley Coffee Shop enables us to keep it open and warm through the week which really pays dividends and makes it feel more welcoming."
Maximising the use of your clubhouse
RYA Midlands Regional Development Officer Ben Hodgson said: "It's about keying into what you have locally as an option and thinking about whether you have facilities which could provide an additional income stream and bring people to your club, which also works as outreach and may incentivise them to join as members.
"What have you got and can you do more with it? It's about being smart with resources and using them if possible to their maximum potential."
Further information
If your club has ideas for diversifying its income, RYA Regional Development Officers have a wealth of knowledge and will also be able to signpost you to any additional expertise such as legal advice.
Find your regional contacts here or visit the online hub for your RYA Region or Home Country.