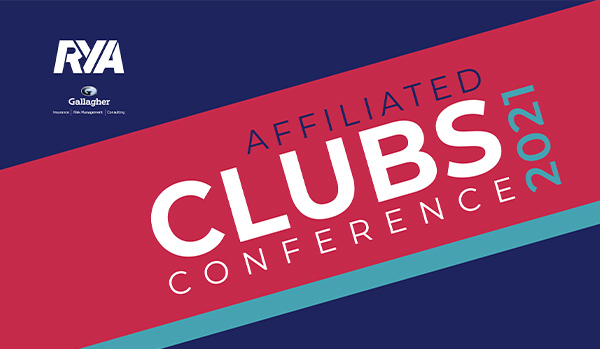 Following the success of our first ever virtual RYA Affiliated Clubs Conference, plans are underway for a hybrid virtual and in-person event this year to provide the best of both worlds.
This new-style conference will provide national RYA updates online which you can log into from the comfort of your own home or club on the evening of Monday 8th November, 7.30pm-9pm.
RYA Region and Home Country events over winter will then provide a fantastic opportunity for us all to meet up again in person to share ideas and reconnect with friends, colleagues and clubs.
This year's content is based on the feedback from previous events and we have consulted more widely than ever before to ensure the conference reflects your needs and is useful for your club.
As a result of your feedback, there will be a greater amount of time to network, with opportunities to learn from other clubs within your region or Home Country and beyond, and staff and volunteers from your RYA region and HQ will be on hand for you to meet both online and at your regional events. All the events will be free to delegates from RYA affiliated clubs and are ideal for anyone involved in managing your club or its activities: flag officers, committee members, staff and volunteers.
Look out for updates over the coming months about keynote speakers and workshops and in the meantime please do save the dates for both parts of the 2021 RYA Affiliated Clubs Conference!
Online conference
The online part of the conference will be an opportunity to catch up with the latest news for clubs and will again include an expo area, where you can meet RYA staff and find out more about how they can help your club. This part of the conference will also include an option to explore real-life case studies from clubs we have supported around the country.
Events
The in-person conferences across the RYA Regions and Home Countries will cover five key streams.- The events will be exploring the following questions and for each stream, sharing ideas and looking at how the RYA can support your club:
How can we create a plan for a successful future?
How can we recruit and retain more volunteers?
How can we develop or replace our facility?
How can we recruit and retain more members and participants?
What support is there for the governance and legal challenges our club is facing?
Online booking will be live in early September and all the details will be available on the RYA website: www.rya.org.uk/events/affiliated-club-conferences
Save the dates!
The national online event for the RYA Affiliated Clubs Conference will be on Monday 8 November, 7.30pm-9pm. The Region and Home Country events will then take place as follows:
South: 13 November 2021 - National Oceanography Centre, European Way, Southampton SO14 3ZH
South West: 20 November 2021 - South Devon College, Hi Tech & Digital Centre, Vantage Point, Long Road, Paignton TQ4 7EJ
London & South East: 21 November 2021 - New Line Learning Academy, Boughton Lane, Maidstone, Kent, ME15 9QL
Midlands: 28 November 2021 - Whitemoor Lakes, Barley Green Lane, Lichfield, WS13 8QT
East: 28 November 2021 - Royal Hospital School, Holbrook, Ipswich, IP9 2RX
North West: 4 December 2021 - Anderton Centre, New Road, Chorley, PR6 9HG
North East: 4 December 2021 - Catterick Race Course, Catterick Bridge, Richmond, North Yorkshire DL10 7PE
Scotland: 6 March 2022, venue TBC
Wales: 22 January 2022, venue TBC
Northern Ireland: 22 January 2022, venue TBC