We have lots in store for you in this issue, including a year end update from all our Race Official Committees, as well as Race Official Notices to inform you of recent changes to qualification processes and applications, updates to our various guidance's and much more!
As usual, we always love hearing what you think of our newsletters, and feedback is very much encouraged. Please Email us at RaceOfficials@rya.org.uk
RYA Staff & Committee Updates
Update from RYA Racing Services Manager
As we approach the end of 2020 I think it is fair to say we all hope we never experience another year quite like it. We have just about managed to get to grips with COVID in time for BREXIT to rear its head and present us with our next set of challenges!
We are thrilled to have recruited Nick Devereux for the Technical Administrator role back in November, replacing Suzie Holland who left earlier in the year. I am sure you will join me in welcoming Nick to the team.
Having now been in post at the RYA for two years I was looking forward to meeting many of you at Wyboston in January. Unfortunately, that is not possible, but I hope that you are able to join us virtually at our Race Officials Conference on 11th – 14th January. Read on for further details but given that we are going virtual we have chosen to try and bring more of an international flavour to some of the sessions and recruited speakers whom we otherwise would be unable to secure – I am certainly looking forward to it and am sure we will have something to pique your interest. On the theme of all things virtual, digitisation is a key strategy across the RYA at the moment and in line with that the racing services team and our volunteer committees have been working on a number of strands throughout this year:
1. New RYA website – since before we had heard of COVID the RYA has been working on moving our aged website onto a new platform. The new website will be going live in the first quarter of 2021 and will offer users a more bespoke journey allowing easy access to the content you want and that is relevant to you.
2. Race Official Courses - the three race officials committees have been working hard or adapting our courses to the new world and seeing how we can continue to ensure a steady supply of qualified race officials to run racing for our affiliated clubs and classes.
3. Technical processes – we are currently working on introducing new processes within the technical team which will allow boat owners to apply for and receive measurement certificates and new sail numbers online
4. Publications – we continue to work with World Sailing to produce the World Sailing app and the integrated eBook incorporating the rules, the world sailing cases and calls and the RYA cases. Our key publications which have been updated for the 2021-2024 RRS, such as the racing rules guidance book and race management guide, are also available through this platform
All that remains is for me to wish you all a healthy, merry Christmas and all the best for a happy new year from all of us in the RYA Racing Services Team. We look forward to seeing you at our virtual race officials conference and then on the water in 2021.
Niall McLeod, RYA Racing Services Manager
Update from RYA Race Management Chair
Dear Race Official,
As this is the first newsletter since taking over as chair of the Race Management Committee, let me quickly introduce myself. My name is Ian Bullock. I am a relatively new IRO having been appointed in 2018 so I am still learning a huge amount every time I go afloat, long may that continue. My background is mainly with youth and junior classes but you will also find me running racing in the Solent or working with dinghy classes and handicap fleets around the country.
I took this role over from Peter Saxton who completed his three year term in the summer. Peter's experience will be sorely missed and on behalf of the committee - and all race officials - I would like to say a big thank you to him for all the work that he has put in during his tenure. I would also like to thank him personally for all the help and advice he has given me over the years. A tough act to follow!
When I agreed to take this role on, COVID-19 had not been heard of; many of us would have had to look up Pandemic, and phrases like self isolation and social distancing had simply not been dreamt up. Oh how things change! We are all aware of the impact that COVID-19 has had on our sport and it has been soul-destroying to watch as event after event has been postponed, postponed again and eventually cancelled. I have been able to watch closely as the team at the RYA worked incredibly hard to keep up with the restrictions and provide the best possible advice on a near daily basis. I think that they have done a fantastic job in near impossible circumstances and deserve the thanks of us all.
Meanwhile, the work of the RMC has been continuing in the background with an emphasis on updating the guidance and learning materials which are available:
Training Courses
With the pandemic, it has not been possible to run the usual Race Management training courses for Regional and National Race Officers and Mark Layers. During this hiatus, we have taken the opportunity to reconsider the way that these courses are delivered. As a result, they are being redesigned with a greater online component which will allow us to continue with the training while we still need to isolate but will also reduce the costs and barriers to training post-pandemic by blending online and face-to-face elements.
Due to the current situation, we have not been able to run the many 2-day Regional Race Officer courses we usually would this year. Therefore, this course will be the first one to be delivered online via Zoom. Running a 2-day online course would be far too much screen time at one go for most. The course has therefore been cut down to be able to deliver it in 1-day and will be approximately a five-hour course. The 1-day course will focus on teaching attendees the knowledge and skills needed in Race Management. Attendees will learn topics such as how to produce a Notice of Race and Sailing Instructions, understanding the preliminary jobs before the race, as well as decision making and what to do, and how to cope when things go wrong.
However, instead of learning all content in one day, we have introduced a number of pre-course modules which will need to be completed before attending the course. On completion of all modules, there will then be a short online, untimed quiz to complete, to ensure your understanding on the topics.
The five pre-course modules are:
1.Introduction to the Course and Event Organisation
2.Starting Procedures
3.During Racing
4.Finishing
5.Scoring
This course will run under the new 2021-24 Racing Rules of Sailing, and it is essential to have a copy of the new rules. It is also essential to be familiar with the RYA Race Management Guide, and the 2021-2024 version is now available on the RYA website. The first course is scheduled for Saturday 9th January 2021, with International Race Officers, Robin Gray and Tom Rusbridge.
This course is now full, but if are interested in attending a future RRO course, please email RaceOfficials@rya.org.uk to be put on the course waiting list and be the first to hear about future courses!
Training Modules
While Peter was chair, he initiated an excellent programme to create a number of stand-alone training modules. The aim being to provide resources which will help clubs deliver their own training. Whether it be how best to manage your finishing; understanding the nuances of race signals or how best to assess the risks involved when we go racing. Look out for the following modules on the RYA Website:
Time Keeping
Finishing
Signalling
A word about GPS
Hopefully that gives you a taste of what the committee has been up to over the last few months and there will be much more to report on in the near future. Keep reading below to find out about the all-new, all-online Race Officials conference which I hope you will be able to attend in the New Year. I look forward to meeting many of you back on the water when we can finally put this period behind us.
Ian Bullock Chair, Race Management Committee.
Update from Technical Officials Group Chair
2020 has been an unusual year for the Technical Officials Group as we have not been able to participate in 'out-front' activities in support of RYA Members, clubs and classes by attending sailing events, conferences, and exhibitions etc, supporting Equipment Inspection at regattas or even running our sail measurement courses. But nevertheless, we have been particularly busy in supporting our National Classes with management and maintenance of Class Rules and measurement issues and in particular supporting the Technical, Joint Race Officials and Racing Committees.
Measurement activity is one of the first interfaces that a racer will have with their class association, club, or the RYA when they choose to go racing. Good measurement is a cornerstone of racing be it sailboats, boards or kites and is fundamental in seeking and maintaining compliance by owners and crew. This in turn supports the rules which each class has and maintains impartiality and standards of certification across all the competitors in a fleet or event.
To maintain this fairness, we work with National Class Associations to maintain their Standard Class Rules (the modern common format of class rules derived by World Sailing) to a good standard of clear English to enable the manufacturer of equipment and the sailors to keep their boat compliant with the current class rules, Racing Rules of Sailing and Equipment Rules of Sailing.
This year marks the end of the cycle of the current Equipment Rules of Sailing and a new cycle comes into force in January 2021. The new ERS brings with it some additional definitions around boat modifications, maintenance, and repair as well as other notable changes. Along with a new ERS there will also be a new Racing Rules of Sailing with amendments to RYA prescriptions. This is something that all race officials should look into before the next season kicks off. We were fortunate to have carried out four sail measurement courses before the lockdown in March. Since then, we have not been able to do any hands-on measurement. The pandemic has made us all stop and think about how running courses and carrying out fundamental measurement could work as the world develops towards moving increasingly online. Inhouse development has already begun looking at how this could be achieved with the sail measurement as well as a brand-new course on other forms of measurement which we hope to roll out sometime in the new year.
The Technical Officials Group is a small committee which supports the RYA Technical Department. We are always looking for new members to support our work. If you feel you would be interested in volunteering, please do not hesitate to contact Adam Parry, Technical Manager, technical@rya.org.uk.
Update from Judging & Umpiring Committee Chair
RYA Judges and Umpires will already have received a number of JUC updates throughout the year and, as we approach the end of 2020, I would like to take this opportunity to thank all those on JUC, and all our tutors and assessors, for the work they have done this year.
We have been busy throughout this difficult year working on new materials for our courses and delivering entry-level courses to judging and umpiring remotely via virtual sessions. It has also been heartening to see another iteration of the Race Officials Academy start this year, building on the success of the first Academy cycle.
A new judge education strategy has been approved to promote the discipline of judging and make it easier to start on the ladder. The Judge Reference Guidelines have also been substantially revised in order to improve feedback to aspiring judges and to improve consistency in references. We have also produce a 'mini' guide to rule 69 which explains in simple terms the process and how to go about the procedures when they are necessary.
In the world of umpiring, we have made substantial changes to the requalification process for National Umpires and the Umpire Education Group is currently revising the NU renewal exam in order to make it more relevant for those who have already held the qualification for a period of time.
Finally, a well-earned thank you goes to the RYA staff – Niall, Jacqui and Hollie – for all their hard work and wise counsel throughout the year.
Racing Rules
Racing Rules of Sailing 2021-2024
With the 2021-2024 Racing Rules of Sailing (RRS) coming into force on 01 January 2021, get ready for a new year on the course with the RYA.
The RYA's Racing Rules Committee have been working hard to update the RYA Racing Rules Guidance Book and the RYA Case Book, whilst the RYA Publications Team have published new editions of the popular rules books.
The changes will require those writing notices of race or sailing instructions for next season to make some changes from the versions that may have been used this season.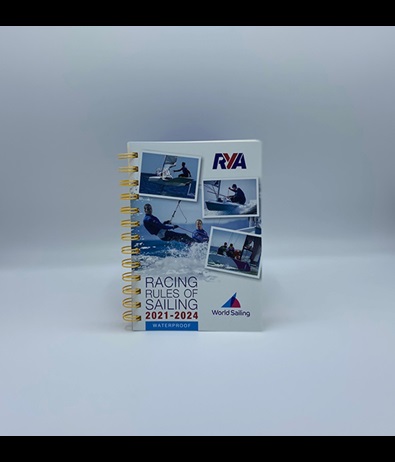 World Sailing publish urgent rule changes and corrections to 2021-2024 RRS
It may not be in force yet, but World Sailing have already issued the first set of Changes and Corrections to the 2021-2024 Racing Rules of Sailing (RRS) following discussion at their Annual Conference.
The full Changes and Corrections document has been published on World Sailing's website.
These Changes and Corrections will come into force with the new rules on 1st January 2021.
The majority of the items are ensuring consistency of a rule, typographical or other minor corrections identified by World Sailing's Racing Rules Committee as being necessary.
However, there is one urgent change to RRS 50.1(b).
This change reverses a previous change that had been made to the maximum weight of a trapeze harness and also reinstates the ability of class rules to change this from 2kg up to 4kg.
Rule 50.1(b) now reads:
"Furthermore, a competitor's clothing and equipment shall not weigh more than 8 kilograms, excluding a hiking or trapeze harness and clothing (including footwear) worn only below the knee. Class rules or the notice of race may specify a lower weight or a higher weight up to 10 kilograms. Class rules may include footwear and other clothing worn below the knee within that weight. A hiking or trapeze harness shall have positive buoyancy and shall not weigh more than 6 kilograms 2 kilograms, except that class rules may specify a higher weight up to 4 kilograms. Weights shall be determined as required by Appendix H."
This is the same wording as currently exists in the 2017-20 RRS.
Rule 50.1(c), which requires use of quick release trapeze harnesses from 2023, remains unchanged. This rule requires those harnesses to be compliant with the ISO 10862 standard. Class rules may remove the need for harnesses to be quick release but cannot change the requirement for them to be compliant with the ISO standard.
Like all books already in print, the RYA version; The Racing Rules of Sailing 2021 – 2024 (RYA order code YR1) had been printed prior to these changes being announced in order to meet the market demands. Any corrections will be made in the first reprint. The updated version of the RRS will be available through the integrated eBook in the World Sailing App which also incorporates the World Sailing and RYA Case Books.
RYA Case Book 2021-2024 & New Case RYA 2021-1 Published
The RYA Case Book contains illustrative and persuasive, but not binding, interpretations and explanations of the rules. All the cases have been reviewed, and where necessary, updated to be compliant with the 2021-24 RRS.
The RYA Case Book are available to download as a PDF from www.rya.org.uk/go/rules and through the World Sailing App.
The RYA has published a new case, RYA 2021-1, on questions concerning changing the type of hearing during a hearing. This case has not yet been published in the PDF version of the RYA Case Book, but can be found here.
Updated Guidance
RYA Racing Rules Guidance
The RYA Racing Rules Guidance Book contains 26 individual guidance notes providing in depth guidance on a variety of subjects related to the racing rules. These are split into 3 chapters, General Guidance; RYA Rules Disputes Procedures; and Guidance Primarily for Race Officials.
Of particular interest is the guidance note on Changes to the Racing Rules from January 2021. This contains a summary and commentary on the main changes and also includes a cross reference table showing changes to rule numbers and titles from the previous edition of the RRS. This is a must read for anyone preparing notices of race or sailing instructions for next season.
The RYA Racing Rules Guidance book is now available through the World Sailing App, and by downloading to a PDF here
World Sailing Notice of Race and Sailing Instructions Guides
World Sailing have now published Appendix LG Notice of Race Guide and Appendix KG Sailing Instructions Guide. These can be downloaded in PDF or Word format from World Sailing's website here.
RYA Racing Charter
The RYA Racing Charter has now been in place for 15 years. For the 2021 racing season, the RYA has refreshed the Charter, bringing it fully up to date.
Clubs adopting the RYA Racing Charter are sending out a clear signal to all those who race that the principles of the Charter will be applied, and that the club is committed to giving the best racing possible for all sailors.Under the Charter, clubs are letting their sailors know that they not only operate by these standards but that they expect all sailors using their facilities to adhere to them too. Classes endorsing the Charter support the principles of the Charter for the benefit of their members' racing and those clubs that run events on their behalf.
The RYA will provide to all clubs and classes, who wish to adopt the Charter, the poster, which can be displayed within their clubhouse or at events. Clubs and Classes wishing to continue their commitment to the RYA Racing Charter can find the poster on our website here.
Race Management Guide
Work has been ongoing to produce a leaner and more up-to-date version of the Race Management Guide, particularly with the 2021 rules changes in mind. This can be found on the RYA website here. We have also made this available as an eBook through the World Sailing App & RYA Books App and we can't wait to see it in your hands.
Technical Officials Guidance
Where evidence of possible equipment cheating is identified it is important that swift action is taken to investigate and if necessary follow disciplinary processes otherwise the opportunity to take action may be lost. Please see guidance on the subject matter here.
Race Official Notices
Following discussions from the Race Official Committees, please see below notices which have been issued to reflect changes in the RYA Race Official appointments and qualifications process.
Removal of 2 year qualification period for Race Officials over 75
Hearing Types for Judge Applications
EUROSAF Opportunities
It is that time of year where we are once again collecting suitable events for the Eurosaf Race Officials Exchange. In order for us to be able to send GBR officials to events offered by the Eurosaf Exchange, we need to be able to offer events in the UK to foreign officials in return, so we need your help.
Please remember that the more events offered, the more events we can bid for. These are ideal opportunities for National Officials working towards their International status.
For Race Officers
We need to know the event(s) you are offering, the status (e.g. Nationals, Europeans or Worlds), the dates, the venue, the organising authority (club), the contact email and the nearest airport.
For Judges
Similar information is needed for Judges, the event you are offering, its status (e.g. Nationals, Europeans or Worlds), the dates, venue, the organising authority (club), the contact email and the nearest airport. Additionally, We need to know as to whether the jury is afloat in ribs and also if the judging of RRS 42 is expected.
For Umpires
Any suitable Events.
Eurosaf Terms
The official appointed by the country winning the bidding process will arrive at the nearest airport at no cost to the event, and then the event is responsible for meeting them / rail costs, accommodation and food for that person. A letter to the official from the event is needed to confirm the offer and once accepted the deal is binding on both parties.
All replies to both Trevor Lewis tl@tlfs.org.uk who is the RYA Eurosaf Race Officials Exchange Programme Representative and Race Officials Development Officer Jacqui.roberts@rya.org.uk
Implications of Brexit for Offshore Races
Race Officials and organizing authorities should be aware that at the end of the Transition Period at 2300 UTC on 31 December, the UK and the EU 27 part company. There will be new rules in place if you are travelling (sailing) to and from the EU. These include passport validity, healthcare and border controls (including both immigration and customs checks).
It is important to understand that both UK and EU regulations in themselves make no concessions for cross border sport such as offshore races. Competitors will need to be aware how these issues may affect them, particularly immigration controls and customs checks. In general boats based and owned and registered in the UK should have no problems racing to an EU country. Clearly good communication and liaison with the destination will be essential to ensure smooth race management.
It is worth familiarising yourself with the information we have at Brexit - what happens next? This sets out the latest information we have received from HMRC and the European Commission DG Taxation and Customs Union. Any questions should be sent to Brexit@rya.org.uk
We hope you enjoyed this edition of the Race Officials Newsletter!
If you have any questions regarding anything raised in the issue, then please get in touch by contacting us at RaceOfficials@rya.org.uk
On behalf of the Racing Services Team, we wish you all a safe Merry Christmas and a Happy New Year and we look forward to seeing what the new year brings.