The freedom of being on the water after months of restrictions on land has seen our coastlines busier than ever. But even in the most crowded waters, it is possible to end up in the water and separated from your powerboat or personal watercraft, and go unnoticed.
In any wind at all, you are unlikely to catch up with your vessel in order to reboard it. Having a means of calling for help on your person could save your life.
An average powerboat will drift downwind at approximately 0.75 knots in only 10 knots of wind. A person in a lifejacket by comparison will drift at 0.2 knots. In a breeze of 15 knots the drift rates are 1.1 knots for the motorboat and 0.3 knots for the person in a lifejacket.
As Tom Pedersen, RYA Powerboat Trainer and Personal Watercraft Instructor, explains: "There have unfortunately been several fatalities on a wide range of watercraft in UK waters in the last year. There have, however, been a few incidents where the ability to call for help after falling in the water has undoubtedly saved lives."
Equipment
There is a wide range of communications available on the market for leisure users and in addition to wearing a lifejacket or buoyancy aid to aid floatation until help arrives, one of the most accessible ways of remaining safe is to have your mobile phone with you at all times, on your person in a waterproof case and preferably attached via a lanyard in case you drop it.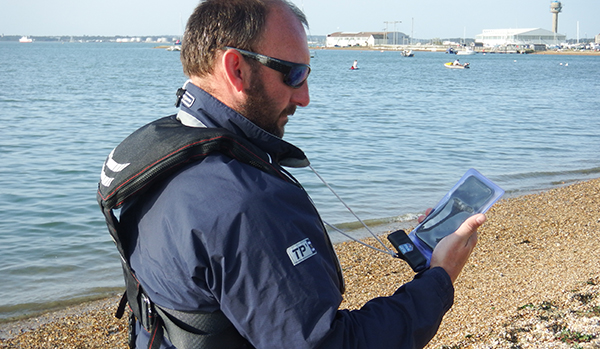 Credit: Rose Pederson
Not only will you be able to call 999 and ask for the Coastguard in the event of getting separated from your vessel, there is also the free RYA SafeTrx app available to download for both Android and iOS phones, which will display your location on the home screen along with an emergency call button that can connect you to a Coastguard operator.
SafeTrx can be used to log and track your trip and enables users to add details and pictures of their vessel/craft, relevant information for search and rescue, and emergency contacts that will be sent alerts when you start and end a trip, or when you are overdue. If required the Coastguard can locate your position based on the last information received from the phone.
Additional options to consider for personal emergency communication include:
Portable Handheld VHF: Waterproof and can be clipped on to a lifejacket or buoyancy aid. Limited range compared to fixed sets. If possible, buy a DSC-equipped radio: a DSC distress alert is a recognised emergency signal and also transmits your location.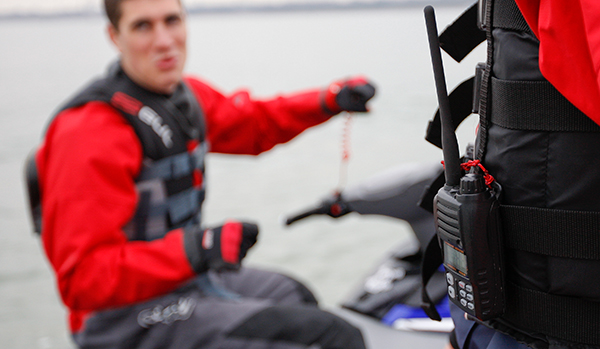 Personal Locator Beacon (PLB): Lightweight and compact. Registered to individuals, a PLB requires manual activation and will transmit a distress signal via satellite straight to shore and the Coastguard. Units have a homing signal of 121.5Mhz and many modern units will also be GPS enabled allowing position information to be sent. However, the distress signal is not received by other vessels in the area. PLBs require specialist servicing/battery replacement.
Personal AIS: When fitted to a lifejacket, this device will automatically activate when the lifejacket inflates and it can be activated manually as well. It is visible as an alert on AIS-equipped vessels within range, which can aid a quick recovery from the water. The signal is only visible, however, to those equipped to receive AIS data, has a limited range, and not all models are compatible with all lifejackets. The signal is not picked up directly by the Coastguard but if it is in range of a Coastguard AIS receiver, it will display with an alert.
What3Words is another app available to download onto a mobile phone which is useful for giving emergency call operators precise positional information.
Training
There may well be fixed or other means of communications available on the vessel, but this relies on others on board knowing how to use it and what to do in an emergency if the helm does end up injured or in the water and separated from the boat.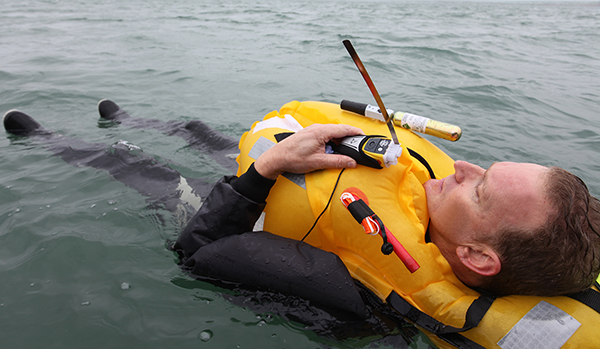 Tom, who is also a volunteer with RNLI Calshot on the south coast, says: "Over the years I have spoken to several families where there has been the opinion that partners have not needed training. This is normally because the helm or skipper has lots of experience or qualifications. I have often found that by asking the question 'what would happen if something happened to them?', it sparks a conversation about entry level RYA courses such as RYA Personal Watercraft Proficiency, RYA Powerboat Level 2, RYA Start Motor Cruising or RYA Helmsman and an interest in specialist shorebased courses such as the RYA Marine Radio Short Range Certificate and RYA First Aid, to deepen the skills learnt on the practical courses.
"With summer approaching, it's an ideal time to take a theory or shore-based course to help develop your knowledge and the RYA has a wide range of training courses to suit every level, experience and time availability. All of the RYA Navigation courses have an element of safety in them and the RYA Sea Survival course covers abandonment and survival. If you go boating with the family, I'd recommend training with the family. Many RYA recognised training centres are set up for teaching both adults and children, with many of the courses available to under 16s."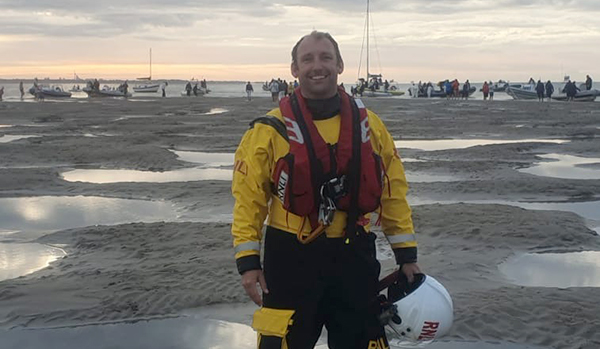 Credit@ Andy Bean (Calshot RNLI)
A number of shorebased RYA courses can also be taken online, making them accessible even during this year's lockdown periods, giving people the option to study at home and at their own pace.
Be prepared
In addition to having a suitable means of communication, other preparations to consider include having a throw bag or line stowed on board to aid recovery if someone does end up in the water and for a motorboat, a recovery ladder within easy reach to make climbing back on board easier. You may also want to join a marine breakdown service such as Sea Start.
When it comes to heading out for a day on the water, Tom recommends going in company where possible: "Boating is a social pastime so invite friends along. If something does happen then having someone to help straight away is reassuring. And whether you are with friends or alone, tell someone where and when you are going and importantly when you expect to be back, with advice about what to do if you are not back at the specified time."
Finally, if you do find yourself in difficulties, or you are concerned about someone who hasn't reported that they are back safely, Tom has the following advice: "If in doubt, call out. Any time you do doubt your own ability to recover from a situation, call the Coastguard for assistance. As a volunteer lifeboat crew, I would rather be paged and then stood down prior to launch, than be called out five hours too late when a relative has reported you overdue."
Top communications tips for safer boating:
Keep in touch: Have a means of communicating on you in case you become separated from the boat/PWC.
Radio checks: Undertake with your local marina, or National Coastwatch on VHF 65.
Mobile phone: Make sure it is fully charged. Be aware that battery life can be affected by the cold. If you do need help, call don't text, and even if your phone shows no service still try because 999 works on any network.
Use RYA SafeTrx: Log details of your journey, including name and details of the craft, numbers of people on board, and keep your emergency contacts updated.
Brief your crew: If you have people with you tell them the plan and what to do if something goes wrong. If they are unfamiliar with your craft show them how to slow/stop the boat and how to use the VHF if there is one on board to transmit a distress call.
Wear a kill cord if fitted to cut the engine if you do go overboard.
Stick to the plan: if you have logged a plan with someone ashore do not deviate from it. If you do and something happens emergency services may start looking in the wrong place.
Prevention is better than cure: Keep a good look out, avoid sharp turns, sudden acceleration/deceleration, and observe a safe speed. Warn crew/passengers if you have them of changes in course and speed. Make sure people are sat down and holding on before powering up/heading off. Wear a lifejacket and inflate it if you do go in the water: it will keep you afloat and make you easier to locate.
Back on shore: End your SafeTrx trip or your emergency contacts will be notified that you are overdue. If you have told anyone that you were going afloat, tell them you are back!
For more information about RYA SafeTrx For more information about RYA Training