Please keep up to date with news and events in our region on Facebook
Club of the Year – last call for nominations
RYA Club of the Year 2024 Awards supported by Gallagher celebrate the achievements and dedication of RYA Affiliated Clubs across the United Kingdom, shining a light on the hard work put in over the last 12-24 months. Why not nominate that deserving club now Nominations close 28 August.
Club Census – final call please
Your club should have received the annual Club Census documents. Filling in the census may not be your favourite thing to do, but the results are crucial for the RYA's strategic planning, especially with regard to what support we provide for you. It's also important for clubs to know their trends (you'll get a report after the census is complete), and for us to see national trends too. The census form is addressed to the person in your club registered to receive it, so please watch out for it if you've had a change of personnel. Big thanks go to all those who've already replied.
Save the dates - club conference and more.....
I've been busy planning the winter club support programme. Thanks to all of you who filled in the form I mentioned in last month's blog – that's definitely helped to shape this year's Regional Conference, with some very exciting developments and a different look and feel. It will take place on Sunday 26 November in Guildford and lots more details will follow soon. In the meantime – keep that date free!
There's an OnBoard end of season development day on 11 November to help your club/centre grow and develop your OnBoard programme. Take a look at this report on last year's event to see what's involved.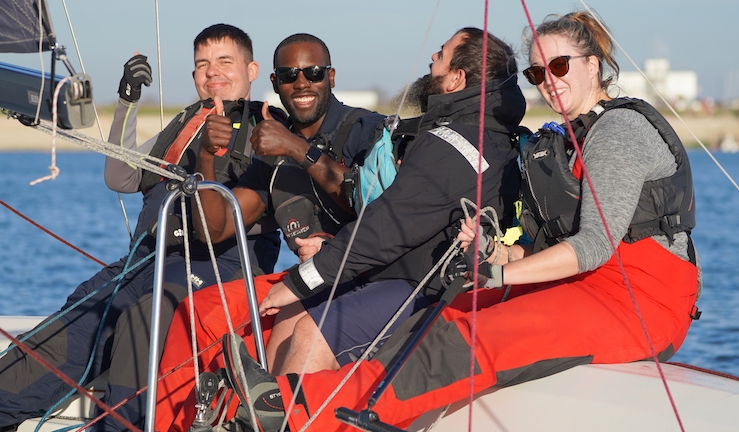 Photo - keelboat sailing at last year's OnBoard Development Day. Credit Simon Winkley
Kent Schools Sailing Association Regatta at Whitstable on 16 September
West Sussex Schools and Youth Sailing Association Regatta on 2-3 September
Dinghy Senior Instructor course at Queen Mary Sailing Club 7-8 & 14-15 October. Book now.
RYA non-executive director sought
We're looking for a new non-executive director by this year's AGM in November, and keen to receive applications from enthusiastic and forward-thinking candidates with deep insight of grass roots dinghy sailing, performance pathways or experience of elite sports at a strategic level. Please find out more and apply here
News roundup
A hundred not out at Twickenham Yacht Club open day
London and South East Regional Junior Championships 2023

Photo - open day at Twickenham Yacht Club
Share your stories
We're always looking out for stories like those above to pop on our web site and send to your local media, and snippets (two or three sentences) to promote your events or show what you've been doing, with photos (landscape format) and links. Or why not send us a short video (15-100 seconds, landscape format) done in one take on your 'phone to share on our social media. All should have some RYA/regional connection. Other clubs can enjoy your achievements and benefit from your experience. Send us your story
Header photo - keelboat sailing at last year's OnBoard Development Day, credit Simon Winkley.