No matter what your water-based passions are, buoyancy aids provide that all-important safety and confidence factor. The Amrok 50N Buoyancy Aid from Typhoon is ideal for recreational users. It offers a simple, yet comfortable and effective front zip buoyancy aid for a variety of uses, from kayaking to sailing. Amrok features shoulder and side strap adjustments, front entry zip opening, front zip chest pocket and crotch strap attachment. It even comes in a variety of colours to match your personality.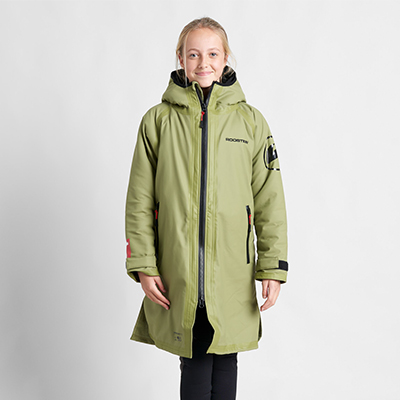 Aquafleece® Robe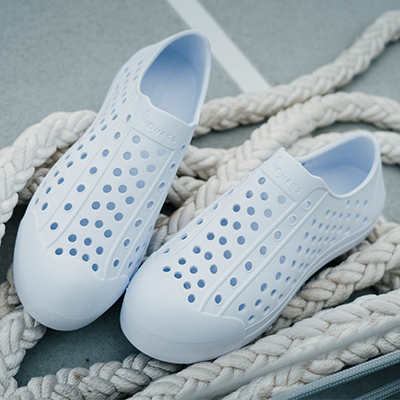 Quacs Shoes
Stay warm and dry while rigging, derigging or on shore spectating with Rooster's Aquafleece® Robe, The first watersports robe with a removable lining for easy cleaning and drying.
This oversized and versatile jacket is perfect keeping you warm before or after sailing, windsurfing, winging or paddleboarding. It's waterproof, windproof, and durable thanks to Rooster's Aquafleece® fabric outer shell. The soft and fluffy teddy lining can be fully removed from the jacket, so you can keep it fresher for longer. Being oversized with an option for Adults and Juniors, makes the Aquafleece easy to share across the family.
If you're on the lookout for some ideal footwear, try Quacs Shoes (stand M8). Designed with watersports, beaches, and boating in mind, Quacs are also ideal for day-to-day use. They are ultralight, durable, comfortable, waterproof, slip resistant, breathable, easy to clean and best of all are made from environmentally-friendly materials.
Visit the Hartley Chandlery on stand H10 for more clothing 'best buys' where you can purchase anything from wetsuits and buoyancy aids to onshore clothing from brands such as Gill Marine, Neil Pryde, Baltic, Typhoon, Orca Bay Shoes, Pelle and Holebrook as well as sunglasses from Barz Optics.
From on-water eyewear to the newest wetsuits, drysuits, footwear and safety gear, the RYA Dinghy & Watersports Show has you covered. Check out the full list of clothing exhibitors.
Show tickets are on sale now, and RYA Members can access a complimentary ticket worth £21 for one or both days of the event, while kids aged 15 and go free!