With over 160 exhibitors at the 2023 RYA Dinghy & Watersports Show there is no better opportunity to refresh your sailing staples and explore the latest tech to give you the edge on the start line this season. Here are some of the Show's technical best buys and exclusive show-only-offers that visitors can look forward to in less than two weeks' time at Farnborough International (25-26 February 2023).
Spotlight sponsor
Visit the Show's long standing and title sponsor Suzuki Marine (stand B14). Suzuki is the go-to supplier of outboard motors for sailing club safety boat packages. Industry renowned, Suzuki Marine engines are specifically designed to meet the users' duel need for performance and robustness, against the demanding marine environment. See for yourself their wide selection of lightweight, durable and fuel-efficient four-stroke outboards that will be on display at the show.
Show goers will also be able to find out first-hand about Suzuki's innovative new micro-plastics collection device – a world-first for outboard motors!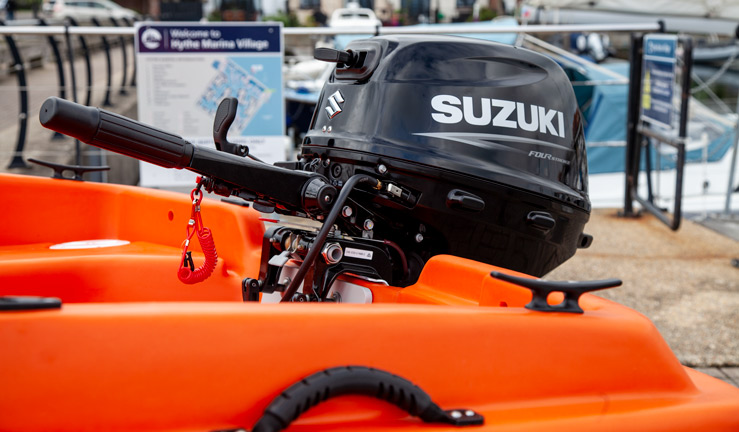 Sail in style
A must-see is Morgan Sails (stand B16). Morgan Sails are designed and made in-house in the UK. They have a very exciting announcement that the new Phantom Mainsail is now ready for the 2023 season! Customers can choose from either a Ripstop PU coated Dacron, black fibre mylar sail or black Kevlar. This sail is custom designed to fit on almost all masts and suited to your weight and height. Got questions? Their team will be on hand throughout the show, to answer any questions that visitors may have.
Visitors will benefit from the Show exclusive offer of 10% off all new sails when a deposit is paid (all sails excluding Solution class sails).
Top of the blocks
Get peak performance out of your boat's rig with the best-in-the-business blocks from Allen (stand I16). On their stand they will be showcasing their new 40mm Dynamic Block. This is a new high strength, high performing block and has been designed for modern sailing requirements. The versatile block is the go-to, low friction mainsheet block for both keelboats and dinghies.
Reach optimum weight with the TiiTAN Block. Weighing in at only 28 grams makes the lightest, strongest 30mm ball bearing pulley available on the market. Featuring a titanium sheave, ceramic ball bearings and aluminium cheeks. All of which add up to a block which offers extremely fast rolling speeds and an impressive breaking load of 1250Kg.
"More Grip, Less Slip" The Allen Wave 60mm Pro-Ratchet offers up to 40% more grip than the traditional ratchet block without eating your rope! It not only improves grip but as a result of the design it also allows for a less 'jumpy' feel when easing the sheets. Ideal for use on a mainsheet system. You can find this product on both the RS Sailing Chandlery Store and Hartley Boats Chandlery (stand H10).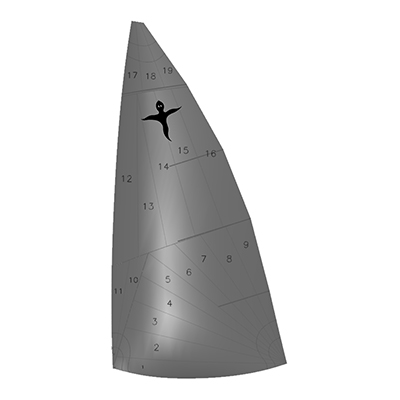 Phantom Mainsail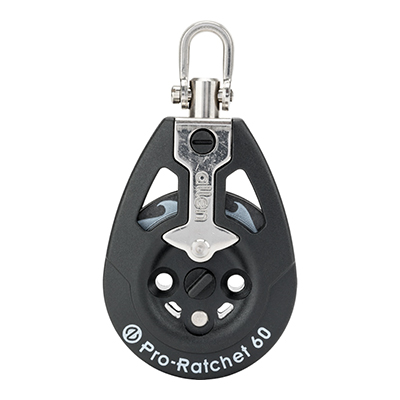 Allen Wave 60mm Pro-Ratchet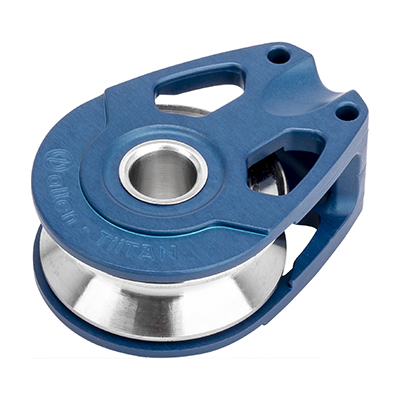 Allen TiiTAN Block
Get ahead of the pack
The RS Tera Race Pack is perfect for the performance level youngsters and can be found at Allen (stand I16). The Race Packs have been developed using Team Allen's own sailors experience in the boat and then finessed by the Allen engineering know-how. Ideal for anyone looking to quickly and easily upgrade their RS Tera control systems.
All three systems, Kicker, Vang and Outhauls utilise British made of Marlow rope (stand J34) and the Dynamic range of Allen blocks to deliver an easy to install and use race kit, will give you the edge this sailing season.
Electric future
New exhibitor ePropulsion UK (stand P10) will be making their Show debut together with eSolent, the Hayling Island based dealer for electric and eco marine solutions. Featuring live tank demos comparing of electric outboard motor vs 4 stroke and 2 stroke engines, these demonstrations they will be showing how, by switching to electric, we can all significantly reduce our impact on water quality and pollution.
As well as live demos, see for yourself the electric range of their Navy 3.0 and 6.0 long-range electric outboard as well as the highly portable Spirit outboards. The ePropulsion team will be on hand to help advise visitors about the many advantages of converting to electric propulsion, that include preserving marine life and reducing the need to burn hydrocarbons. They also will be sharing an exciting announcement at the Show…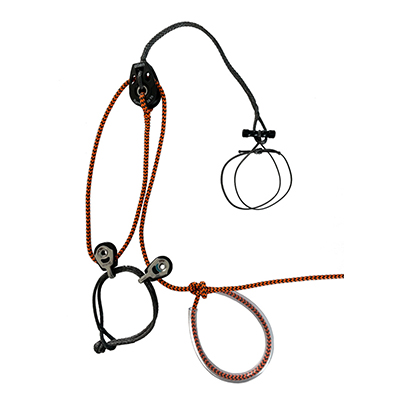 RS Tera Race Pack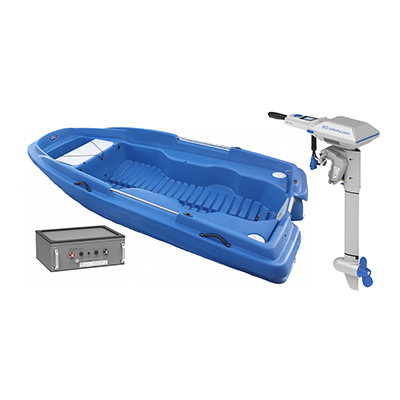 eSafety boat ePropulsion Navy Outboard Package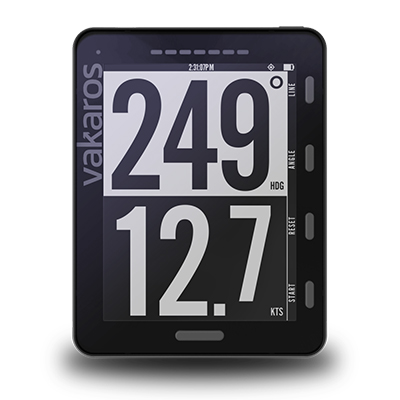 Vakaros Atlas 2
Pole position
Greatest Of All Time (GOAT) Marine (stand M11) will be showcasing their range of products designed by sailors, for sailors. Their all-new carbon fibre spinnaker pole is purpose-built for Firebolts and Flying Fifteens. Designed to be stronger and lighter using aerospace high modular material. Designed with or without moulded ramp, it is hand built with over 80 parts and weighing roughly 700 grams including Kevlar composite fittings for extra strength.
Style and substance
Don't forget to navigate your way over to Vakaros (stand K26). The Atlas 2 is a stylish and versatile sailing instrument. Throw away your AA's: the Atlas 2 charges wirelessly and has 100+ hour of battery life! Built for boats from the ILCA to the TP52. Its L1+L5 GPS receiver is the most accurate in any instrument on the water. With an eye-catching display to revolutionize the on-water-instrument experience. The Atlas 2 is the choice of World Champions, professional sailors, and Olympians worldwide.
Visit the Hartley Chandlery on stand H10 for more hardware 'best buys' from leading brands including Allen, Barton Marine, Harken, Helyar, Raymarine, Robline Rope and Selden plus own brand sails and boat covers.
For all your technical equipment needs the RYA Dinghy & Watersports Show has you covered, and we can't wait to see you there! View our full list of exhibitors.
Get your tickets
RYA Members can access a complimentary ticket worth £21 for one or both days of the event, while kids aged 15 and go free! Get your ticket now.