The RYA is once again welcoming applications for the Trinity House RYA Yachtmaster® Scholarship, an exciting opportunity for those working, or aspiring to work, in the small commercial vessel sector.
Skilled boaters who can prove their dedication to the marine industry could be eligible for a share of the annual scholarship fund provided by Maritime charity, Trinity House.
Since its launch in 2018, the scholarship has seen grants awarded to 24 deserving individuals, aiding career progression through opportunities for further training.
Increased opportunities
"The grant has opened up a whole new sector of work that a couple of years ago I would never have dreamed of going for," explains RYA Instructor, Sarah Bagley who has been working in the watersports industry for more than ten years.
Since being awarded the grant in November 2018, Sarah has completed the RYA Sea Survival course, RYA Marine Radio (SRC) course and exam, as well as completing the RYA Coastal Skipper/Yachtmaster Offshore Theory course and passing the RYA Yachtmaster Offshore Certificate of Competence exam.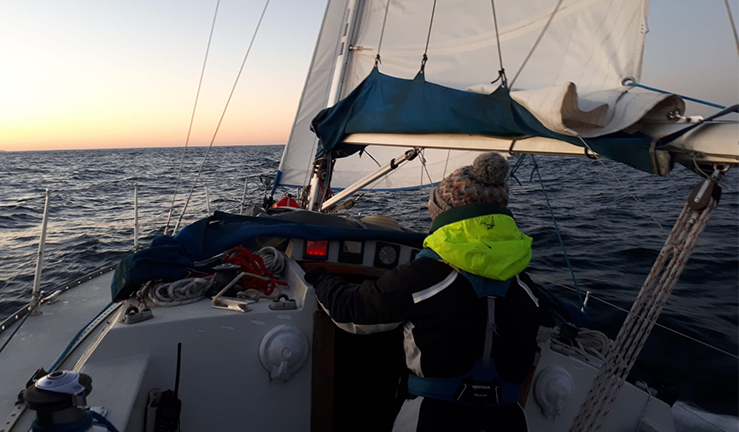 "I applied because I wanted to upskill to bigger boats," she explains. "Trying to get qualifications so that in the winter I could get a little bit more work rather than just teaching windsurfing.
"I don't think I would have had the capital behind me to go ahead and do those courses, so it's really helped me and pushed me to do them."
Since gaining her qualifications, Sarah has opened her own watersports centre in Pembrokeshire, Wales and says without the scholarship she wouldn't have had the confidence or the transferable skills to get the centre started on her own.
"Having these qualifications has really helped me progress in the industry, creating broader job opportunities, particularly in the winter months when most windsurfing and dinghy work comes to a halt," continued Sarah.
"I'd recommend applying for the scholarship because it's an amazing opportunity to get qualifications that you might not be able to afford yourself and it just gives you that confidence to go for it.
"Once you've got that scholarship it makes you think 'I can do this' - definitely go for it."
Something for everyone
The small commercial vessel sector provides a huge and diverse employment opportunity for mariners, both within the UK, as well as overseas. From high-speed experience rides, eco-tourism and windfarm workboats, to racing charters on the Solent, superyachts around the globe and so much more - there is a career opportunity for every taste.
Richard Falk, RYA Director of Training and Qualifications, said: "The Trinity House RYA Yachtmaster Scholarship has proved hugely popular with many watersports instructors as they look to add further skills to their existing portfolio, or as they start to explore the wider maritime sector.
"It's very encouraging to see the impact the grants are already having, particularly for those like Sarah with years of experience in windsurfing and other watersports.
"We are delighted to be working with Trinity House for a fourth year to invest in future talent and give back to the industry."
Apply now
To apply, candidates must be able to demonstrate a high level of commitment and achievement in the industry, as well as a clear intention to work within the small commercial vessel sector. Those keen to enter the industry will be able to show a history of excellence in studies, or in leisure boating activity.
Applications should be supported by an endorsement from the principal of one of the RYA's network of RYA recognised training centres, where candidates will have shown exceptional boating, navigation and/or leadership skills. Principals can also nominate suitable candidates.
The next round of applications close on Friday 10 September 2021.
For more information, eligibility, selection criteria and applications visit www.rya.org.uk/go/TrinityHouse.
To find out more about RYA training schemes and courses visit www.rya.org.uk/training.