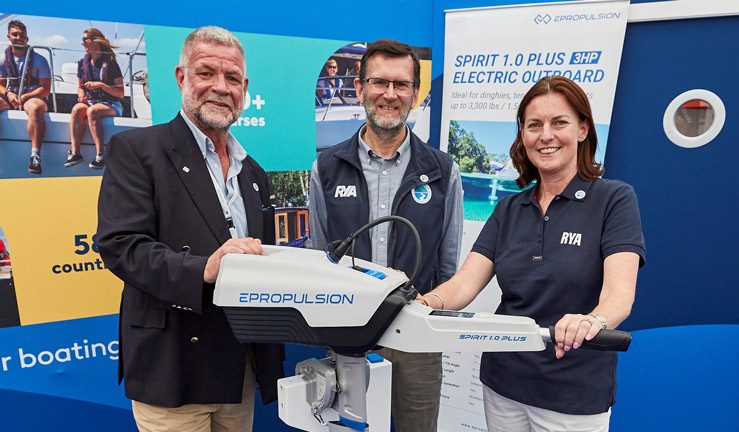 At the Southampton International Boat Show today (Friday 15 September) ePropulsion were announced as the RYA's new Official Innovation Partner.
Sara Sutcliffe, RYA CEO said "Today has been all about electric engines and we're really excited to welcome ePropulsion on board.

"Through this new four-year partnership, we're looking forward to working together to test, develop and evolve electronic marine propulsion into the future".

Visitors of the show raised a glass to celebrate the new partnership and took a closer look at an ePropulsion Spirit Series electric outboard which was on display.
Experts from the RYA Environmental Team were also on hand to explain how the advantages of electric boating go beyond the environmental benefits including no noise, easy boat handling and low running costs.

Phil Horton, RYA Environment and Sustainability Manager explains: "This is a key partnership for the RYA as we look to a future of quiet, zero carbon boating.

"We're seeing a huge interest from members and affiliates in switching to electric drive, and rapid advances in technology driven by companies such as ePropulsion mean this is now readily achievable for most recreational boaters."
Steve Bruce, Global OEM Sales Director, ePropulsion added: "It's a proud moment for ePropulsion to be named an Official Innovation Partner of the RYA. By focusing on electric engine solutions, we're taking a massive leap forward in mitigating the negative environmental effects of conventional boating.
"Our partnership with the RYA marks a pivotal shift towards sustainability in the maritime sector. We'll be working hand-in-hand to introduce cutting-edge electric engine technologies that are not just efficient, but eco-friendly. This four-year journey promises to set a new course for environmentally responsible boating".
You can find more information about ePropulsion and browse products at www.epropulsion.uk.