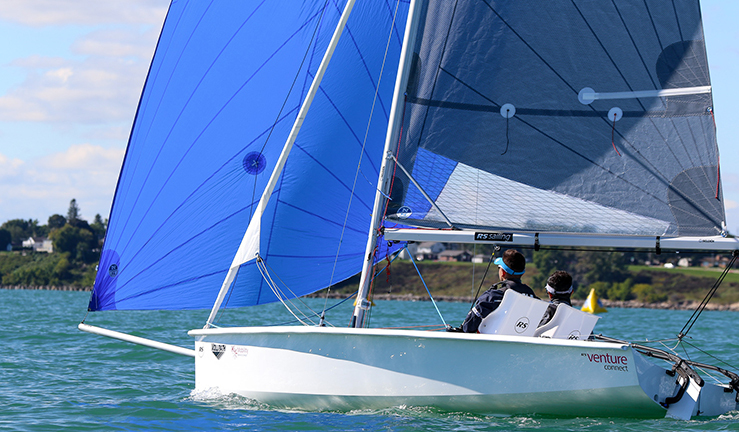 Three crews are set to represent Team GBR in the RS Venture Connect Championships in Oman this November.
Introducing the Team GBR crews
In crew one is Adam Billany and Jazz Turner, both were introduced to sailing at a young age and haven't stopped since. Adam's first taste of sailing was on his Uncle's Topper, and Jazz stepped in to take her friend's sailing lesson - whilst the rain put her friend off, for Jazz she fell in love with sailing that day.
Competing together they are both excited to be sailing with other para sailors their age and looking forward to trying a new format of racing and representing their country at a world championship. Jazz commented:
"It's really cool that we are an under-25 team, as you usually don't have people your age at an event."
Crew two is Rory McKinna and Emily Wright. Emily has been hooked on sailing since she was 13, when in recovery she joined a Yacht trip organised by the Ellen McArthur Cancer Trust. Emily has most recently; represented GBR in the European Blind Match Racing Event in Sciez on Lake Geneva, where she placed 3rd.
"I am extremely excited to have been selected to represent my country again, this time in an u25s Para team in the RS Venture Connect Worlds in Oman. I will develop my skills and learn from an experienced coaching team and fellow sailors. It is an amazing opportunity to be able to represent and inspire young, female, disabled sailors and #BacktheBid to get sailing reinstated to the Paralympics," says Emily.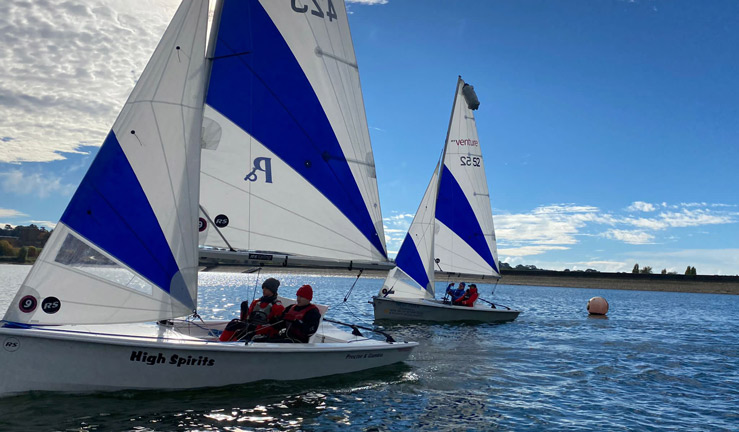 Team mate Rory first started sailing in 2014 after seeing a group of Hansa 303s on the water at a local activity centre, captivated he rapidly completed his stage 1 and stage 2 the same summer and hasn't looked back.
Rory is equally excited and predicts the results may be more mixed than we think: "I'm really looking forward to Oman. I think it will be interesting to see how the different competitors perform in, what is to many, a new class of boat.
"The results may be more mixed than if we were sailing our traditional classes!"
Crew three is six-time Blind Sailing World Champion Lucy Hodges sailing with Colin Midgely. Lucy has this to say: "Blind Sailing is a passion for me and Colin, on a boat we are a team we both have strengths and weaknesses, but we have won World titles together. Communication is key in blind sport, and we are taking part in the RS Venture Worlds to give blind sailing a voice and to help open pathways and see where we can join up all types of disabled sailing.

"We hope to make Great Britain proud and also make more friends around the world."
Team GBR is delighted to join the international para community and be part of an event with 36 teams from 19 countries! The event promises to be a spectacular showcase of sailing with the potential to inspire a world of para sailors.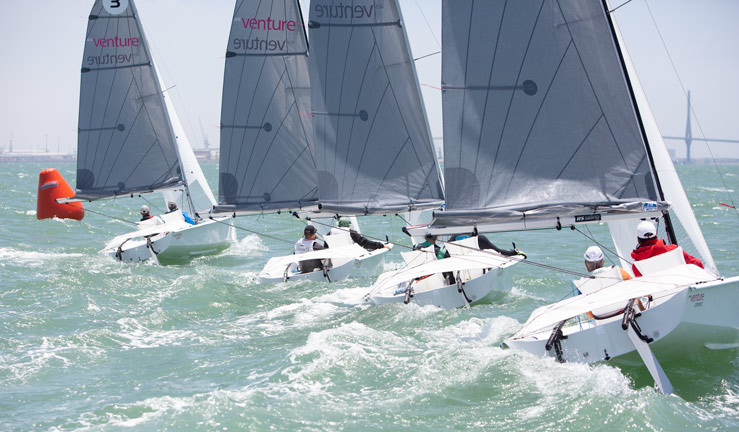 ©2019 Miguel Paez/World Sailing
Inspiring the next generation of Paralympic sailors
The teams lead Coach is Paralympian Hannah Stodel. Hannah having competed at 4 Paralympic Games and secured multiple world titles, is passionate to support opportunities for up-and-coming sailors. Hannah says: "I'm delighted to be heading to the Para Sailing World Championships in Oman as Lead coach. One of the greatest gifts I can share is not just my experience of competing at this level but also, I love to hopefully inspire the next generation of Paralympic Sailors.
"Team Great Britain are sending are extremely talented, diverse and above all enthusiastic, and I'm hopeful we can have a fantastic event – I'm excited to see what these sailors can do, and it's a real privilege to support them."
RYA Para Sailing Hub
The RYA Para Sailing Hub showcases increasing opportunities for disabled sailors to race and train, locally, nationally and internationally. The hub is aimed at increasing opportunities for disabled people in the UK and supporting World Sailing's campaign for the reinstatement of sailing in the Paralympic Games. Packed with resources, training opportunities and advice, the Para Sailing Hub offers sailors, volunteers, coaches and supporters a place to come together as a community and grow the opportunities available.
As a sailor, or as an organisation, join the para sailing hub and get yourself to the start line.