Winning sailors and their parents have been sharing their experiences of the North East & Yorkshire Youth Traveller Series and highlighting the benefits of competing at local events.
The 2022 series saw more than 120 sailors participating across 10 venues and over 250 individual entries, providing competitive racing at the front of the fleet while at the same time encouraging and supporting less experienced sailors and those travelling for the first time.
The concluding round at Filey SC in September summed up this year's enthusiasm for the series, with 36 boats competing, places throughout the fleet still to be decided, and two races completed despite a big northerly and a battle through breaking waves to launch.
Emerging victorious as the overall series winner was Tom Bates (ILCA, Ripon), just a point ahead of Ollie Hirst (ILCA, Scammonden Water), with Toby Waggett (Optimist, Teesdale) third, Thomas Whitehead (RS Tera, Filey) fourth and Kyla Baxter (Topper, Covenham) first girl in seventh.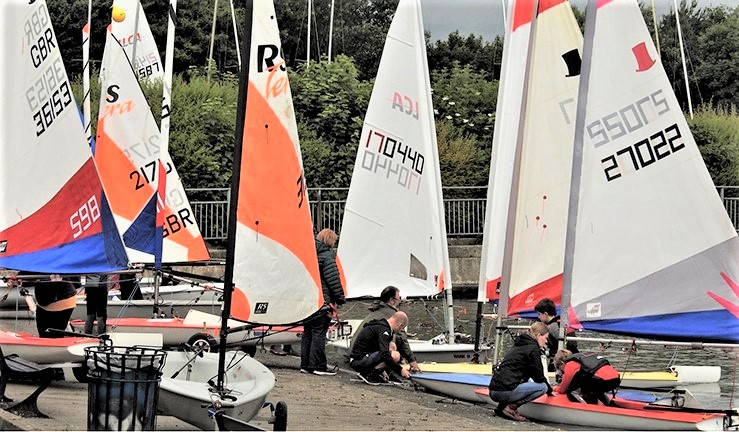 Competitive
For Tom Bates, overall winner for the second year running and now aged 17, the series has provided competition and camaraderie which has seen him returning to take part year after year since 2017.
Initially competing in the series when it visited his home club Ripon SC in an RS Tera, Tom then started travelling to more events as he progressed his skills and moved into a Topper and then ILCA.
Tom trained with RS Tera North and was in the Topper national squad but alongside competing in major national events with these classes, and now ILCA qualifiers and championships (pictured below at the 2022 ILCA Nationals), he has continued to take part in the North East & Yorkshire Youth Traveller Series (NEYYTS).
He explains: "I enjoy the series because it's in the north and it's close, otherwise you end up travelling down to the south coast every weekend, and there's always good competition wherever you are in the fleet. The series has also definitely helped me to develop my racing skills, especially with the venues on the sea, and it's an opportunity to sail away from your home club.
"The first time I won one of the days in the series, last year, that was special: I can remember being very happy about it! There's also a nice social aspect to the series and a barbecue at the last event every year, so I've made some good friends from around the region through taking part that you wouldn't normally have the chance to make."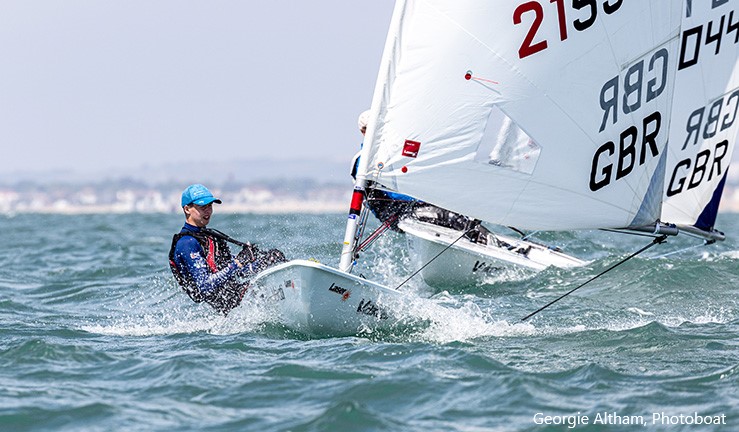 Local clubs
Tom's first-ever traveller event was when the family decided to head off to the 2018 RS Tera Nationals – nearly 300 miles away in Weymouth! Since then Tom's passion for the sport has seen them frequently on the road for training and events, but mum Janet says NEYYTS has been always been a favourite.
She explains: "I do genuinely enjoy all of the venues but the local ones are special. I love to visit the local clubs and meet up with the friends we've made over the last few years. It's great to chat and share stories. Not travelling so far is also great and the sailors still get good competition, just on a smaller scale.
"It's also easier for me to get involved doing something other than beach duty! I enjoyed being Assistant Race Officer at the Ripon SC open this year. Sometimes I get out on the water where you can really see how hard the sailors work and how much they enjoy the races. It's the people that make it for me."

New skills
Taking the top girl title this year, also for the second year running, was Kyla Baxter, aged 16, who started sailing at Covenham SC in 2017 after an open day and a year later took part in her first NEYYTS at Ripon SC, encouraged by former NEYYTS series winner Henry Redmond and his dad from her home club.
She recalls: "We had a great day with racing, fun activities on the water and a barbecue. It was a bit daunting going racing at another club, so I joined the regatta fleet. However, I sailed well and was moved out of the regatta fleet that same day!"
The following year Kyla returned to Ripon for a racing/training event and spent the winter racing at Covenham until the Covid pandemic arrived. Emerging from the frustrations of lockdown in 2020, Kyla was quick to sign up for nearly every NEYYTS event.
"The whole family came to watch me race each week and my placings became better and better," says Kyla. "This was a massive boost to me and made me want more."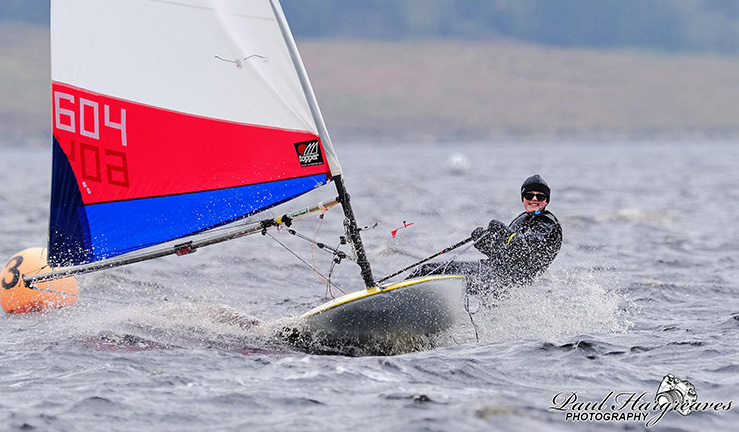 Sea sailing
Kyla recalls a brilliant NEYYTS day at South Shields in July 2021, where sailors were supported to sail on the sea, and says: "I was thrilled to come 7th that day, having never sailed on the sea before. Again, it spurred me on to achieve more, and we travelled to Filey the next month."
The results followed and at the last event of the 2021 season at Yorkshire Dales, Kyla achieved a personal best of 5th and won the first girl prize for the season. Inspired, she also competed at Topper events and open training and gained selection to the North Topper RYA Regional Training Group.
NEYYTS 2022 saw Kyla taking her first event win at Yeadon SC and again finishing the series as first girl overall. She says her experiences with NEYYTS, including on the sea, have had a direct impact on her placings at big championships and she has now qualified for the Topper 5.3 National Training Team.
"The NEYYTS series has definitely been a great springboard for launching my racing career in a supportive and positive environment, with every event geared to giving the participants a great experience and designed to make them want to come back for more," sums up Kyla.
"The mix of boats in each race keeps it interesting, as does the variety of locations. With every club we visit, more young sailors are encouraged to have a go and many go on to come to the next events in the series. Some of the youngest sailors in their Optimists and Teras can sometimes quietly steal the race from under your nose, no two races are ever the same and only one person has won twice this season!"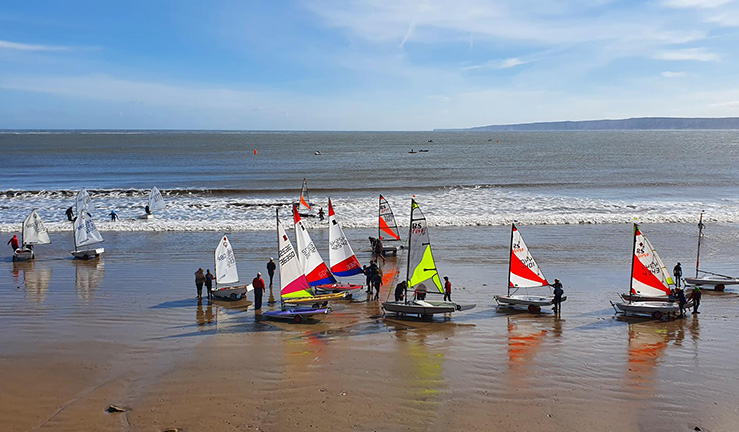 Days out
Mum Zoe says: "Competing in the NEYYTS has been a great experience for all of the family. It's a day out to places we may not have visited before - and most of the journeys have us travelling through amazing scenery - great for your mental health!
"I felt so proud - and a little nervous - when Kyla sailed out of the harbour at South Shields on the sea for the first time in her tiny yellow Topper. But you trust all the great volunteers on the committee and safety boats to look out for them on the water. And while they are sailing, it's a great chance to talk to people and make new friends.
"All the parents involved are really kind and helpful. When I had to tow the boat to Filey, another parent offered to help me turn the car and boat around when I was struggling to complete a 3-point turn on a particularly busy day! There is always someone who can help answer a question or lend a helping hand to lift your boat or mend a broken rivet.
"To see Kyla grow in confidence and want to attend other events and compete in huge races against 150 other boats just shows what can grow from small events like the NEYYTS. And we've made some great friends now who we see at the different events which is lovely."
Find out more about the North East & Yorkshire Youth Traveller Series and next week, look out for our NEYYTS Round Up, Part 2, when we will be catching up with the young sailors who have progressed through and beyond the regatta fleet!