The RYA Case Book is currently in it's eighth edition. All the cases have been reviewed, and where necessary, updated to be compliant with the 2021-2024 RRS.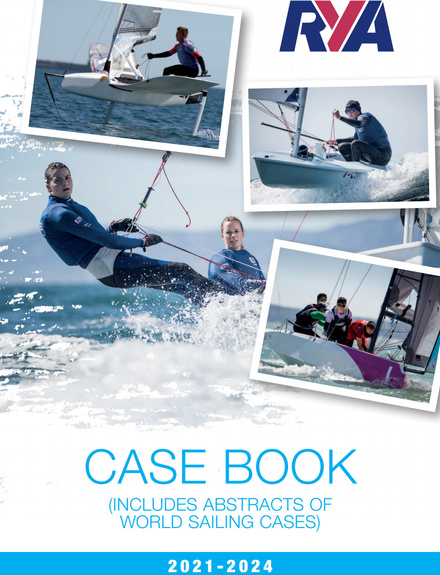 The Case Book is available as a PDF download by clicking the image above, or through the integrated e-book within the World Sailing App.
The Racing Rules of Sailing 2021 – 2024 have made further refinements to the rules, mainly for clarification. The RYA Cases have been edited to reflect these changes. The World Sailing (WS) Cases have also been reviewed and some new ones added. The WS Case Book is published on the WS website. The WS Cases' abstracts are included in Section 2 of the RYA Case Book together with those of the RYA Cases and both are included in the 'Cases by Rules' index in Section 1. Some WS cases are such that the whole case is needed for a proper understanding and should be referred to for that reason.
Revised Case
When reasonable doubt exists as to the interpretation of a sailing instruction it must be resolved in favour of the competitor.
A person with a conflict of interest cannot be a member of a protest committee unless the parties consent or the protest committee decides that the conflict is not significant.
Change Log - Edition 8
December 2020
First publication of eighth edition
February 2021
Addition of RYA 2021/1 - Questions concerning changing the type of hearing during a hearing
Amendment to abstract of RYA 2001/5
Typographical corrections
February 2022
Inclusion of abstract of new World Sailing Case 147
Deletion of RYA Case 2001/5 due to conflict with World Sailing Case 147
December 2022
Addition of RYA 2022/1 - Obligations of a right of way boat changing course under rule 16.1
Addition of RYA 2022/2 - Excluding a boat or competitor after the first race of an event or series
History
First published in a single volume in 1993, the RYA Case Book has been continually maintained by the RYA's Racing Rules Committee and it's editor. Cases are continually reviewed to ensure they remain relevant and correct following any rule changes.
In 2013 the Case Book was brought into the digital age by hyperlinking the various parts so that users can move from item to item with a single click.
In 2021, the Case Book was changed to a single-column format to be easier to use on small screens of tablets and smartphones.
| | | |
| --- | --- | --- |
| Edition | Racing Rules of Sailing | Case Book Editor |
| 1 | 1993 - 1996 | Mary Pera |
| 2 | 1997 - 2000 | Trevor Lewis |
| 3 | 2001 - 2004 | Trevor Lewis |
| 4 | 2005 - 2008 | Trevor Lewis |
| 5 | 2009 - 2012 | Chris Simon |
| 6 | 2013 - 2016 | Chris Simon |
| 7 | 2017 - 2020 | Chris Simon |
| 8 | 2021 - 2024 | Chris Simon |