What are RYA eBook Vouchers?
We have enhanced our eBooks (where possible) by including animations, videos and interactive tools to help illustrate key points and bring the content to life. These eBooks are a fantastic and engaging resource, supporting our world-famous training courses. And using eBook vouchers is a great way to access this content.
We offer several different types of eBook voucher, which you can redeem in our shop to gain access to certain eBooks. eBook vouchers are available for ePacks, single eBooks and eBook Subscriptions.
Please note: eBook vouchers cannot be used to redeem Apple Books or Google Play Books. You can access your eBook(s) through the RYA Books app or Online Access through your browser only.
ePacks
RYA Recognised Training Centres can offer students the choice to receive an eBook to accompany their RYA course, rather than a printed book. These are known as "ePacks".
When you receive an RYA ePack, it'll contain an eBook redemption code, instead of a printed book. All other items in the pack, such as application forms and certificates, remain the same.
The following ePacks are currently available:
RYA Marine Radio SRC Course
RYA Level 2 Powerboat Handling Course
RYA Inland Waterways Helmsman's Course
RYA Personal Watercraft Proficiency Course
RYA First Aid Course
RYA Basic Sea Survival for Small Craft Course
RYA Recognised Training Centres
For further information about ePacks and the level of support that Centres need to provide to students, please see the ePacks page on the RYA Training Support Site (login required).
How to Redeem RYA eBook Vouchers
Voucher codes can be used only once, and will redeem the eBook(s) against your email address. You will access your eBook(s) using the RYA Books app on your chosen device(s). If you do not already have an RYA Books account, one will be created for you.
Once you've redeemed your code, you'll receive an email with full instructions for How to: Download RYA eBooks.
Please note: enter your code exactly as it is printed on your redemption voucher. The code is case sensitive.
Follow the instructions below to redeem your eBook voucher:
Visit www.rya.org.uk/shop and search for your eBook or eBook Subscription. You can use the eBook title or product code in your search – you'll find both on your voucher.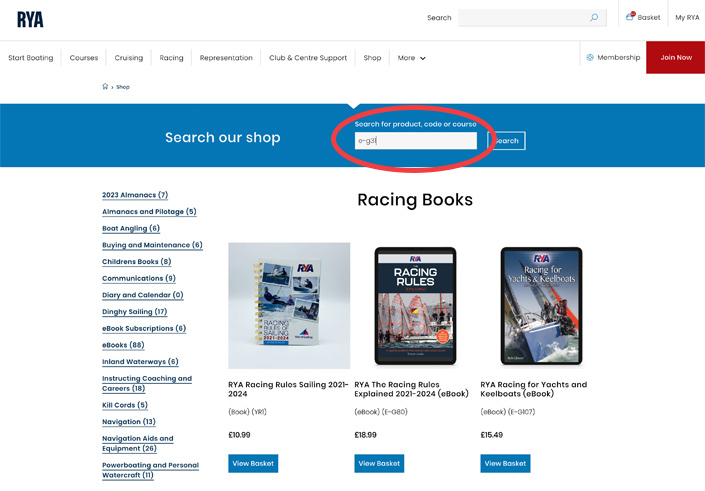 Click "Add to Basket" next to "Buy eBook".
Please note: You cannot redeem your code against the print version.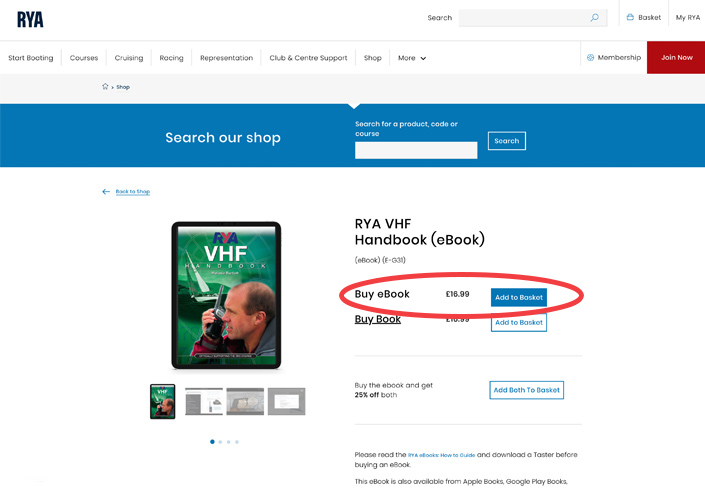 After you click "Add to Basket", you'll see that an item has been added to your basket in the top-right corner of your screen. Click the icon to view your basket.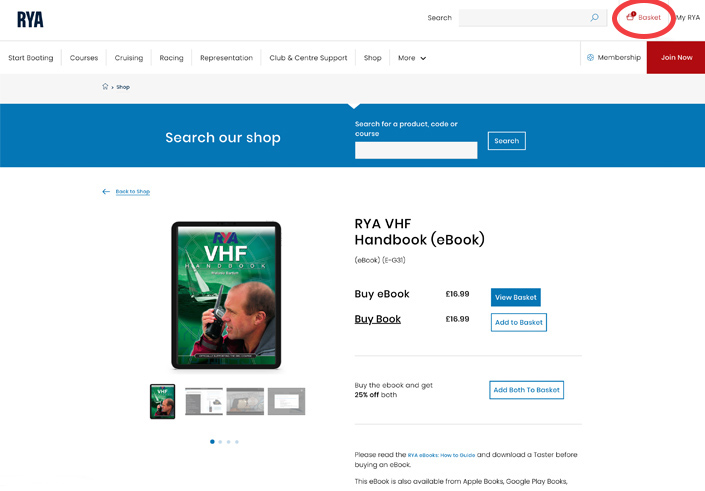 Scroll down and enter your voucher code in the box labelled "Enter your Discount Code". You'll receive confirmation that your voucher has been accepted.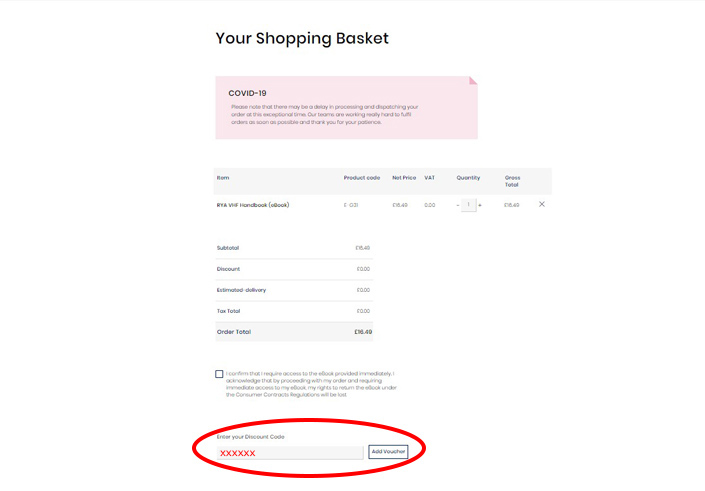 After your code has been applied successfully, your Order Total will update to £0.00.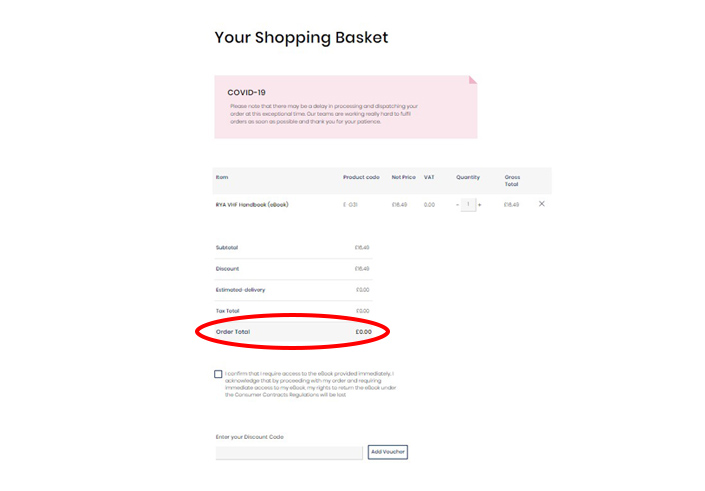 Tick the box to confirm that you require immediate access to your eBook(s) and that you understand your Consumer Contracts Regulations.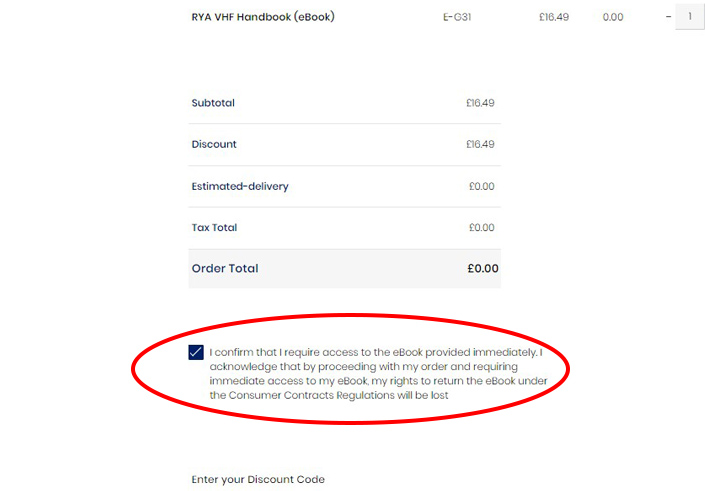 Click the "Checkout" button to continue with your eBook voucher redemption.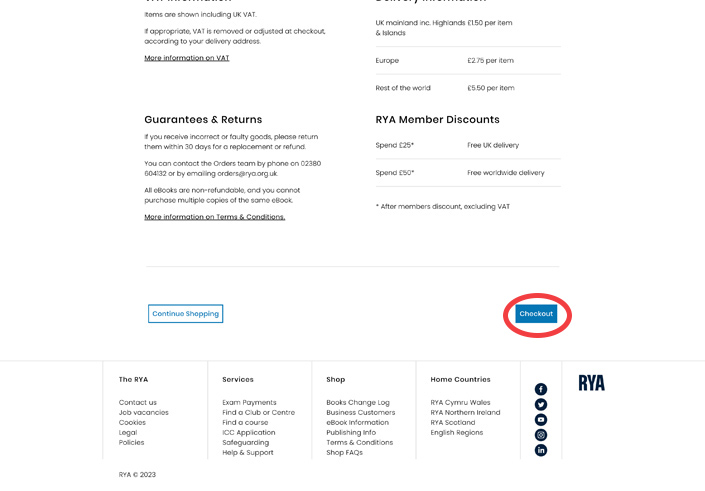 To complete your order, sign in to your MyRYA account, or register for one. Registration will only take a few minutes.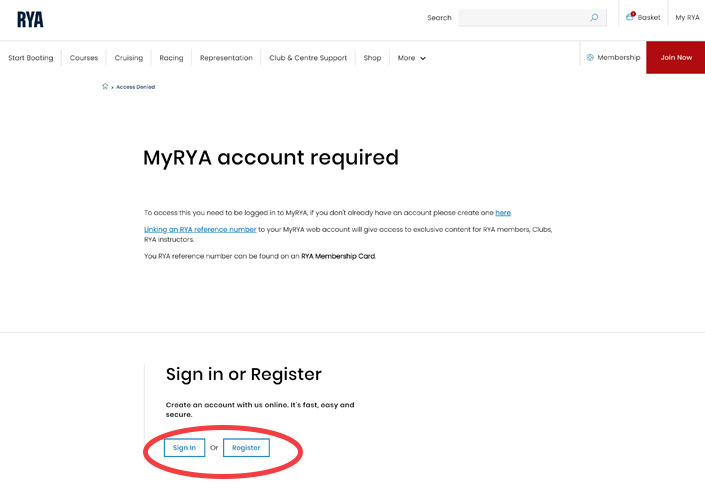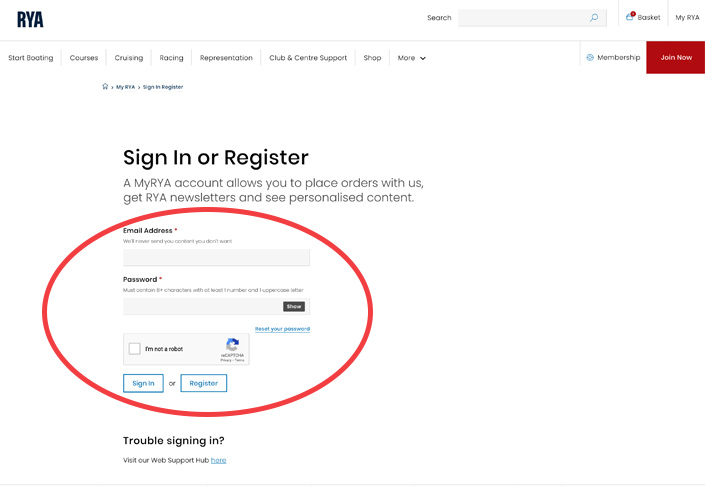 Confirm the address that you'd like to use for your MyRYA account. Either enter your postcode and click "Find" or click "Enter address manually".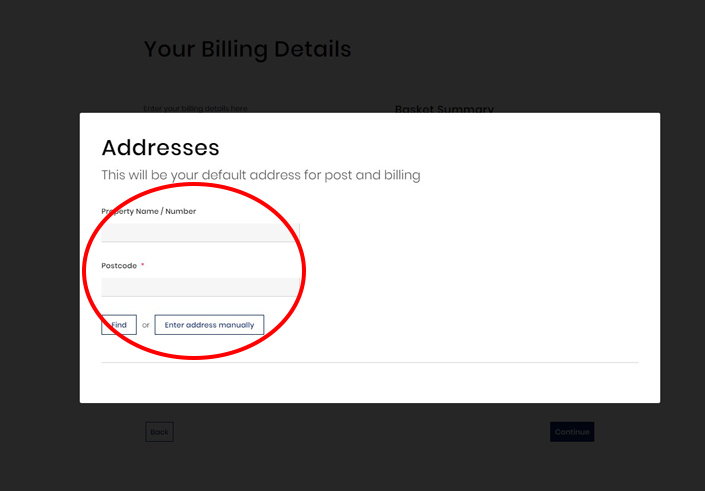 Confirm that your details are correct.
If your address is correct and your Order Total is £0.00, please click "Continue" to complete your eBook voucher redemption.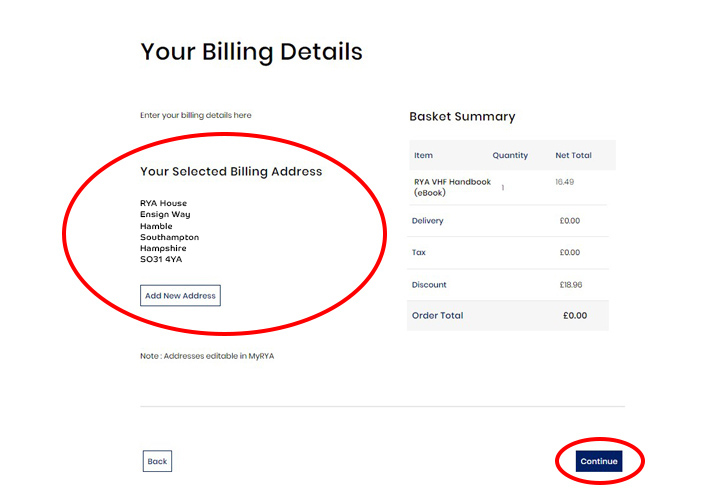 Once you've redeemed your eBook voucher, you'll see an order confirmation. Make a note of your order number.
You'll shortly receive an order confirmation email, along with instructions for How to: Download RYA eBooks, and a password for the RYA Books app (if you don't already have an account).
Please note: You will access your eBook through the RYA Books app. Your RYA Books app login details are separate from your MyRYA login details.