To celebrate the upcoming Tokyo 2020 Olympic and Paralympic Games, we're inviting OnBoard venues and families to get active with the virtual Travel to Tokyo challenge, Team GB and ParalympicsGB's free programme for children aged 5 to 11 and their families.
Travel to Tokyo is part of Get Set, Team GB and ParalympicsGB's youth engagement programme, designed to get young people and families across the UK active alongside their classmates virtually and celebrate their progress online.
Travel to Tokyo is all about getting active, whether this takes place at home, school or with family. Travelling in school teams, children will gain kilometres by logging their physical activity on the Travel to Tokyo website. By following a virtual journey to Tokyo, children will explore different cities around the world, discover more about Japan and the Games and find new ways to enjoy getting active together with their families. There's even the chance to win prizes. Every activity – including sailing and windsurfing - can be logged as part of the journey to Tokyo.
Travel to Tokyo is all about trying new things and most importantly: having fun. It's also about team spirit and building a habit of physical activity, rather than focusing on competition. By taking part, young people will grow in confidence and learn vital skills and OnBoard attributes such as teamwork and determination.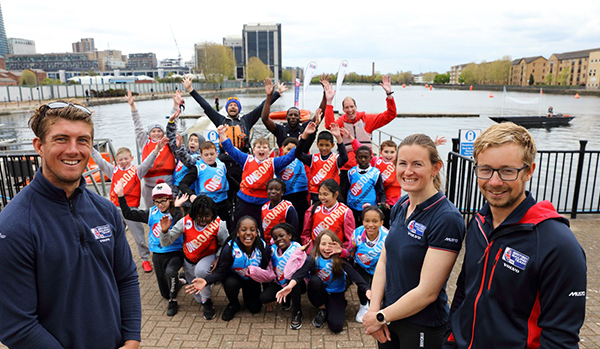 OnBoard venues get involved
Two OnBoard venues, Andrew Simpson Sailing Centre Birmingham and Docklands Sailing and Watersports Centre, showcased the new ways pupils and families can get active this summer, when they recently invited local schools to get active and try out sailing as part of Travel to Tokyo and Get Set.
Pupils from Rosetta Primary School, London and Water Mill Primary School, Birmingham got out on the water and even had the chance to meet three British Sailing Team athletes, Alice Masterman, Rhos Hawes and Chris Taylor. The youngsters got to ask them questions and received some top tips on sailing before they hit the water.
Benn Freeman, ASC Manager at Birmingham, said: "It was great to be joined by the RYA and Watermill Primary school at Andrew Simpson Centre Birmingham for the Get Set Travel to Tokyo initiative. This initiative has been a great opportunity to introduce a new school who are based within 2 miles of the centre to the sport of sailing."
Alice Masterman, British Sailing Team athlete, said:"It was really great to see young kids being given the opportunity to go out on the water in what is often considered an exclusive sport. This goes to show how accessible sailing can be and hopefully others will be inspired to follow".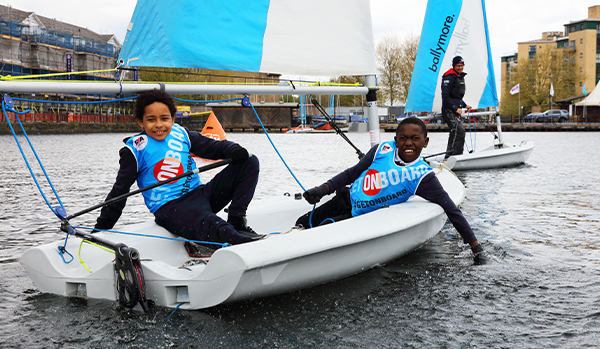 Discover Get Set resources

The Get Set website also provides lots of free curriculum-linked resources and downloadable activities. Suitable for a wide range of subjects, interests and age groups, many are perfect for OnBoard venues to use for when getting out on the water can't take place. Such as the ten minute 'Tokyo Tens' activities or the longer 30 minute 'Active challenges'.
Get Set was originally created as the official London 2021 education programme, to deliver against the vision to use the Games to inspire a generation of young people – the same vision which OnBoard strives towards, as well as the joint goal of encouraging young people to try out new activities this summer.
Over 1 million families have signed up – so what are you waiting for? Sign up on the Travel to Tokyo website - https://www.getset.co.uk/travel-tokyo - to begin a virtual journey to Tokyo now.