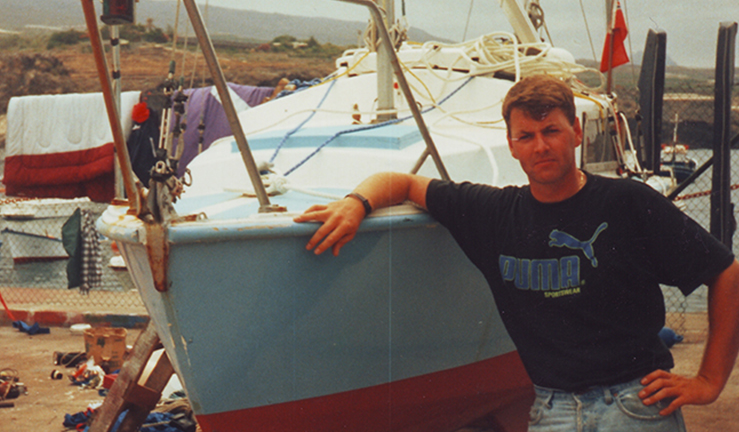 Over the last 50 years, RYA training has given millions of people the skills they need to set sail and stay safe on the water. For RYA member David Clarke, an RYA course led to a Guinness World Record and the adventures of a lifetime.
Here he reflects on 30 years on the water, a lifelong love of sailing and how the knowledge and skills developed through RYA courses have kept him safe at sea.
The adventures of a lifetime
"My story started on a cold and frosty October morning in 1988 with a week-long RYA Competent Crew course in Southampton," says David.
"I'd purchased Sharky, a dinky little Caprice Sloop beforehand and I needed to gain some practical experience and learn to sail before venturing out on my own.
"I sailed on inland waters the next summer and eventually took her to the open sea for an epic cross Channel adventure to Cherbourg. Pre affordable GPS this was one of my most memorable trips and achievements."
Enthused by his adventure on the open sea, David continued his training from home with an RYA Yachtmaster theory distance learning course, before going on to complete the RYA Coastal Skipper practical course.
With his newfound knowledge, and after refitting Sharky, David sailed from Falmouth to Northern Spain in 1992. Confident he'd built up the skills to continue, he then sailed solo to Madeira and down to the Canary Islands the next year.
"After this, there seemed to only be one option!" he says, explaining how he came to embark on his next journey in February 1995. "I continued on my own, fulfilling an ambition to take Sharky down to Cape Verde and then across the Atlantic to Barbados. It was an epic adventure that all started with an RYA Competent Crew course!"
David had to sell Sharky to fund his travel back to the UK, where he continued to sail and even skippered a crewed yacht across the Atlantic, but his enthusiasm had waned.
"I decided I'd put my efforts into helping others learn to sail," he explains. With his young son Bradley also keen to try sailing, the family joined Rudyard Sailing Club where David completed further RYA courses before going on to volunteer as Safety Boat Officer and instructor – sharing his love of sailing with younger members.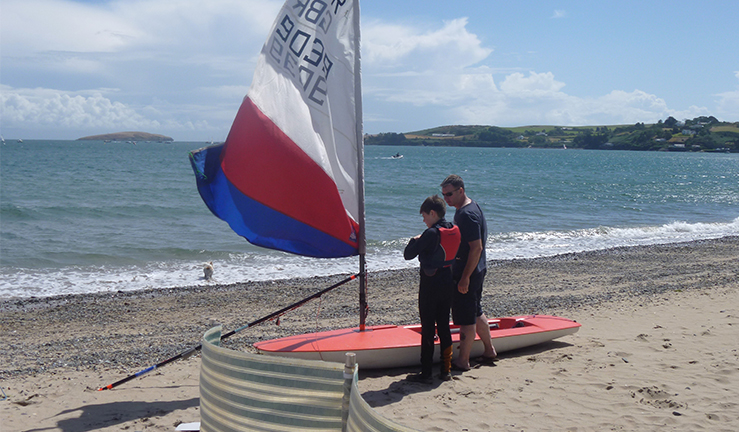 The call of the sea
"Sailing has always given me a sense of freedom," says David. "When you can harness the forces of nature you become part of it, kind of in tune with it. The satisfaction that it gives me is hard to replicate.
"It also gives me a sense of adventure as there are no boundaries when you're at sea. For me as a solo sailor, you become reliant on you own skills.
"It's a formidable sport to get involved in, both inland and at sea. It's physical, but it can be adapted to a level that suits every age and ability. The fresh air alone is important for a health mind and body. It can create great friendships, with fellow sailors. It's a sport that can be inexpensive to participate in, with clubs all around the UK keen to welcome new members."
David says he was embroiled in a mid-life crisis when the sea called again in 2008. "The sea never lets you go," he explains. "I was 44-years-old when I decided to row the Atlantic solo and picked up a Guinness World Record as the first person to have sailed and rowed an ocean alone. The knowledge and skills I learnt through my RYA training kept me safe.
"I certainly didn't set out to be a Guinness World Record holder. Sailing Sharky was all about adventure and stepping into the shoes of the great sailors I'd read about. To be able to feel what they felt at sea was my only reason. It became my passion.
"Rowing an ocean became a fixation from the book Britannia by John Fairfax. I read it as a boy and again in my early 40s. The seed was planted all those years ago and then rekindled.
"To be the first person to have sailed and rowed and ocean solo is a great tale to tell my grandchildren, but for me, it was all about the adventure and the challenge."
David has passed on his love of sailing and adventuring – his son Bradley, now 21, is an RYA Senior Instructor at Rudyard Sailing Club. The father and son duo recently organised a sail across the English Channel in a Hartley 15 dinghy with five young sailors from the club.
Not yet sure what his next adventure will be, David says he's certain it will be on-the-water. "As I gallop towards the young age of 60, I'm thinking yacht cruising might be a more suitable and sensible option. Whatever the future holds, I have no doubt it will involve more RYA courses!"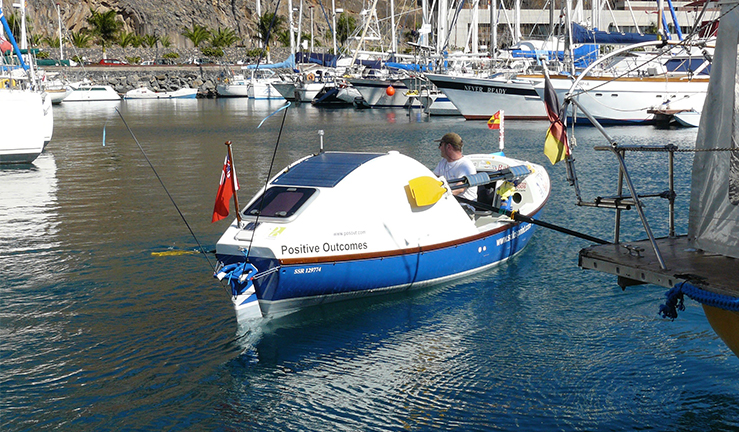 Celebrating 50 years of RYA training
In 1970 the RYA Dinghy and Coaching schemes were introduced to assist clubs and sailing schools by providing a national syllabus and method of learning to sail. 50 years on, the RYA has a network of more than 2,400 recognised training centres in 58 countries worldwide and supports the delivery of over 100 different courses.
Some 270,000 people undertake some form of RYA training every year and the programme of courses is no longer exclusive to dinghies, but now encompasses everything from personal watercraft to the inland waterways, the thrill of foiling, the globally respected RYA Yachtmaster™ and so much more.
To find out more about the 50th Anniversary and the history of the RYA training schemes, visit www.rya.org.uk/go/50years. For more information about RYA courses go to www.rya.org.uk/training.