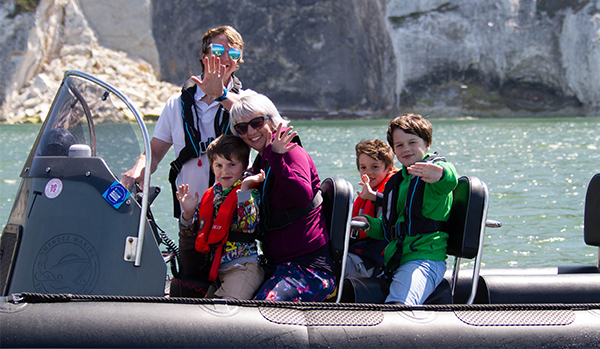 Looking for family staycation ideas and want to do something that's fun for big and small kids alike? Then why not consider a family boating course on holiday this summer? Whether you're entirely new to the idea or have some experience under your belt, there are many ways to have fun on the water as a family.
There's no legal requirement to hold a licence to skipper a vessel in UK waters, but with a little bit of training under your belt, the more you will enjoy your time on the water and the less likely you'll be to get into any trouble.
By learning as a family, you ensure everyone is safe, confident, and ready for your adventure afloat. It can also be a cost-effective way of trying something new and enjoying the great outdoors from the water - all with the support of an expert RYA instructor.
From learning how to helm a yacht or safely take charge of a high-speed powerboat, to acquiring the knowledge to handle a canal boat, or try dinghy sailing or windsurfing for the first time – the choice is yours!
Here are a few family-friendly UK-based RYA training ideas to keep everyone entertained...
Sail Cruising
Whether you're entirely new to sail cruising or are looking to improve your skills and gain confidence, there are many beginner and intermediate RYA courses for all the family.
The kids will have lots of fun learning how to steer a yacht, handle sails and tie knots on the RYA Start Yachting course, and the RYA Competent Crew syllabus is excellent for beginners who want to become active crew members. For teenagers over 16-years-old and parents who aspire to be short passage skippers, the RYA Day Skipper course is ideal - providing you with the skill and experience to take charge of a yacht in familiar waters. There's even the option to take these courses together as a family on the same yacht.
"These courses are not too demanding, the learning is fun, and naturally, everyone works together as a team. They create a real sense of achievement for the whole family," explains Simon Boulding from Sunsail.
And once at least one member of the family has their RYA Day Skipper, you'll be able to sail in other parts of the world too: "Many places in the Mediterranean are less challenging than the UK, so learning before you travel sets you up well and gives you plenty of confidence to enjoy a family sailing holiday overseas,' says Simon.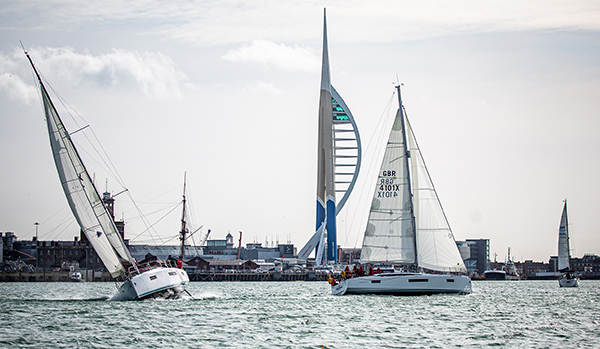 Powerboat
If you've purchased a powerboat or family day boat during lockdown, you'll be eager to take the family out exploring the coast this summer. But before you do, consider taking an RYA Powerboat Course to ensure you can all enjoy your time on the water safely.
RYA Start Powerboating Level 1 and RYA Powerboat Handling Level 2 will introduce you to everyday boat handling, launching, man overboard recovery and an understanding of basic navigation and how to safely interact with other craft on the water. The courses are great fun for both kids and adults, so you'll not only come away feeling more confident, but you'll also have a great couple of days on the water together.
Tim and Sue Cox, owners of SeaSports Southwest, tell us why learning together as a family can be so beneficial:
"With older children, it can be a great bonding experience that unites the whole family in the thrill of being out on the open ocean together, with the confidence of being under the instruction of an experienced RYA Instructor. This can open up a whole new world of fun days out for families if they decide to get their own powerboat, with the confidence that everyone on board has the skills to get involved safely."
Inland Waterways
Set off on a fun-filled family adventure on Britain's vast network of navigable canals and rivers this summer. With over 2,000 miles of tranquil waterways to explore, you can escape the stresses of modern-day life and let the kids take the helm as you cruise past interesting landmarks and wildlife.
Although you don't need to have a qualification to charter a canal boat in the UK, you'll likely get more enjoyment from your holiday if you complete the RYA Inland Waterways Crew or Helmsman course. The RYA Inland Waterways Training Scheme teaches both beginners and seasoned boaters everything you need to know; learn how to be in charge of your own boat, operate locks and remain safe and confident on the canals. Children as young as 12-years-old can gain an endorsed helmsman's certificate, and the minimum age for the crewing course is just 8-years-old.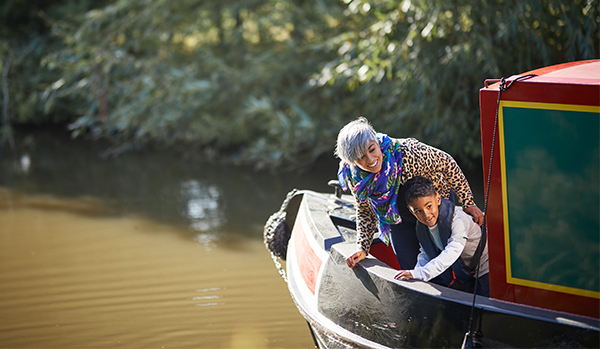 Motor Cruising
Whether you have your own motor yacht or want to charter one this summer, it can be pretty daunting skippering or crewing one for the first time. So, why not book the family onto a one-day RYA Start Motor Cruising course (min 8-years-old), or make a weekend of it with the RYA Helmsman course (min 12-years-old). Alternatively, extend your adventure to four days with the full RYA Day Skipper course. And if you all want to do something different, you can do a mixture of all three!
Learn about basic boat handling, engine checks and safety procedures, and master the art of berthing alongside. And don't worry, you'll also get to enjoy the thrill of cruising over the waves at speed and perhaps drop anchor in a picturesque bay for lunch. Teenagers will love getting the chance to take the helm too.
"By doing courses together as a family, you'll learn how to work together and communicate effectively to keep yourselves and the boat safe whilst having fun at the same time!" says Vanessa McCabe from Mendez Marine.
"Upskilling days are also a great way to practice your new skills. Or, if you have the appropriate training and certificates, you could book a skippered charter and explore the surrounding area with support there if you need it."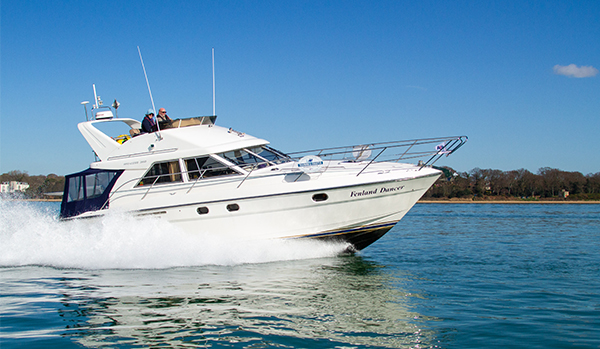 Dinghy Sailing and Windsurfing
If you want a watersports staycation where everyone in the family can do their own thing but come together at the end of the day to share stories from on the water, many RYA watersports centres in the UK offer a wide variety of RYA dinghy and windsurfing courses for all abilities.
Whether you're just starting out and want to try sailing or windsurfing for the first time, or have lots of experience and want to learn how to foil or master a planing gybe, there's lots of fun to be had on local lakes and coastal waters. And if you want to get a dinghy or windsurfer of your own, you'll have all of the skills and confidence you need to choose the right location and have lots of fun on the water for the rest of the summer.
Adult and youth sessions often happen simultaneously so that the whole family can learn at the same time. "It's great to see families meet up at lunch and at the end of the day to talk about their time on the water. Often, they will then progress to sailing together," says Sue Cox (SeaSports Southwest).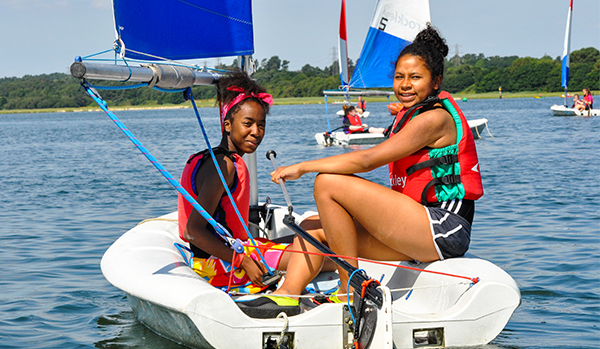 Find out more
So, what are you waiting for? If these staycation sail training ideas have inspired you, visit the RYA Training webpages to find a course near you and get your on-water family adventures underway!
Always look for the RYA recognised training centre tick mark logo as a sign of quality and assurance.
Find out more: www.rya.org.uk/training