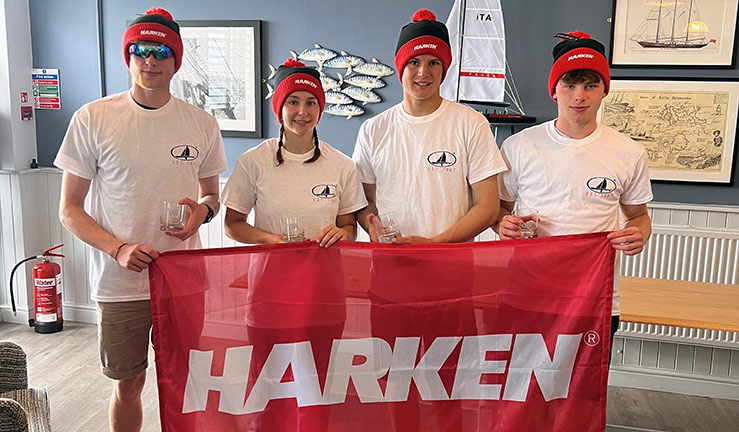 A young team from Rutland Sailing Club skippered by Ben Tylecote claimed overall victory at the RYA Harken Youth Match Racing Championship along with the trophy for Under-19s.
Seven teams duelled for supremacy in RS21s at Cardiff Bay Yacht Club, 3-4 September 2022, with a moderate breeze building to strong winds gusting around 16-17 knots on day two.
Tylecote sailing with brother Jamie, Freya Pembery and Terry Hacker, topped the leaderboard at the end of the round robin series and beat Joe Walters' team in the semi-final by two matches to one.
Richard Moxey, RYA Keelboat Development Manager, said:
"In the finals it was then three wins to Tylecote against Oli Hale but the matches were very tight with some good tacking battles. Ben just managed to get ahead each time but Oli was sailing well and the great thing is that the top two teams were both under-19, which is really encouraging for the future of British match racing."
In the petit final, Joe Walters and Alex Whitfield were level pegging at 1:1 until the next match saw Whitfield ahead but with a penalty. As Whitfield tried to offset the penalty, he caught another one and didn't have a chance to take it before getting a black flag, with Walters then going on to win the following match to claim third overall.
"Harken was proud to support the RYA Harken Youth Match Racing Championship. Congratulations to all those who took part in the event, including experienced and first-time sailors," said David Brown of Harken UK. "A special mention goes to Ben Tylecote and his team for winning both the Youth and U19 trophies. We look forward to continuing to work with the RYA and strengthening youth sailing through future events in the coming months ahead."
Read the full breakdown of results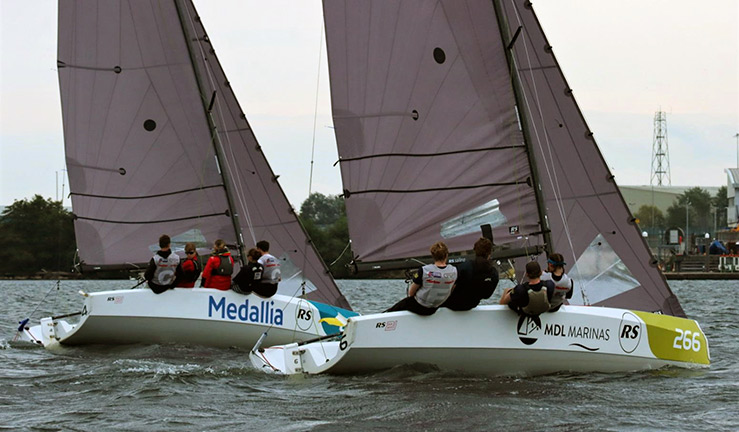 Teamwork
Winning skipper Ben Tylecote said:
"Going into the event we didn't have too many expectations and had no idea where we were going to finish. We do a lot of team racing so we thought the pre-starts might be alright but boat-wise and actually one-on-one match racing, we weren't too sure, so we were really pleased to take the title. We had a lot of really close races and talking to everyone at the event that was the story throughout, it was very competitive."
It was Ben's second-ever match racing event and his first as a skipper, having previously crewed for his brother Jamie at the 2021 RYA Moody Decking Schools Match Racing Championship, with a little boat handling practise in between made possible after two RS21s were acquired in summer by their home club Rutland SC thanks to the John Merricks Sailing Trust.
For the RYA Harken Youth Match Racing Championship, the RS21s had symmetrically-rigged spinnakers, and as Ben explains:
"It added complexity and tactics to the downwind, which we really enjoyed, and any of our crew for this event – Terry, Freya and Jamie – could have been the helm, so it was just a really good team and their work on the spinnaker was a big contributor to us doing well because we were fast downwind and they did a great job on all the manoeuvres.
"Delving into match racing has been really exciting and what I enjoyed most was getting to sail as part of a big team in one boat, all working together to go fast while having to beat one other boat that's right there the whole time. If you're behind there's always an opportunity to get back into it and the intensity of it is a lot of fun, with the teamwork adding another interesting element to the sailing. We're definitely keen to do more match racing."
Next up in the RYA Summer Match Racing Series is the sell-out Marlow Ropes Women's Championship at Weymouth & Portland National Sailing Academy on Saturday and Sunday 10-11 September 2022. There are then two more qualifiers, at London's Queen Mary SC and Scotland's Royal Northern & Clyde YC, ahead of a grand finale at the Royal Southern YC in October 2022.
View RYA Match Racing for full details and upcoming events.