A European gold medal on home waters capped off a hugely successful Formula Kite European Championships for the RYA and its event partners in Portsmouth this weekend.

Ellie Aldridge's victory thrilled hundreds of home spectators on Eastney Beach on Sunday (24 September) as she clinched her first European title just under a year out from kite foiling's Olympic debut in Paris.
Some 112 athletes from 28 nations raced at this Olympic qualification event on the testing waters of the Solent.
The British Sailing Team also picked up fourth and fifth places in the women's fleet through Lily Young and Maddy Anderson, with Connor Bainbridge finishing fifth in the men's event.
But elite performance on the water was just one measure of success for the organisers at the six-day event, which aimed to showcase inspirational racing in a city location, and create a greater connection between Portsmouth's young people and the opportunities of their marine environment.
The Championships represented a new approach for the RYA's event delivery team, as Event Director Niall McLeod explained.
"It's a little over two years ago that we really started to think about and work towards the Formula Kite Europeans; it's been a year where we've been full-on planning. The team at the RYA working together with Portsmouth City Council, and with the support and guidance of UK Sport, have put a lot of work into delivering this event to the best of our abilities."
New challenges
"Delivering an event on a beach where we had absolutely no infrastructure has certainly given us some additional challenges and really stretched the team," Niall continued.
"But that also gave us the opportunity to try something different and bring an event into the heart of a city and into Portsmouth. That's something we've never really been able to do before - showing [our sport] off to an audience, hopefully engaging people with watersports in general, whether that be kitesurfing, wingfoiling or sailing in any of its forms."
Around 400 local schoolchildren, many of whom came from some of Portsmouth's most deprived wards, experienced the event's bespoke beach club, which sought to use the Championships as a launchpad to inspire and connect the city's young people to the sea, linking in to watersports opportunities and marine conservation.
As well as providing teacher resources for classroom delivery prior to the event, the Beach Club during the event saw children engaging in STEM experiments looking at how a foil works and how a kite works, environmental experiments with The Green Blue and beach cleans with the Marine Conservation Society.
The participants also experienced SwimSafe sessions to help build their water confidence, as well as opportunities to try wingsurfing with the Andrew Simpson Centre Portsmouth and kite flying with 2XS.
Developing life skills
"Seeing the Beach Club in action this week has been absolutely magical," said Susie Moore, RYA Regional Development Officer and Project Lead for the Formula Kite Europeans' social impact programme.
"We've heard so many stories from the teachers and seen such change in the children. We had one teacher tell us that they had seen some of the children that they'd never seen smile smiling and laughing, engaging with the sessions. Another teacher was also telling us that 50 percent of their children had never been down to the beach.
"So just to give them that opportunity to come and get them on the beach in their seafront city has been amazing."
"Watersports are a fantastic vehicle for developing life skills and character attributes," Susie continued.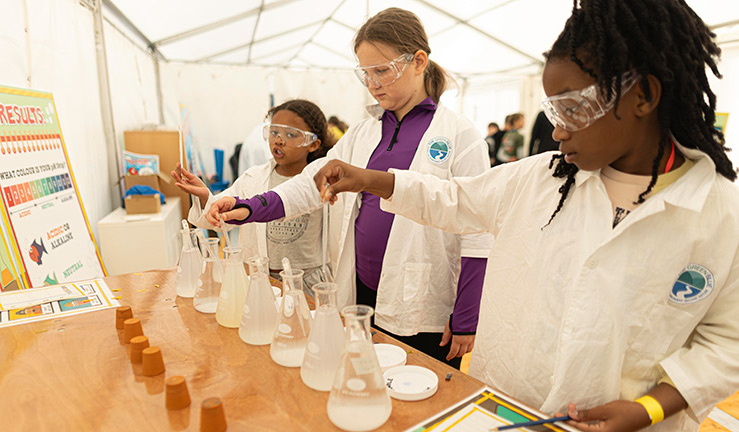 "What we see when they get involved in that new environment for them is that [the children] bond as a team; they learn teamwork, their communication develops so they start having conversations with people they've maybe never spoken to before in their class. Their confidence really builds through it as well."
"We've done some measurements throughout the event and it's really shown an increased appetite for the children wanting to get out on the water, and wanting to do some more marine conservation work as well, so we really hope to be able to work with the partnerships with developed and maybe bring some more on board to help fund some legacy opportunities past this point."
The Event Village set up for the final weekend of the Championships welcomed hundreds of fans and followers to Eastney Beach. They watched the action live and on a large screen, with expert commentary and analysis, as well as being entertained in between by guest DJ Grayson Repp, Music Director for the 2022 FIFA World Cup.
With retail stalls, food outlets and games for all the family in the Fan Zone, Eastney Beach was buzzing with activity and smiling faces; smiles made wider when Ellie Aldridge secured gold for the home British Sailing Team.
"I'd like to give a massive thank you to all the staff that have been involved in putting this together, as well as an army of volunteers," said Event Director Niall McLeod. "We've had a lot of volunteers from the local community who've come out and helped us, alongside some of our volunteers and race officials who regularly volunteer for the RYA. They're some of the best race officials in the world and that's allowed us to really push the racing and turn it around as quickly as we could."
Niall continued: "Our huge thanks also go to the International Kiteboarding Association for entrusting us with their event, to UK Sport and The National Lottery for their support and backing, Portsmouth City Council for their invaluable help and expertise in putting this event together, and all our event partners and suppliers."
"A final thank you goes to the people of Portsmouth who have provided such a warm welcome and genuine enthusiasm for the event. Seeing so many people out on the beach being able to watch the spectacle out on the water has been a real personal highlight."
Sara Sutcliffe, RYA CEO, added: "It has been fantastic to host the Formula Kite European Championships in Portsmouth. As always, hosting a major event is a team effort and the RYA would like to extend a huge thank you to all the partners, sponsors, volunteers and supporters.
"Even when the weather didn't go our way earlier in the week, the social impact programme still took place and it was wonderful to see several athletes get involved and help inspire the children of Portsmouth.
"In particular our thanks go to UK Sport and the National Lottery for their funding support, as well as our congratulations to the new European Champions, Ellie Aldridge and Ricardo Pianosi."
Find out more about the Formula Kite European Championships