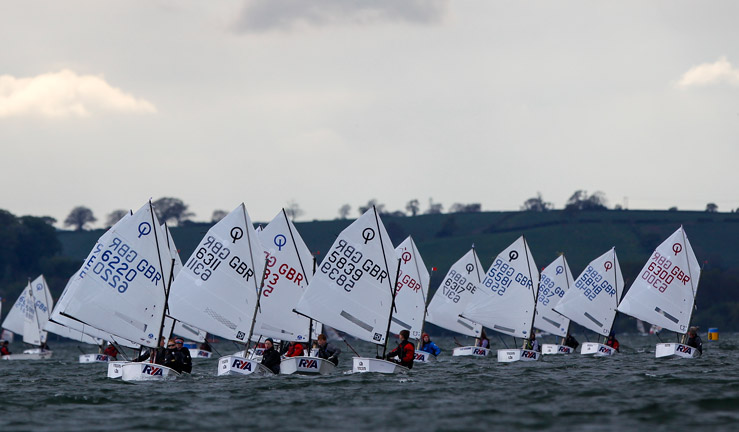 Get Involved
How to get selected for Regional Training Groups
Our aim is to train a group of junior racing sailors who want to improve their skills and challenge themselves to be their best.
What are Regional Training Groups?
The British Youth Sailing (BYS) Regional Training Groups (RTGs) are the RYA Performance programme of race training for Junior (U16) sailors in each region. The BYS recognised junior classes supported by the RTG programme are Optimist, Topper, RS Feva XL, ILCA 4 and Techno windsurfer. There are 6 regions in England as well as similar programmes in Scotland, Wales and Northern Ireland.
Applying for a Regional Training Group
Applications for the 2023 RTGs are now open and will close in September 2023. Please refer to the BYS Regional Training Group Selection Guidance Policy for further information before applying.
If you're unsure about your region, consult our Regional Training Group Regions guidance for assistance.
To apply, please complete the Regional Training Group Application 2023-2024 where you can select the RTG you wish to apply for.
Invitation Procedure
To determine who will be invited, we evaluate a sailor's performance at the British Youth Sailing Regional Junior Championships and other nominated regional class events.
Following your application, the factors below will be considered during the selection process:
Attendance at the BYS Regional Junior Championships of your RTG region
Participation in any specified class nominated regional open event.
Involvement in class open training events
Please note that given the competitive nature of ILCA 4 class, sailors are expected to attend at least two of the three events in their respective region when applying.
Invitations timeline
The BYS Regional Performance Managers (RPMs) will issue invitations in the autumn following the final indicator event. The RPMs consider a sailor's performance, knowledge, experience, and feedback from other managers and coaches to make the selection decisions.
Age criteria
To be considered for inclusion, a sailor should normally meet the following age criteria:
Optimist under 15 years of age on 31st December 2023
Topper under 15 years of age on 31st December 2023
RS Feva under 15 years of age on 31st December 2023
ILCA 4 Males under 15 years of age on 31st December 2023, Females under 16 years of age on 31st December 2023
Techno under 16 years of age on 31st December 2023
These age limits are set to enable the sailor to progress at the optimum age into Youth Class sailing and maximise their chances of selection into Youth Performance Squads.
Sailors who are marginally outside the age criteria are invited to apply and may be included by exception. Examples where this may happen are if they were late to the sport, new to the class, or their inclusion would help to improve the overall standard.
Fees
The RYA requires sailors to contribute towards the cost of all coaching programmes in the pathway. The RTGs are very heavily subsidised by the RYA and Sport England, Sport Scotland, Sport Wales and Sport Northern Ireland and offer exceptional value for money in terms of the quality of coaching and coach to sailor ratios.
The fees cover the venue costs, RIB hire, coaching and administration across all the activity, including on the water coaching and online remote support and learning.
The fees for the 2023-2024 programme for England are:
For Home Country fees please check with your Home Country RPM.
Join our Regional Training Groups today and embark on a journey of growth, improvement, and unforgettable experiences.