Look after your lifejacket
Don't underestimate the importance of lifejacket servicing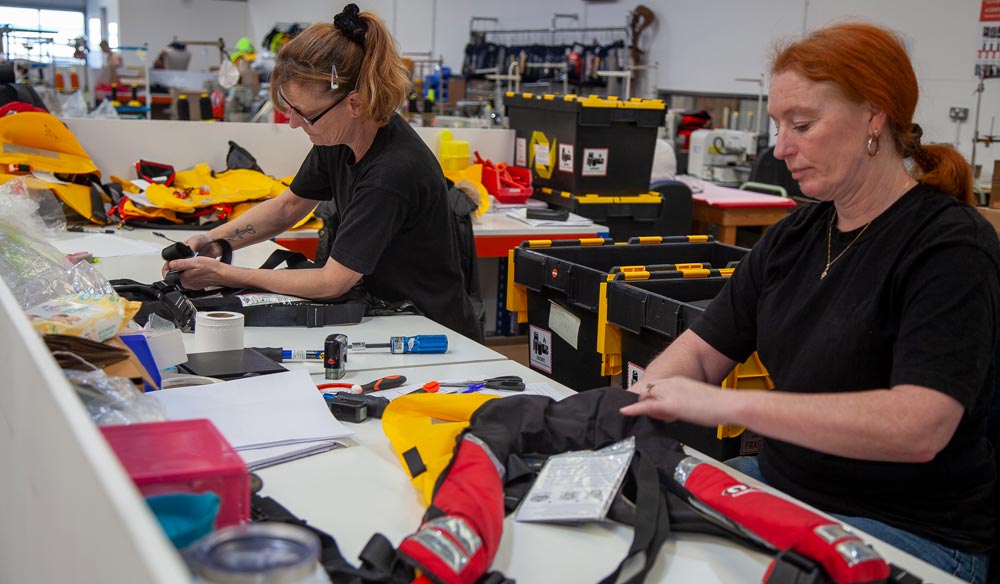 Inflatable lifejackets are designed for single use. Therefore, once inflated some lifejacket components will need to be replaced to ensure their continued use. To help keep yourself and others safe, it's vital that you know how and when to do this properly.
Although replacement kits are available, should you be servicing your lifejacket routinely or is it best left to a qualified professional?
The Regulations
All lifejackets sold in the UK, Republic of Ireland and elsewhere in Europe are required to meet The International Convention for the Safety of Life at Sea (SOLAS) standard.
The Maritime and Coastguard Agency (MCA) publishes extensive advice on its policy with regards to lifesaving appliance (LSA) servicing requirements in two Marine Guidance Notes (MGN). MGN 548 (M+F) provides information on inflatable SOLAS certificated LSA and MGN 553 (M+F) on non-SOLAS certificated LSA.
If you're operating under SOLAS, then it's a legal requirement that a lifejacket servicing is conducted annually. This should be completed by a service station approved by the manufacturer, who has been assessed as acceptable by the MCA.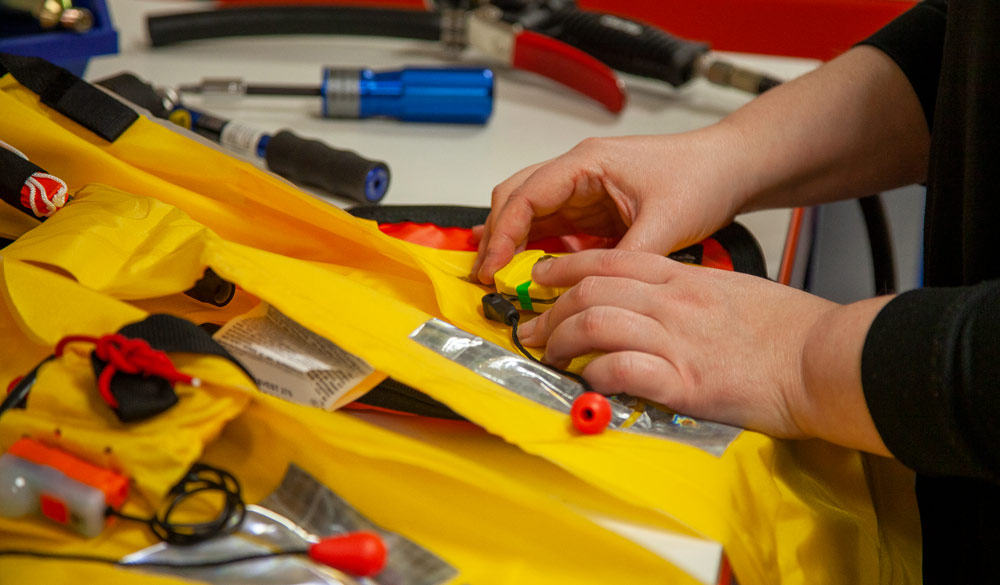 Commercial use
Where non-SOLAS inflatable lifejackets are accepted by the MCA for use on small commercial vessels (including training and bareboat charter craft) they must be serviced in accordance with the manufacturer's instructions. This should be done within one month either side of the next service date. In between, they should be examined annually. Where reasonably possible, visual checks should be carried out weekly by the owner to determine their safe use.
Non-commercial use
It is a simple fact that if you are a private recreational boater there is no legal requirement to get your lifejacket serviced. However, your lifejacket is an important piece of lifesaving safety equipment and there are some servicing procedures that are best done by a professional.
The most important servicing procedure is the overpressure inflation test. This is where the bladder is over inflated under controlled conditions, to monitor temperature and pressure over a period of time. If it does not pass these tests in a service station, then more than likely the lifejacket will not work as intended. This is why many lifejacket manufacturers recommend that their products are professionally serviced at an approved service station.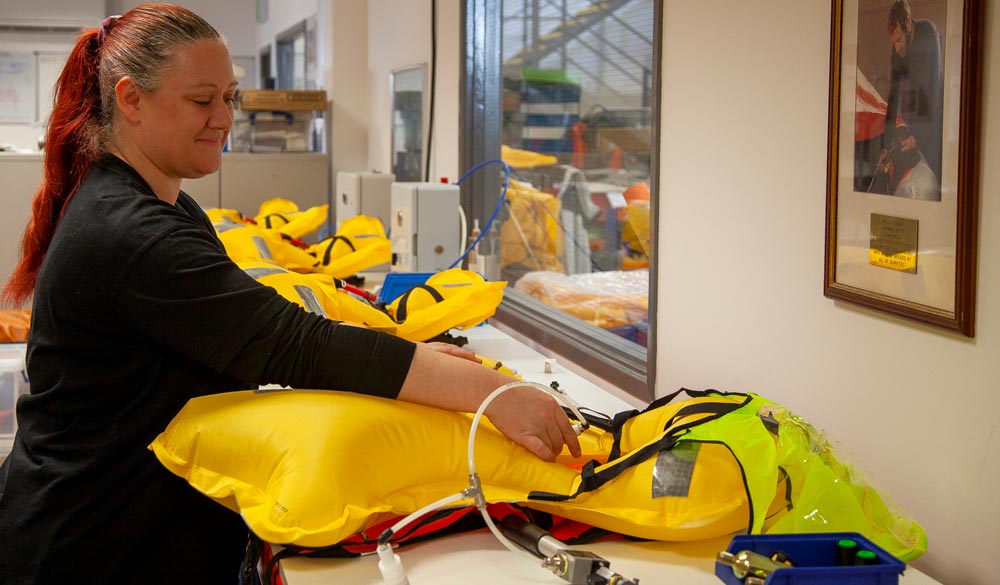 Checking your lifejacket
Throughout the season, check your lifejacket regularly for signs of damage to the bladder cover, webbing straps, stitching, clips and buckles. Also make sure any 'lifed' parts are in date. If you notice any damage, get it looked at.
Depending on the type of lifejacket you wear, different components may need to be checked. There are three types of inflatable lifejackets: manual, automatic, and hydrostatic.
Manual lifejackets rely on the cord being pulled to inflate them, which can be a disadvantage if the wearer is unconscious.
An automatic lifejacket contains an inflator mechanism, that relies on a water sensitive cartridge or bobbin to activate it. In a man overboard situation, the cartridge/bobbin rapidly dissolves, triggering the release of gas to inflate the lifejacket.
Much like automatic lifejackets, hydrostatic lifejackets contain a water sensitive cartridge or bobbin to activate them. However, they also have a hydrostatic valve that protects the water sensitive cartridge/bobbin until it is approximately 10cm underwater. Making hydrostatic lifejackets ideal for situations where you are regularly soaked by waves or excessive spray.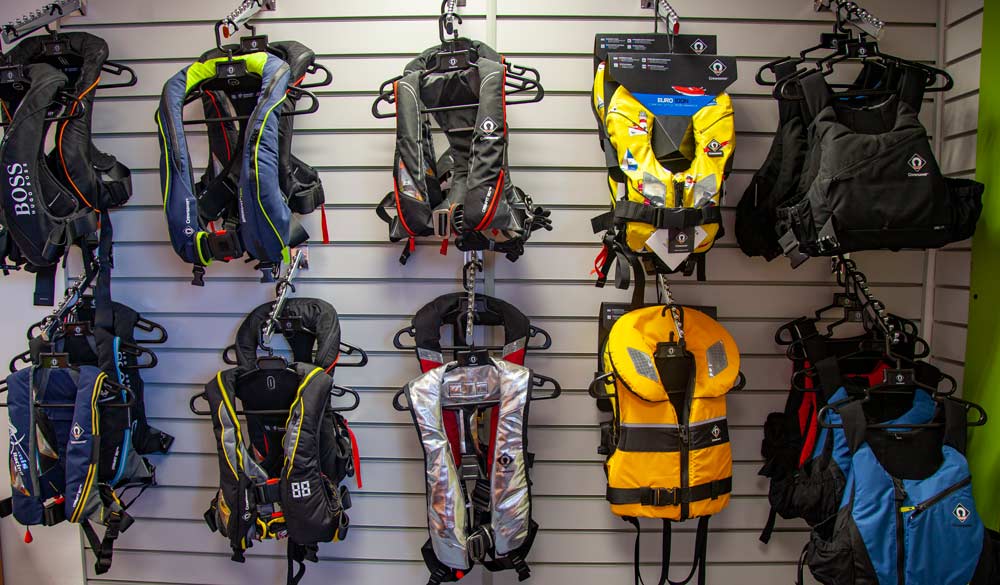 What to look out for
Screw-in CO2 bottles can often work themselves loose and are a common cause of lifejacket failure. To prevent this, they should be checked for tightness regularly.
The International Standards Body, responsible for setting lifejacket standards have addressed Cylinder Seal Indication (CSI) on all inflatable lifejackets. Leading to several manufacturers now producing lifejackets with indicators, showing the condition of bottle and trigger mechanisms.
If your lifejacket accidently inflates, you'll want to be able to get it ready for use again straight away, particularly if you're away on a long voyage. It's for this reason that rearming kits are sold, so that you can rearm your lifejacket and not be left without one.
Make sure to check the CO2 bottle for corrosion. A heavily corroded bottle should always be replaced. Also check any material that has been in contact with a rough cylinder, as the fabric could be damaged. CO2 bottles are not "lifed" and provided they are free from corrosion and weigh as much as the weight marked on them, they should be ok.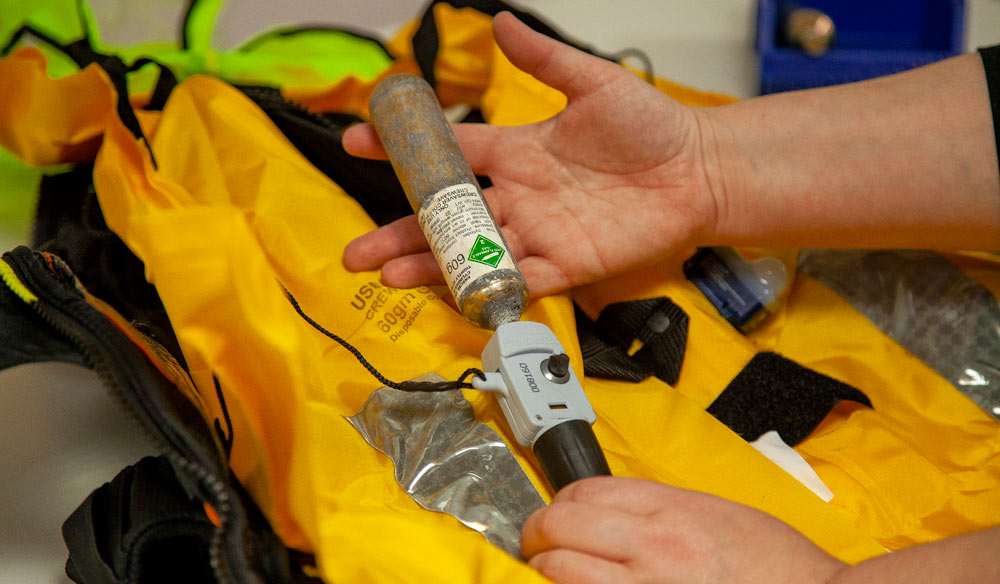 RYA recommendations
Annual lifejacket servicing is a requirement for SOLAS approved lifejackets for professional use. For recreational users, annual lifejacket servicing is strongly recommended by authorities worldwide.
The overwhelming advice from the RYA, RNLI and MCA is to service your lifejacket at the manufacturer recommended interval, by an approved service station.
RNLI lifejacket clinics have found that more than 30% of lifejackets brought in for inspection would not have worked in an emergency. However, by following manufacturer's instructions, conducting annual servicing, and having a spare rearming kit, any concerns should be reduced.
Discover more about lifejacket maintenance, children's lifejackets, and how to practice safe sailing through the RYA safety hub.